VEGA ALTA, Puerto Rico — Lin-Manuel Miranda's sizable extended family reside in a small northern town tucked amid rolling hills and a lush landscape, a community that exudes warmth and where everyone is known in the neighborhood.
The extended family of the Pulitzer-prize winning creator of the Broadway hit "Hamilton" are household names in Vega Alta. Ignacio Miranda, Lin Manuel's great-grandfather, was the founder of the town's credit union, VegaCoop, and an elementary school here bears his name.
A stone's throw from the credit union, a bust in the town square pays homage to a great uncle, Gilberto Concepción de Gracia, a prominent attorney, journalist and politician who went on to found the Puerto Rican Independence Party. And at any given point, most of the businesses in the central square, known as the placita, were owned or run by a member of the Miranda family.
RELATED: As Clock Ticks On Debt Payment, Puerto Ricans Brace for What's Next
Unlike Lin-Manuel's parents, who moved to New York as young adults and have stayed in the mainland, many family members still live in their hometown. One of them is Elvin Miranda, Lin-Manuel's uncle, a well-known evangelical minister. These days, he is trying to tend to parishioners who are hurting and facing an uncertain future as the economic crisis spreads through the island like a mushroom cloud.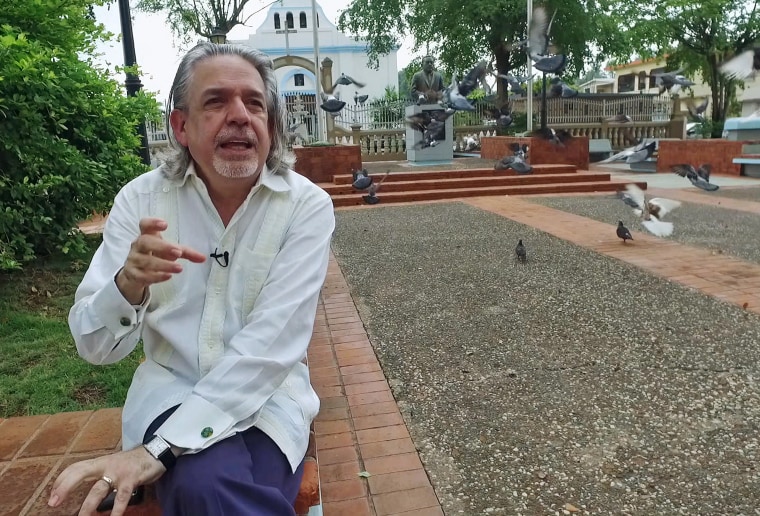 "I see people who are in crisis; who haven't worked in years and are vulnerable," he said, a wave of melancholy washing over him. "Some members of my congregation have hit rock bottom and have even taken to drinking and drugs; seeing that my people are hurting so bad really hurts me deeply."
After a long pause, the evangelical minister seemed to draw himself up. "We are all fighters and we will bounce back and I, for one, I am not going anywhere. We will heal, and we will face this head on and come out stronger for it."
Puerto Rico is facing a spiraling economic crisis that has seen its people, who are American citizens, leave the island for the U.S. mainland at the highest numbers since World War II.
On Monday Puerto Rico faces a $422 million debt deadline that the island's governor, Alejandro García Padilla, has already said cannot be paid. The island, a U.S. territory since it was acquired as a colony during the Spanish-American War, has seen years of deepening recession.
The total debt stands at 70 billion, unemployment is at 12 percent and more than half of the island's population lives below the poverty line and most of those are children.
Unlike the 50 states, the island is not allowed to restructure its debt under Chapter 9 like Detroit recently did. Congressional legislation on Puerto Rico has stalled despite alarms about the debt deadlines.
In the meantime, the island government is worried about how it will pay pensions for teachers and other government workers. Hospital wings and more than 100 schools have closed.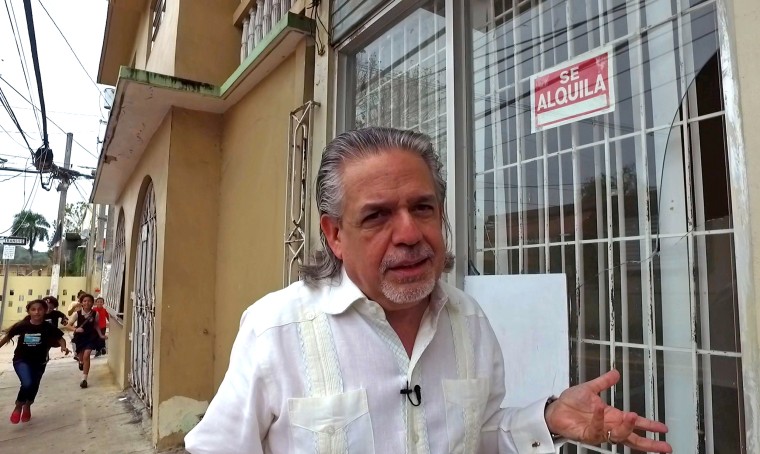 Luis Miranda, Lin-Manuel's father, is a political consultant in New York City. He was in Vega Alta recently to explain the family's deep roots and ties to the island.
"My mother owned the travel agency in town, and my sister owned the school supply here," Luis said as he walked through the town square on a recent afternoon.
"Lin loved coming here as a child and using the slurpee machine," he recalled fondly. The one store that has survived over the decades, Luis said ruefully, is "La Nueva Farmacia" or the New Pharmacy.
As he walked through town looking at the boarded up shops, broken windows and the abandoned storefronts, he lamented the drastic changes in the town due in large part to the decade long recession on the island and the current fiscal crisis.
The brewing humanitarian crisis is what prompted Lin-Manuel to use his fame to shed light on the plight of Puerto Ricans on the island. It is personal, he says.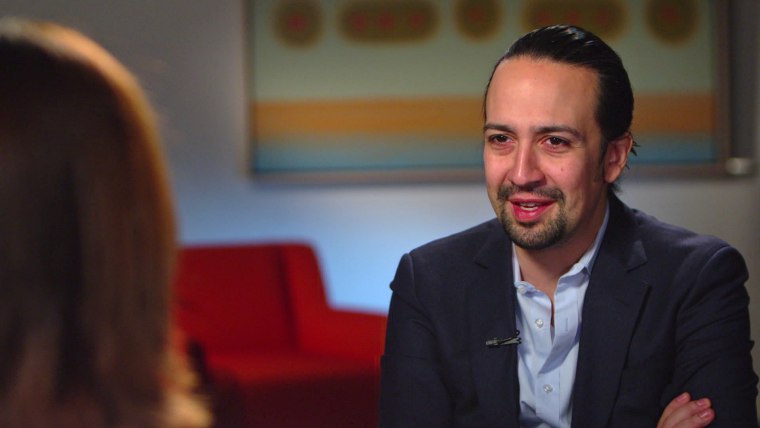 "I write plays. I am an artist. I figure out what words rhyme. I never asked for this role," said Lin-Manuel, speaking to NBC in New York, hours before he would go on stage to play a Founding Father who like the Mirandas hailed from the Caribbean. Hamilton was born on the island of Nevis.
"I don't know what else to do when your people are suffering and you have a giant light on you. All you want to do is just take the light and reflect it on them," he said, as he spoke of his strong ties to Vega Alta.
Like many Puerto Ricans, Lin-Manuel is advocating for debt relief in the form of a restructuring of Puerto Rico's 70 billion dollar debt.
Back in Vega Alta, Lin-Manuel's aunt Yamila Miranda was at work with her uncle, Dr. Rodolfo Concepción. The internist and rheumatologist has run a private practice in town since 1976. At the doctor's office, a steady stream of elderly patients showed up to see Concepción, one of the few specialists left in the area.
The economic crisis here has triggered a flight of doctors, mainly specialists, who are being snapped up by prestigious medical institutions in the United States. It is estimated that one doctor leaves the island every day.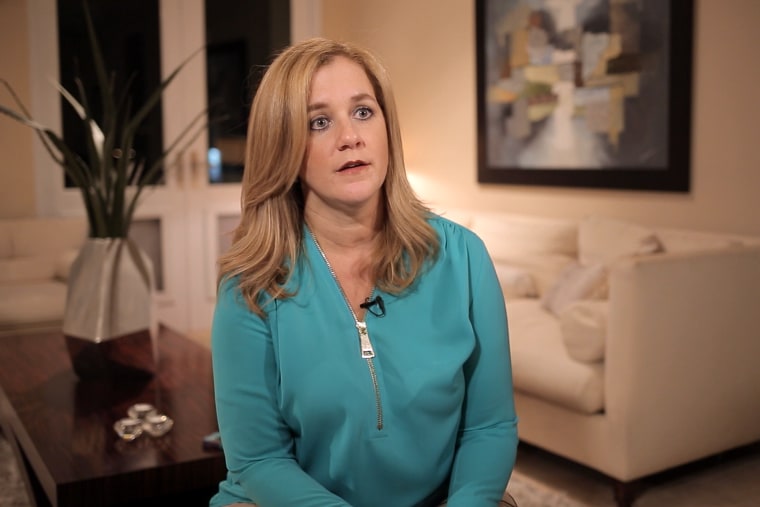 Yolanda Pagán, a renowned rheumatologist, lives in a comfortable and exclusive gated suburb in San Juan. But just last week, she tearfully said goodbye to her patients. She was now home, in a modern and spacious two-story home where she was reluctantly packing. A mother of five, Pagán said the island is the only place she ever called home and where she expected to raise her family.
But the prolonged recession and economic crisis pushed her to the breaking point.
"I held out as long as I could but the crisis has made my practice unsustainable," she went on to explain. As the crisis deepens insurance claims are not being paid.
The island's health costs are part of the reason why its debt has increased so much. Unlike the 50 states, where the federal government pays the bulk of Medicaid payments and the states pay a much smaller amount, Puerto Rico received funding for only 15 percent of its Medicaid costs in 2015. Yet a large percentage of the population is on Medicaid as well as Medicare, and the recession has meant that less Puerto Ricans are employed by companies.
For Pagán as a solo practitioner, absorbing the cost without adequate reimbursement became untenable.
"I am going to miss everything about Puerto Rico," she said, holding back tears. "This is a forced exile."
Dr. Pagan and her family will leave Puerto Rico in June to become a director of medical research at Yale.
The precariousness of the island's fiscal future hangs over the hospitals too; some have had their power cut off while others don't have the basic medical supplies to treat patients.
At San Jorge Children's hospital in San Juan, there is an air of gloom; two wings have closed and hundreds of workers have been laid off. Another round of layoffs is expected in the coming weeks.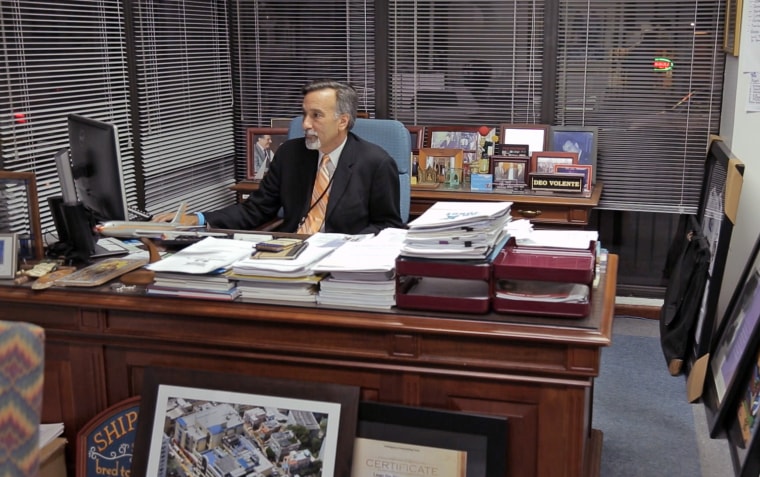 For now, hospital CEO Domingo Cruz Vivaldi says they have been able to maintain patient care and negotiate with its suppliers. But the future, he says, is uncertain.
For their part, the Mirandas say they want to see this U.S. commonwealth known as "La Isla del Encanto" — the enchanted island — thrive again.
"Our roots on the island and this town are so strong," said Lin-Manuel's father, Luis. "It's not like you can just extricate yourself from that."
Video by NBC News' Jim Seida, additional reporting by NBC News Latino's Sandra Lilley.