CRYSTAL CITY, VA --Despite the growth of the Latino population and the country's evolving ethnic and racial makeup, the stories of the migration of indigenous groups from Latin America to the US remain largely on the sidelines.
"It's been a story that I think confuses a lot of people outside the family but is very much understood inside the family. No Latino says why did César Chávez look like that? Of course not, it's who we are; a long indigenous heritage," said Ray Suárez, an award-winning author and journalist, and an anchor at the Al Jazeera network. "There's a lot to mourn about that history and a lot to celebrate. I always say history isn't good, history isn't bad, it just is."
RELATED: With Migration, Indigenous Languages Going Extinct
Suárez was one of several academics, community leaders and researchers examining media coverage of indigenous populations during a July 10th session of the National Native Media Conference, co-sponsored by the Native American Journalists Association and Native Public Media and moderated by NBC Latino senior writer Suzanne Gamboa.
A third of U.S. Latinos identify themselves as either "mestizo" or "mulatto" according to a Pew Research Center survey published Friday. Mestizo is a term used to describe someone with Spanish and indigenous ancestry, while mulatto refers to those who have white European and black roots.
Interestingly enough, while 33 percent of Hispanics categorized themselves as mestizo or mulatto, 42 percent identified themselves as white when Pew researchers asked them what race they considered themselves to be.
"There are many dimensions to Hispanic identity and there are many layers to that identity," said panelist Mark Hugo López, Director of Hispanic Research at the Pew Research Center in Washington, D.C.
Hispanics who identified themselves as mestizo or mulatto were more likely to have been born in the U.S. than those who were not, 44 percent versus 37 percent. Almost half (45 percent) said they were non-Mexican, thought mestizos represent a racial majority in Mexico itself, and Hispanics of Mexican descent are the largest group of the U.S. Latino groups (65 percent).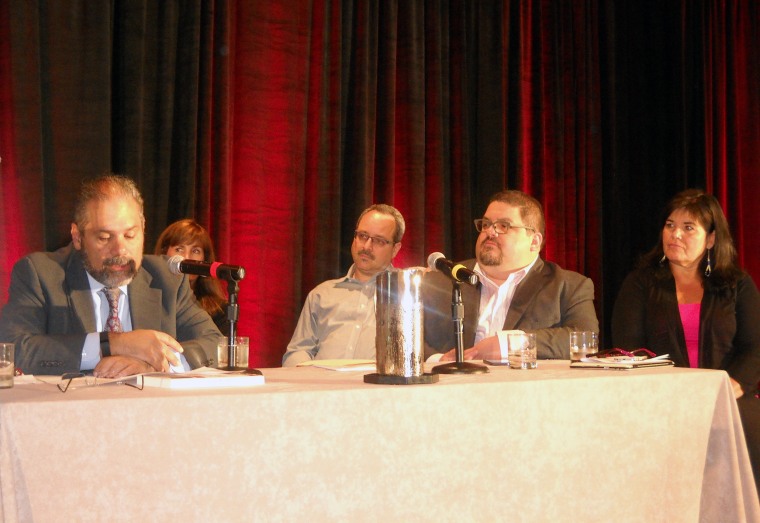 Twenty percent of those surveyed said their race was Hispanic or Latino, even though neither moniker is a race, but rather an ethnic identity. Additionally, 10 percent identified themselves racially as black, and four percent said they considered themselves to be Native American.
"In many communities, the majority of those who are of indigenous origin are basically in the underground. They are either denying their own identity or their parents deliberately don't teach them their language to protect them because of what they suffered," said panelist Jonathan Fox, a professor of International Studies at American University in Washington, D.C.
"One of the challenges is how to create a supportive environment where people can come out and come to terms with their origins. In the Mexican context, for example, to be called "Indian" in Spanish (indio) is not something that is respected or lifted up," said Fox. "You look at the faces on television, who's in the media and there's a near complete exclusion of indigenous voices. The culture of oppression remains very deep."
Educating future generations early on is key to helping understand and report accurately on indigenous communities in the United States.
"I think we should be able to tell young people about that history without waiting until they're old enough to drink to tell them the truth about what went down in this country in the 18th and 19th centuries," said Suárez.