What you need to know about Title 42's end
DHS launches campaign to deter smugglers from spreading misinformation
The Department of Homeland Security introduced a digital campaign to prevent human smugglers from spreading misinformation about the lifting of Title 42.
"This campaign adds to our extensive ongoing communications efforts in the region," Homeland Security Secretary Alejandro N. Mayorkas told reporters Wednesday. "We are making it very clear that our border is not open, that crossing irregularly is against the law and that those who are not eligible for relief will be quickly returned. Do not listen to the lies of the smugglers. This is what will happen to you. You will be returned."
The campaign, presented in Spanish, shows images of people being deported by plane and warns potential migrants that entering the U.S. without proper documentation is illegal. It will reach people via their cellphones and will direct them to a U.S. Customs and Border Protection landing page.
Record number of migrants crossing into U.S. one day before Title 42 ends
Immigration officials unveil expedited process for families with credible fear claims
Immigration officials announced a new process for families apprehended at the southwest border who are eligible for expedited removal and indicate they will seek asylum or express a fear of persecution or torture if they are deported to their home countries.
The Family Expedited Removal Management will impose a curfew and provide heads of household with GPS ankle monitors for tracking purposes.
The program is designed to ensure that families with credible fear claims appear before immigration judges in a timely manner without being detained. Families whose claims are rejected will be removed from the U.S. within 30 days, immigration officials said.
Title 42 already ended for many crossing the border, official says
The vast majority of the 11,000 migrants who crossed the border Tuesday were not processed under the Title 42 health law, the head of Border Patrol said Wednesday in a media roundtable.
Border Patrol Chief Raul Ortiz said Wednesday only 17% of Tuesday's border crossers were subjected to Title 42, which allows for speedier expulsion but carries no penalties for those making repeated attempts to cross the border. The rest were handled using Title 8.
Based on Tuesday's numbers, Ortiz said ending Title 42 may not have as much impact as some have projected. But he added that if the daily apprehension numbers climb to 13,000 to 14,000 per day, Title 42's end could be more problematic.
Lawmakers urge Biden to reverse Trump-era sanctions for Cuba and Venezuela
Nineteen members of Congress from border states and states that have received large numbers of migrants urged President Joe Biden in a letter Wednesday to reverse Trump-era sanctions on Cuba and Venezuela. The lawmakers said the sanctions have contributed to ongoing economic instability and driven people from their homelands.
The sanctions on Cuba, imposed in 2020, renewed restrictions on travel, remittances and the designation of Cuba as a state sponsor of terrorism. In Venezuela, sanctions dating to 2017 have squeezed the country's oil industry and prevented it from exporting oil to the U.S.
"We must go beyond ineffective deterrence policies and find sustainable and humane solutions to fix our broken immigration system, and that includes — and should start with — legislative reforms by Congress," the letter read in part.
"We urge you to act swiftly to lift the failed and indiscriminate economic sanctions that were imposed by the prior administration, and engage in a broader review of preexisting sanctions policies that your administration inherited, which exacerbate hardship for innocent civilians and serve as additional push-factors for migration."
The letter was signed by lawmakers from California, Texas, New York and six other states and the delegate from Washington, D.C.
Texas House moves state closer to enforcing immigration laws
Texas has moved closer to expanding its power to enforce immigration laws, a duty considered reserved for federal officials.
A bill approved by the state House on Wednesday would create a Border Protection Unit overseen by the governor. Democrats had killed another bill, HB 20, that did the same, but Republicans gave the proposal new life when they added the language to HB 7 as an amendment. The Senate has not yet considered the legislation. 
The bill would allow unit members to arrest and detain people and send people they deem to have entered the country illegally back to Mexico. Democrats were able to amend the legislation to require that members of the unit be commissioned peace officers, among other things, KERA News reported.
Univ. of Texas warns families to expect delays for commencement
As graduates and their families prepare to celebrate commencement this weekend, officials at the University of Texas El Paso warned attendees to expect delays crossing the border.
"Plan ahead if you and your families plan to attend Commencement on May 13 and 14," the school said in a tweet this week.
The university calls itself "America's leading Hispanic-serving university" with a student body that is 84% Latino, according to the school's website.
Scenes from the border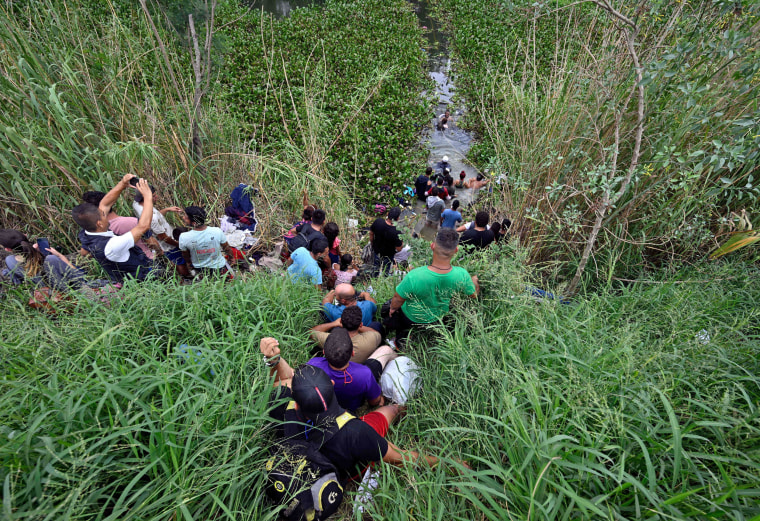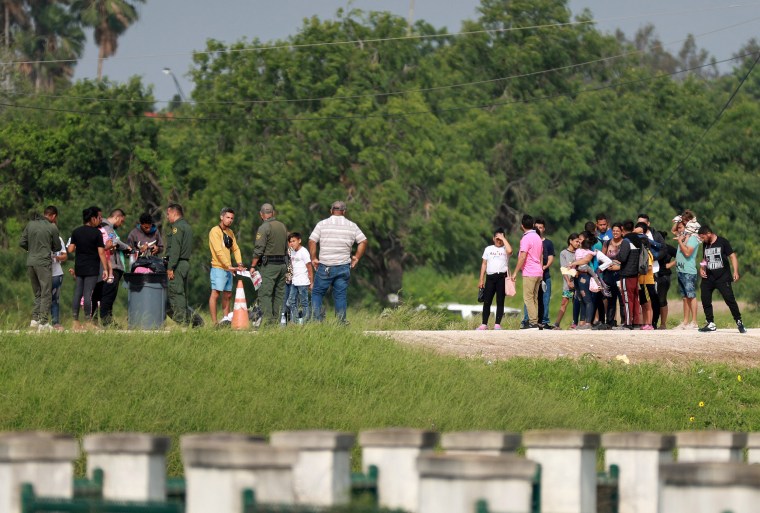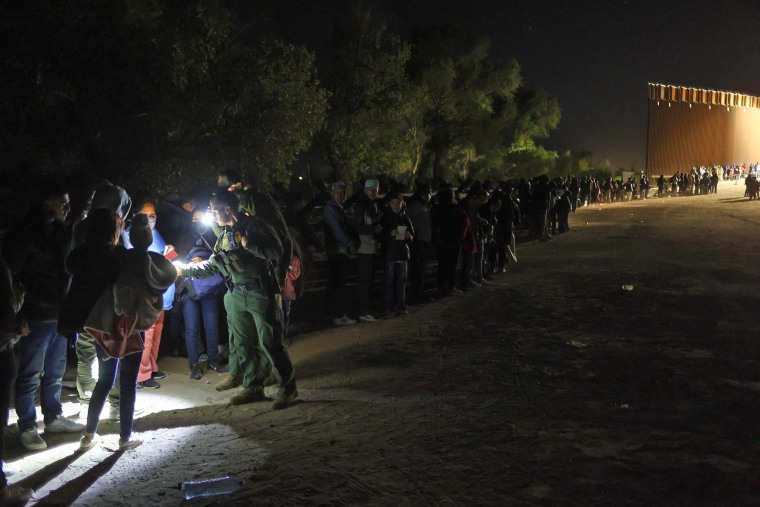 Ron DeSantis signs immigration crackdown
TALLAHASSEE, Fla. — Gov. Ron DeSantis signed a sweeping immigration overhaul bill Wednesday, a move that comes weeks ahead of an anticipated run for president and just a day before President Joe Biden's administration plans to end Title 42, a pandemic-era immigration policy that makes it easier to expel migrants.
DeSantis has long used immigration to attack Biden, with whom he has openly sparred for nearly two years as his national ambitions have risen.
"We are bracing for some turbulent times ahead," DeSantis said Wednesday. "When you have a president that has turned a blind eye to the border … when you have that, you are likely to see it get a lot worse."
Philadelphia receives 31 asylum-seekers bused from Texas
More than 30 asylum-seekers arrived in Philadelphia on Wednesday morning after making the long journey from Texas by bus, the city announced.
The latest arrivals, all from Venezuela, came on the 20th bus filled with migrants to arrive in the city since Nov. 16, according to the mayor's office. To date, Philadelphia has received some 900 migrants, the city said.
"Philadelphia welcomed and successfully assisted hundreds of asylum-seekers since the start of this operation last year, and we plan to continue to do so as needed following the end of use of Title 42," Mayor Jim Kenney said in a statement. "As Philadelphians and as citizens of this country, it is our obligation to ensure that all people have the opportunity to seek a safer and more hopeful life in America."
'We did it': A father and son make it to the U.S.
EL PASO, Texas — Two migrants embrace, crying with emotion as they leave the Border Patrol offices after being processed. One of them has crutches and an X-ray in his hand. "What madness," the man, with an incredulous look on his face, says as he bursts into tears. 
"We did it, Dad, we did it," the younger man says. 
The image is one of many similar ones seen at the border ahead of the expiration of Title 42 on Thursday. After presenting themselves to border officials, they were given a later date to start their petition to seek asylum. In the meantime, they were allowed to stay in the U.S.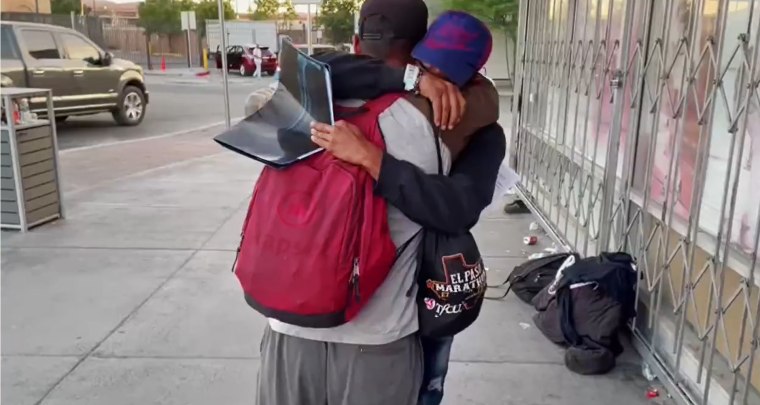 "The process has been quite fluid. They have treated us very well," Luis Montes, 28, a migrant from Venezuela, told Noticias Telemundo after he was released. 
A group of other people who had migrated to the U.S. joined the conversation and expressed their gratitude to U.S. authorities, as well as to community members, the media and shelter operators. "Without it (their help) it wouldn't have been possible," Montes said.
Meanwhile, those who have not been able to demonstrate that they have a legal reason to be in the U.S. are being returned to Mexico or deported to their countries of origin.
Mayorkas warns of repercussions for illegal border crossers
Flanked by images of migrant deportation flights and agents patrolling the border, Homeland Security Secretary Alejandro Mayorkas issued a dire warning to migrants who think the border will be open after May 11 because of a change in laws governing U.S. immigration.
Mayorkas said in a news conference that the switch to Title 8 from Title 42 means tougher consequences for people who crossed the border illegally. 
He said those taken into custody can choose to voluntarily return to their countries and those who don't and are ultimately deported face not being able to re-enter the U.S. legally for at least five years and criminal prosecution if caught trying again to re-enter. 
"Smugglers have long been hard at work spreading false information that the border will be open after May 11. It will not be. They are lying," he said. "To people who are thinking about making the journey to the southern border know this, the smugglers only care about profit, not people."
Mayorkas said the government launched a digital campaign in Central and South America on Wednesday to counter smugglers' lies.
Title 42 blocked thousands from entering the U.S.
Title 42 blocked thousands from entering the U.S. during the pandemic state of emergency, but it also did not impose penalties for those who tried repeatedly to cross the border.
In 2019, before Title 42 went into effect, just 7% of migrants apprehended by the Border Patrol had previously been apprehended. The recidivism rate grew to 27% in fiscal year 2022.
Under Title 8, which will replace Title 42, migrants will now face penalties if they are rejected from crossing and try again. Among those include up to two years in prison if a person re-enters the country illegally after having been removed or deported.
Biden admin to allow for the release of some migrants into the U.S. with no way to track them
After more than 11,000 migrants were caught crossing the southern border on Tuesday, the Biden administration is now preparing a memo that will direct Customs and Border Protection to begin releasing migrants into the United States without court dates or the ability to track them, according to three sources familiar with the plans. 
The more than 11,000 border apprehensions in a single day is a record and surpasses expectations of 10,000 per day predicted by Department of Homeland Security officials on what could come when Covid restrictions lift late Thursday. 
"We're already breaking and we haven't hit the starting line," one DHS official told NBC News, speaking on the condition of anonymity because the person isn't authorized to talk to the media. 
Why has the use of Title 42 been controversial?
Immigration and humanitarian groups accused the Trump administration of using the pandemic as a pretext to deny tens of thousands of people migrating to the U.S. the chance for humanitarian relief through asylum. They've also criticized the Biden administration for continuing to use it. The groups have said the measure stokes racism and allows for discrimination because some countries, such as Venezuela, had been exempt.
The Biden administration started applying Title 42 to Venezuelans in October and began allowing 30,000 Venezuelans a month to enter the country through humanitarian parole, resulting in a drop in the number of Venezuelans crossing the border. In January, Mexico agreed to take more migrants expelled from the U.S., also helping to manage the numbers of people arriving at the border. But there was an uptick in March with the anticipation of the end to use of Title 42 and warmer weather, according to the Washington Office on Latin America.