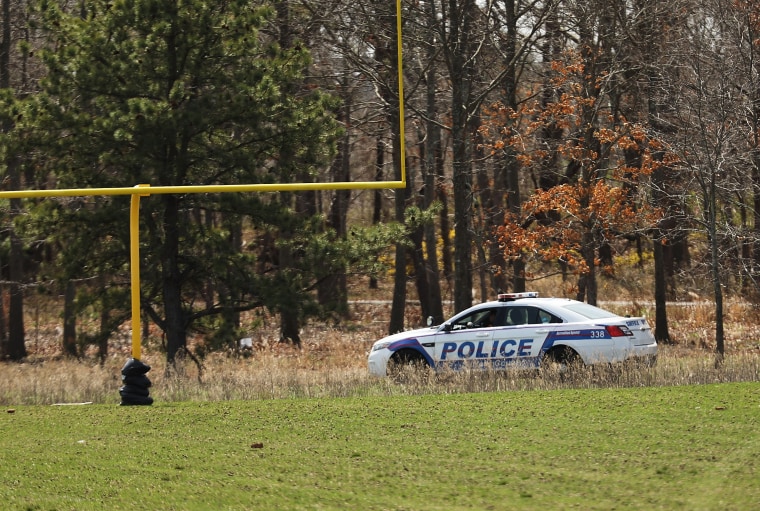 CENTRAL ISLIP, New York — The bodies of four young men found at a Long Island park were butchered so badly, that according to their loved ones they had to identify them by a video police took of the scene.
Authorities wouldn't show the families the bodies.
Multiple family members of the victims tell NBC News the bodies were unrecognizable; all of them were hacked to death by machetes.
Suffolk County Police have linked the deaths to the violent transnational street gang MS-13, better known as Mara Salvatrucha. The massacre is just the latest in a string of homicides linked to the gang in the past 18 months.
"They're not animals. They're savages from who knows where," said Piedad Llivicura, an aunt of one of the victims at a recent vigil. "They all need to be rounded up."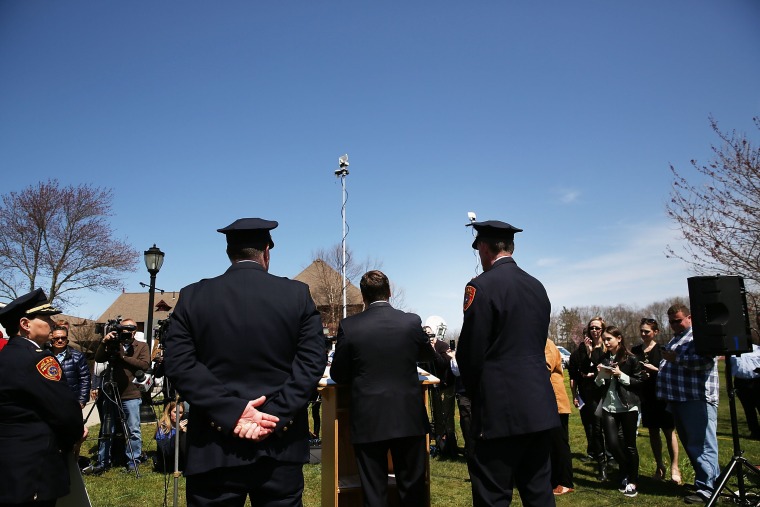 A Growing Body Count
The four victims have been identified as Justin Llivicura, 16, Jorge Tigre and Michael Banegas, both 18 and Jefferson Villalobos, 20.
Villalobos was Banegas' cousin, a Florida resident only in town to visit his grandmother for the Easter holiday.
"They came to kill one," a young man who did not want to be identified told reporters as he went to visit the scene of the crime, "but they killed them all."
RELATED: Trump Blames Obama for MS-13's Growth, but the Gang's Roots Are Older
In September of last year, two high schoolers - Nisa Mickens, 15, and Kayla Cuevas, 16, were also allegedly violently killed by MS-13 gang members in Brentwood, N.Y., a neighboring town only 2 miles away.
A week later two more bodies were found nearby in a wooded area of an abandoned psychiatric hospital. They were Oscar Acosta, 19, and Miguel Garcia-Moran, 15.
Then, a fifth one in October, José Peña-Hernandez, 18.
In all, MS-13 is believed to be responsible for 15 homicides in the last 16 months in Suffolk county, and at least 8 of the victims were high school students.
They Operate With No Fear
The gang's violent methods would be no surprise in Central America, says Dr. Charles Katz. He has studied MS-13 and is the Director for the Center for Violence Prevention and Community Safety at Arizona State University.
"That's what you would see in El Salvador," he tells NBC News. "The profile of the crimes look like something you would see there," he added.
RELATED: Violent El Salvador Records First Day Without Homicides in 2 Years
Although the gang has had a presence in Long Island for over a decade, they have become more active and violent since 2016.
Katz said it's likely a small group of people recently made their way from El Salvador to New York and are accustomed to seeing this type of violence.
"I'm assuming these folks are a bit older and have been exposed to it," he told NBC News, "These kids are raised somewhere where a homicide is not an unusual event."
The MS-13 gang is composed mostly of Salvadoran immigrants or people with Salvadoran descent.
They originated in Los Angeles back in the 1980s. As NBC News recently reported, "the gang quickly assimilated into the street lifestyle that gripped urban America, complete with tattoos, hand signs, wearing certain colored clothing and learning how to recruit."
But in 1996, changes in immigration laws led to the deportation of undocumented immigrants with criminal records back to their native countries. Experts say gang members went back and ended up strengthening and broadening the gang's presence internationally.
The Department of Justice estimates there are about 10,000 members in the United States.
"There are two different MS problems," said Katz, "the gang problem that takes place in El Salvador and the MS-13 of folks who were born in the U.S."
Katz said U.S.-born MS-13 gang members who engage in violence typically do not kill and if they do, it's not in such a violent manner.
"It's not a normal situation," he said, "When they bring that gang culture it sticks out like a sore thumb. We have really strong law enforcement, they have strong strategies. You're more likely to be convicted here."
Those who are most affected are the members of the immigrant community.
"Their trademark, throughout the country and not just here, is to prey on recent immigrants," Suffolk County Police Commissioner Timothy Sini said at a recent press conference.
A Community Under Siege
To the naked eye, Brentwood and Central Islip seem like typical, quiet and sleepy Long Island towns. But in these neighborhoods, it's clear the residents fear for their safety.
"As a father, I fear for my son," said Ramos Orgueta, a family friend of Justin Llivicura, as he was walking to his wake. "He was his classmate and students are scared."
Some residents fear going out at night. Another family friend, Nancy Ortega, said the brutality of the crimes has her constantly thinking about her kids.
"There's no way to describe it, I could never imagine one moment seeing my son leave the house and then him not come home," Ortega said, "Even worse, not being able to see him again, or touch him. It's horrible."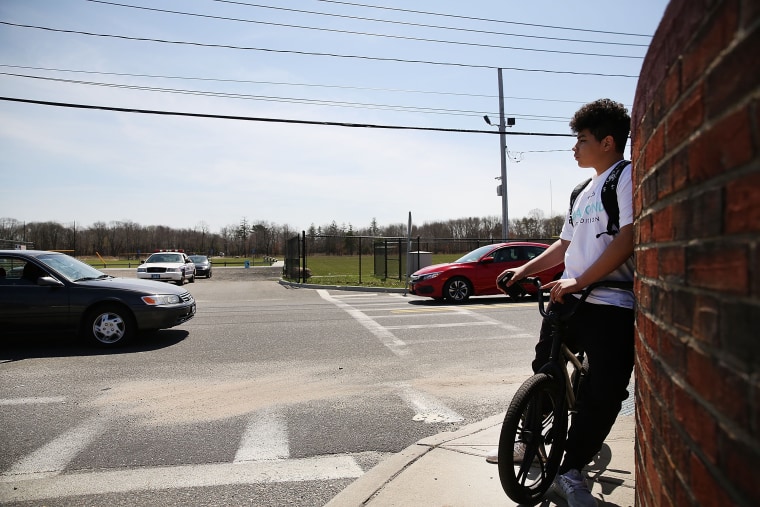 The Llivucra family, like the other victims, had to have a closed casket viewing; they were never able to hug their loved ones good-bye.
Llivicura's aunt pleaded for authorities to take action.
"We all have kids," she said. "We don't want it to happen again."
Cracking Down
In March, Suffolk County Police announced the arrest of at least 31 alleged MS-13 gang members, including the alleged killers of the two young girls, Mickens and Cuevas. Thirteen of those arrested were considered extremely dangerous; of those, 10 were in the country illegally.
It was considered a victory for the community and for Police Commissioner Sini.
"We have promised to eradicate MS-13 from our streets," he said at the time. "We should all take solace in the fact that the savages that murdered Nisa and Kayla are now behind bars."
But the victory would be short-lived.
Just a few weeks later, the Commissioner would again face the latest massacre. Despite over 100 MS-13 related arrests over the last couple of months, it's clear the gang is still very much a threat to the community.
"This is a long-term war and make no mistake about it, it's a war," said Sini at a press conference after the latest homicides. "There's no question MS-13 still exists in Suffolk county."
The latest incident garnered the attention of Attorney General Jeff Sessions, who spoke of it on Tuesday at a meeting with federal law enforcement officials in Washington D.C.
President Donald Trump tweeted early Tuesday morning about MS-13. He placed the blame on former President Barack Obama's "weak illegal immigration policies," even though a record 2.8 million immigrants were deported under the former president. In 2012, Obama designated MS-13 as a transnational criminal group subject to Treasury Department sanctions.
Trump and Sessions have promised to crack down on gang violence.
But for all the tough talk, in Suffolk county all they feel is loss.
"I saw him clearly. His shoes, he was unrecognizable. They beat him so badly," said Berta Ullaguia, the mother of the one of the victims as she described the video that she was shown of the crime scene.
She broke down, crying.
"I got a call saying that my son was dead, from one of his friends," she said through her tears. "Do you think that's easy? To hear the news like that. Nobody deserves to die like he did."
Cristian Benavides is a reporter for WNJU-TV, Telemundo.