WASHINGTON — The Trump administration on Tuesday slapped financial sanctions on four members of Venezuelan President Nicolas Maduro's inner circle, including his wife and the nation's vice president, on allegations of corruption.
As part of the actions, the U.S. barred Americans from doing business with and will seize any financial assets in the U.S. belonging to first lady Cilia Flores, Vice President Delcy Rodriguez, Communications Minister Jorge Rodriguez and Defense Minister Vladimir Padrino.
Treasury also "blocked" a $20 million private jet identified as belonging to an associate of a top official.
"We are continuing to designate loyalists who enable Maduro to solidify his hold on the military and the government while the Venezuelan people suffer," Treasury Secretary Steven T. Mnuchin said in a statement. "Treasury will continue to impose a financial toll on those responsible for Venezuela's tragic decline, and the networks and front-men they use to mask their illicit wealth."
Maduro responded Tuesday night by saying: "If you want to attack me, attack me, but do not mess with Cilia, do not mess with the family, do not be cowards."
He said the first lady's only crime is "being my wife."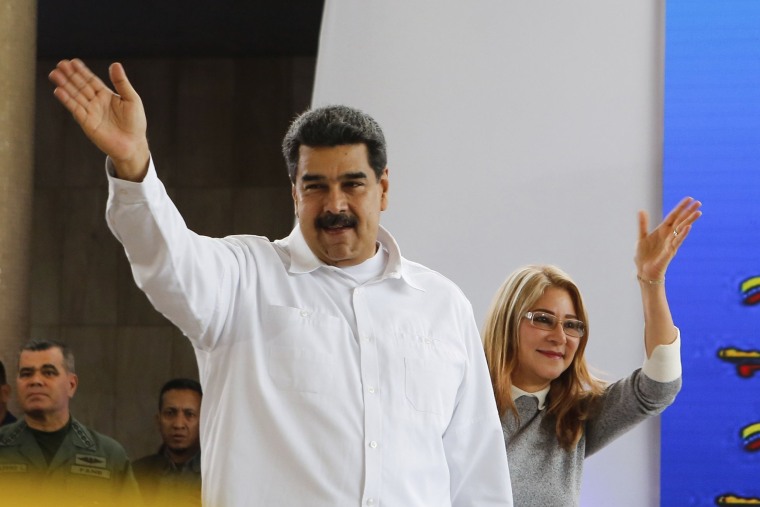 Washington's move adds pressure to a government already widely criticized for economic collapse and undermining democracy.
Under Maduro, Venezuela has limited the powers of the opposition-run legislature, jailed opposition politicians and created a parallel congress with unlimited powers.
Over the past two years the Trump administration has sanctioned dozens of individuals, including Maduro himself, on allegations of corruption, drug trafficking and human rights abuses.
But until now it had spared key leaders like Rodriguez, as well as the U.S.-trained Padrino, believing they occupy seats of power and could play a key role in an eventual transition.
Flores is a lawyer and former attorney general. She frequently appears at public events with Maduro and is seen an important behind-the-scenes power broker.
Treasury also said a Gulfstream 200 private jet located in Florida had been identified as belonging to a front man of Socialist Party Vice President Diosdado Cabello, who the United States accuses of being involved in drug trafficking.
Reuters was unable to immediately obtain comment from Cabello, who denies the accusations.
David Smilde, a Tulane University professor who has spent more than two decades living and working in Venezuela, said Tuesday's actions would seem to suggest the U.S. has given up trying to sow division within the government in the hopes it could force a democratic transition from within.
"This clearly breaks from that strategy, said Smilde. "If everyone is sanctioned then it could end up uniting the government."
Speaking before he addressed the United Nations General Assembly on Tuesday, Trump said Venezuela is "a very sad case and we want to see it fixed. What's happening there is a human tragedy."
Inflation in Venezuela is running at 200,000 percent and basic foods and medicines, like rice and antibiotics, are increasingly difficult to obtain. That has fueled an exodus of Venezuelans to nearby Latin American countries, where borders are now overwhelmed by Venezuelan migrants.
Maduro says he is the victim of an "economic war" led by U.S.-backed adversaries.
He denies limiting political freedoms, insisting opposition leaders have plotted assassination attempts and sought to overthrow him through violent street protests.
Separately, a group of Latin American nations will present a complaint in New York on Wednesday against the Maduro administration for alleged human rights abuses to be investigated by the International Criminal Court, officials said.
Peru, Colombia, Paraguay, Chile and Argentina will be joined by Canada in submitting the initiative against Venezuela's government, two officials familiar with the plans told Reuters.