A young Chicano hopes a satirical baseball cap can poke fun but also be part of the conversation around the Republican party's likely presidential nominee.
Jeronimo Saldaña, a civil rights activist based in Brooklyn, New York, said in an interview with NBC Latino that Trump's signature "Make America Great Again" slogan is illogical. Saldaña said he hopes that the satire version of the hat alters the conversation around the "absurdity" surrounding Trump's "hateful" rhetoric.
"Of course I don't want to actually 'Make America Mexico Again,'" Saldaña said. "Trump's slogan refers to a time when people of color didn't have any rights and when LGBTQ folks were even more discriminated against than they are now."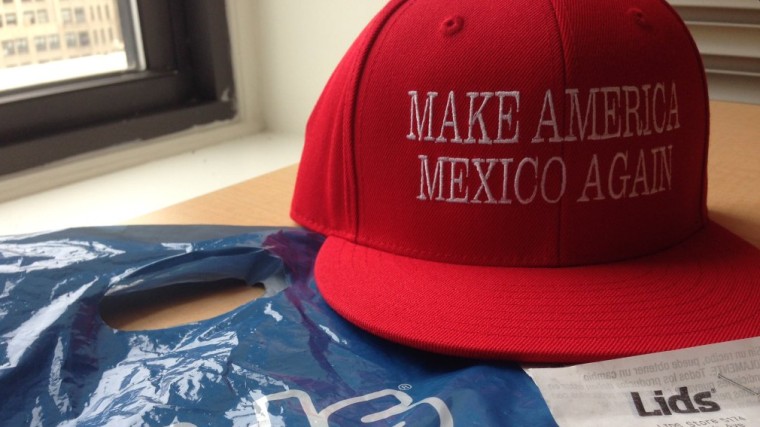 Saldaña, who first spoke to Latino Rebels about his effort to make the hats, says he hopes to support activists working to protest Trump. He said this is important as more people are putting their bodies on the line to physically block Trump supporters from getting into rallies.
"Jacinta González locked her neck to a mini van as protesters shut down the highway in Arizona," Saldaña said. "I'm thinking about the struggle people go through while seeing folks standing up to [Trump] and standing up to xenophobia and racism."
Anna Gold, the brains behind the slogan, originally made a version of the hat at a mall kiosk in Michigan. Saldaña loved the idea behind the hat and decided to go to a Lids store in Manhattan to make the hat. The first time he went to the store, the manager refused to make the hat, saying that the store had a policy against recreating political slogans.
"On Monday, I went back to the same store, talked to the same manager and it started off with the same thing," Saldaña said. "He called the corporate office, and they also said no. I kept persisting, so [the employee] called his direct manager, and they made me the hat."
Lids was not available for comment.
Now, Saldaña has gone to a Brooklyn-based independent distributor to make more hats.
Later, Saldaña created a GoFundMe page to raise money to make the hats. He set a small goal of $25, but as of Wednesday morning, his campaign has raised almost $4,000. Saldaña said he will be donating the money to Mijente, a Latinx and Chicanx advocacy network in the U.S.
"I want to focus our attention on flipping the script," Saldaña said. "[Trump's] supporters keep talking about building a wall, they're calling us rapists and thieves. There is nothing more powerful than satire and parody to change the tone of the conversation."