If there's one thing our moms should expect on Mother's Day, it's a few extra hours in bed while the family makes her breakfast. To keep it interesting, why not make her a dish with a savory Mexican twist?
Here's a delicious Breakfast Skillet from acclaimed chef Marcela Valladolid's wonderful new book Casa Marcela. You can't go wrong with crispy potatoes simmered in a chili-spiked tomato sauce, then blended with bright green nopales, baked off with eggs, and topped with avocado and queso fresco.
Valladolid, a noted cookbook author and co-host of the Food Network's Emmy-nominated show "The Kitchen," never disappoints with her culinary creations.
Hopefully, it will become a new tradition and mom might get next weekend off too.
BREAKFAST SKILLET
CAZUELA DE HUEVOS Y NOPALES AL HORNO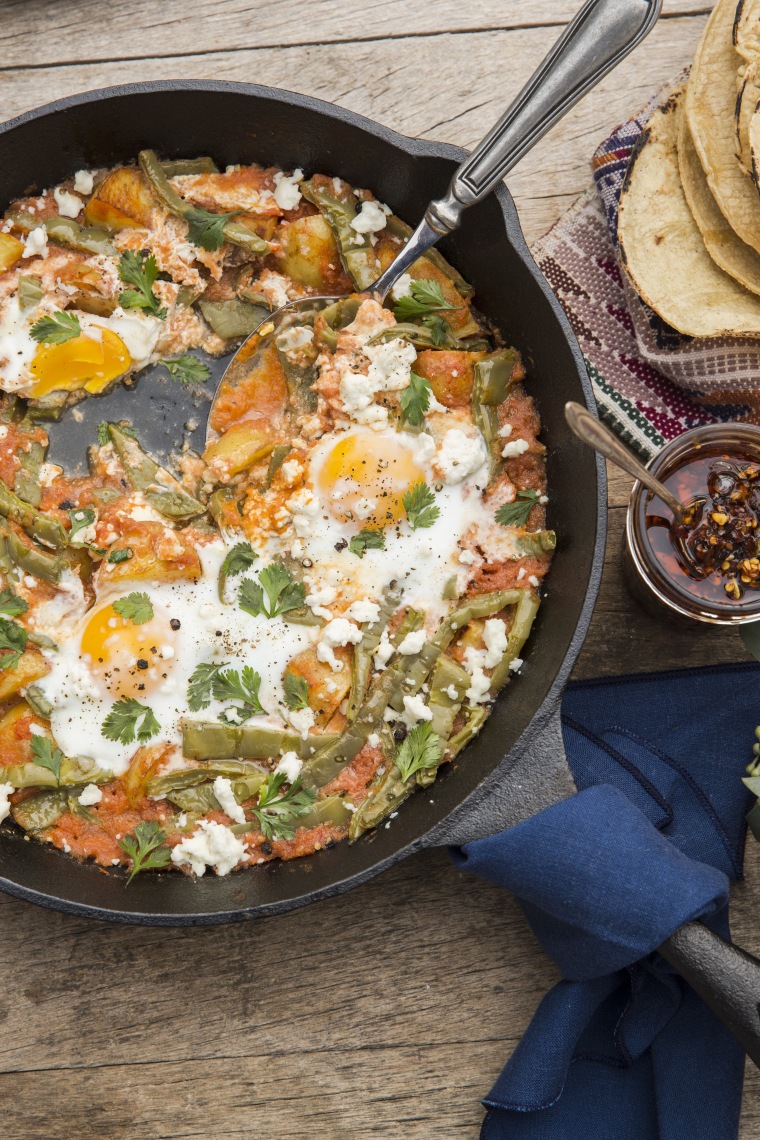 SERVES 4
1 tablespoon salt, plus more to taste
4 cups 1-inch strips fresh nopales (spines removed)
¼ white onion
2 cups cored and coarsely chopped tomatoes
1 dried chile de arbol, stemmed
1 fresh serrano chile, stemmed
1 tomatillo, husked, rinsed, and halved
2 garlic cloves, mashed
Freshly ground black pepper
2 tablespoons vegetable oil
1½ cups ½-inch cubes peeled golden potatoes
4 large eggs
⅓ cup crumbled queso fresco
Fresh cilantro leaves, for garnish
Avocado slices, for serving
Crispy baguette, for serving
Preheat the broiler on high.
Bring 8 cups of water plus the 1 tablespoon of salt to a boil in a large, heavy pot. Add the nopales and onion and cook until tender, about 7 minutes. Drain.
Transfer the cooked onion to a blender and add the tomatoes, chile de árbol, serrano chile, tomatillo, and garlic and process until smooth. Season to taste with salt and pepper.
Heat the vegetable oil in a cast-iron skillet over medium-high heat. Add the potatoes and cook until crisp, about 3 minutes per side. Pour the tomato sauce over the potatoes and bring to a boil. Decrease to a simmer and cook for about 6 minutes. Add the drained nopales and cook until the flavors blend, about 2 more minutes.
RELATED: Mexican-American Chef Marcela Valladolid Invites Us Home in New Cookbook, 'Casa Marcela'
Crack the eggs on top of the potato and nopales mixture and season with salt and pepper. Transfer the skillet to the oven and broil until the eggs are cooked, about 5 minutes.
Crumble the queso fresco on top of the cooked eggs and sprinkle with cilantro leaves. Serve with the avocado slices and a crispy baguette for dipping in the sauce.
Breakfast Skillet (Cazuela de Huevos y Nopales al Horno from CASA MARCELA by Marcela Valladolid. Copyright © 2017 by Marcela Valladolid. Used by permission of Houghton Mifflin Harcourt. All rights reserved.