MIAMI — For many Latinos — particularly Cubans, Puerto Ricans and Dominicans — the tradition of a pig roast during the holiday season and roasted pork (lechón) on Christmas Eve (Nochebuena) is as much a part of Christmas as exchanging presents or decorating the house.
"If there is no pork, there is no December 24th," says George Suarez, also known as "Chino Chef Paella." Suarez, a colorful Miami-based chef of Cuban Cantonese descent, owns "Puerco Asado," a small family-run business with an innovative twist to an old tradition.
Suarez and his daughters take a whole pig and a rotisserie to parties in people's homes and slowly cook it outdoors, so the hosts can relax and mingle with guests as the pig slowly turns and roasts to perfection. For Suarez, this is an extension of what he grew up with in Havana in the 1950s.
"I was raised in this atmosphere," recalls Suarez."I loved it."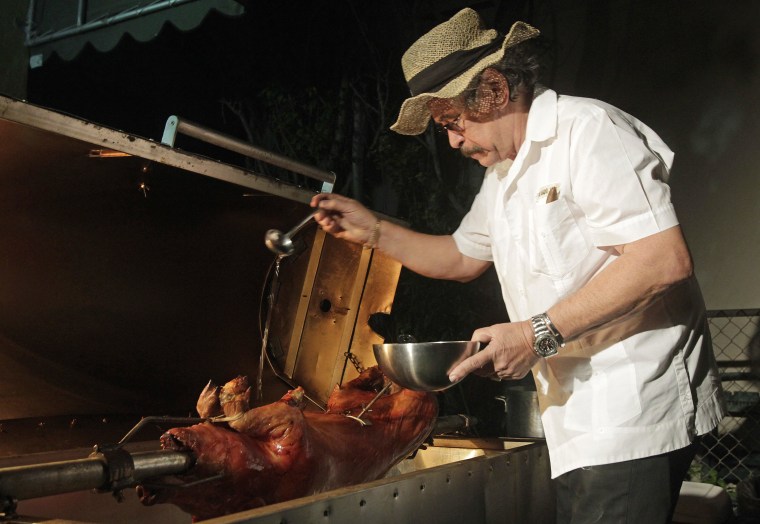 Each year on Christmas Eve, the campesinos - those who lived in the countryside outside of Havana- would bring pigs to sell in his neighborhood. Suarez and his father would examine and weigh the corralled pigs, and once they found found the right one, they would pay and take it to their backyard.
"I remember my father would kill it with a single stab," Suarez said.
Roasting the pig slowly in the backyard was an all-day event. As the delicious aroma filled the neighborhood, relatives gathered around to socialize and wait for the pork to be served on a long wooden table along with countless other dishes including rice and beans, plantains and Spanish turrón, the nougat dessert eaten by so many Spaniards and Latin Americans at Christmastime.
The ritual of the outdoor lechón asado or pig roast is a custom that has been around for centuries, since the Spaniards brought pigs to the Americas. Generations have grown up participating in the all-day event; roasting a pig can last six to eight hours, creating an opportunity for family and friends to socialize, drink and catch up.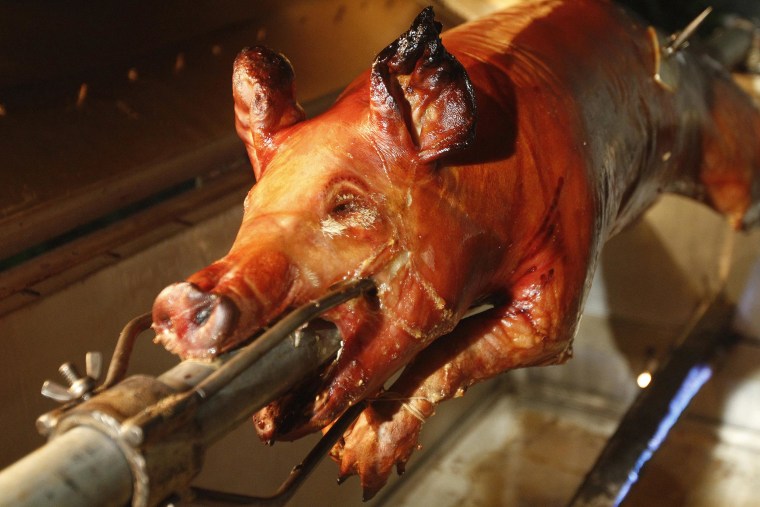 With immigration, Latinos have brought this ritual to the U.S. and in cities with mild weather such as Miami the vibrant custom continues.
For Suarez, roasting pork has been a constant in his life. After leaving Cuba, he lived in Stockholm, Sweden for 7 years where he became famous for his roasted pork. He and his family settled in Miami in 2001 and opened a small shop making paella, the famous Spanish rice dish.
But his clientele was increasingly requesting roasted pork, and that's when Suarez moved in with his unique idea of roasting pigs on-site at parties.
Follow NBC News Latino on Facebook and Twitter
"For us the pig is part of the party. We like to look at the pork roasting every once in a while and ask 'is it ready yet?'," recounted Suarez's 28 year-old daughter, Lisandra. She spoke to NBC on a recent afternoon at their shop while a plump 70-pound pig was being stuffed with rice and beans prior to being roasted at a party later that evening. The staff was bustling preparing other orders, cutting plantains, chopping onions, and squeezing juice from sour oranges.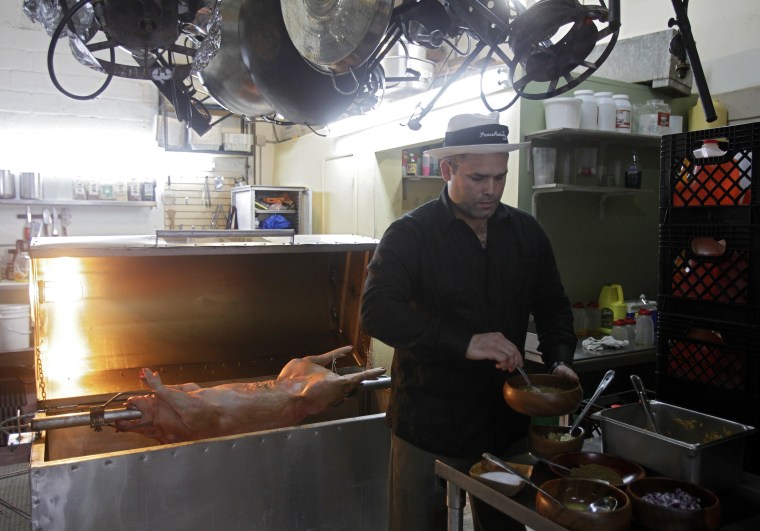 Although the Suarez roasted pork is in demand year-round, the orders begin to pile up when Christmas rolls around. On average the Suarez family roasts about 80 pork legs or pork shoulders for Christmas Eve at their shop for delivery. But Suarez says he will only roast 20 whole pigs in order to maintain the quality he is known for.
For those who don't have access to Suarez's services and prefer to roast their own pig, the "Caja China" - which translates to Chinese Box - has become famous among Miami Latinos. Roberto Guerra, Chief Executive of La Caja China says as a young adult in the 1980s he was in charge of roasting the pig each Christmas Eve but was sometimes frustrated with the long cooking process.
"It was a mission," according to Guerra, describing how he would become distracted drinking and playing dominos and not realize the fire from the charcoal had shot up and was burning the pork – a disillusionment for Latinos who love to nibble on the crunchy skin, known in places like Puerto Rico as cuerito and chicharrón.
Guerra shared his concerns with his father who came up with La Caja China, modeling it after a similar box he saw in Havana's Chinatown in 1955 when he was a traveling salesman.
"I thought he was nuts to put the charcoal on top," Guerra said.
But the rectangular, open-topped, wooden box, lined with aluminum caught on quickly. The company now sells around 3500 boxes a year, and has even become popular in countries such as Germany and Lithuania.
La Caja China reduces the cooking time by almost half, if directions are followed properly it should produce a perfectly cooked pig.
Latinos who don't mind getting a bit dirty roast pigs a more rustic way. Eric Delgado, an electrician from Miami, roasts pigs in his backyard each Christmas Eve a more traditional way. He starts by digging a hole about three or four feet deep and filling it with charcoal. He places bricks around the hole and a grill on top where he lays the pig. He only likes to season it with salt and sour orange and says what gives his pork a distinct flavor is burning a sour orange tree branch and a guava tree branch along with the charcoal during the final hour of roasting.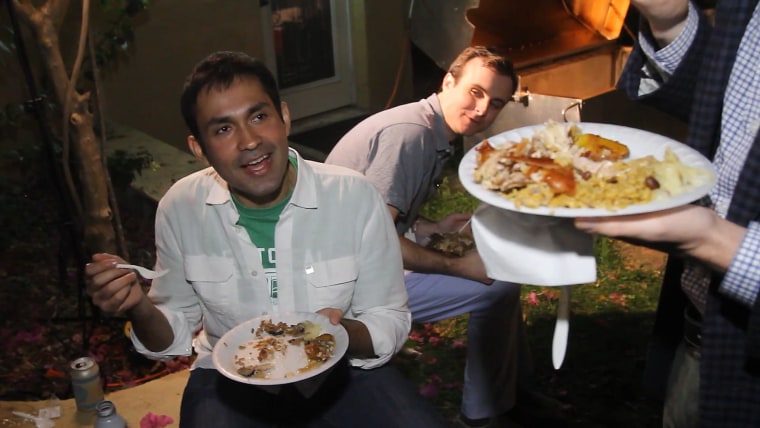 "The hours of rotisserie is the time to have the family gathered and the kids playing while drinking cocktails," Delgado said.
One of the more famous and traditional ways of roasting a pig is a la varita - on a stick - popular in Puerto Rico and immortalized in aguinaldos or Christmas songs that mention coming down from the montañas (mountains) and eating lechoncito a la vara.
There are different styles of roasting pigs. But what unites many Latinos, especially those from Caribbean countries, is family, friends and a bite of lechón. As Chef Suarez says, many Hispanics might not eat roasted pork and crispy skin on a regular basis. But on Christmas Eve, virtually everyone takes a bite of lechón.