NEW YORK — The organizer behind New York City's next big immigration march, La Marcha de Mayo, admits it started with the click of a button on Facebook.
"I just started a Facebook invite," said Ana Breton, a digital producer with the TBS show, "Full Frontal with Samantha Bee." But thousands responded in a matter of days to the Saturday, May 6th, march, and the interest has kept growing.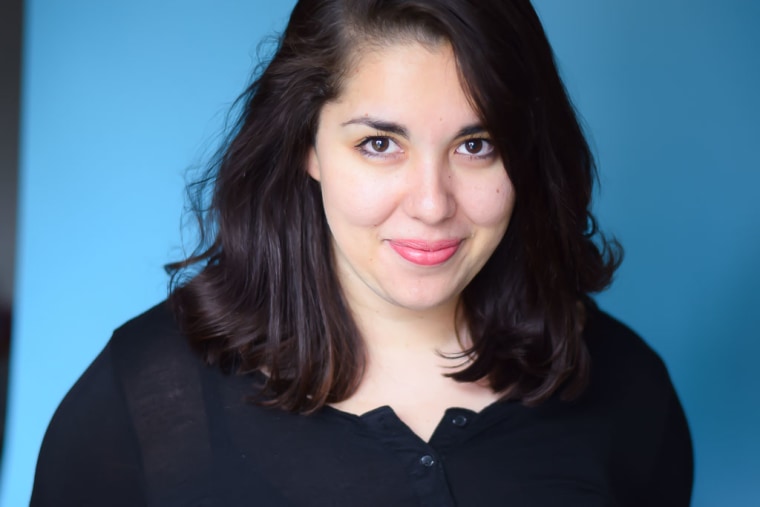 Since then, her political organizing has become a second job. "Every night I go out and speak to people about the march. I get to meet so many people I would have never met before."
Overwhelmed is an understatement for this young Latina who says her only past political experience is voting. Breton, like many people involved in activism these days, says her involvement is personal.
An immigrant herself, she came to the United States from Mexico City with her parents when was 10 years old. Breton says she wants to change the way many view immigrants. She and about three dozen volunteers have been working on setting the stage for a big, positive and peaceful rally and march in New York City on May 6th.
Breton recently spoke to NBC Latino about the planning for Saturday's event; here's our edited interview.
How did this idea for a march start?
We went to the Women's March in Washington D.C. It was such a powerful experience. I came back and then I saw Donald Trump give a speech on immigration. He was talking about the border wall and how immigrants are bad. I told myself, okay this is real. This is something that we are going to have to deal with. I decided to do something about it. I turned on my computer and asked, where is the march where I can say I don't agree with his stance on immigration? There wasn't one. I decided to create a Facebook event. It's probably the silliest thing, but I wanted to see if I could do this.
How did you figure out how to plan a march in New York City?
I was reading a lot about the women who started the Women's March and they were not activists when they started; they were moms with normal jobs. I was so inspired by that. That made me believe that I could do this. Then, a few days later I looked at my Facebook event and it had 11,000 people who had clicked interested and it was overwhelming.
I was like, okay it has to be done. I have to figure it out. I Googled how to hold a rally at a march. That sounds ridiculous, but it's what I did. There's not really a guide for these things. I started applying for all the permits and figuring out the rest. What was really cool is that a lot of people started contacting me through Facebook offering their help. It became a group effort to start planning the march.
RELATED: The 'Sanctuary' Debate Hits College Campuses: NYU Group Seeks Designation
Since the election, what changes have you seen within the immigrant community?
I think a lot of immigrants are scared. They are trying to stay in the shadows because of what is being said about them. I think the rhetoric right now is very anti-immigrant and anti-Latino; there are things being said about Mexicans, calling them "rapists" and "bad hombres". People are really believing that, and it's just not true.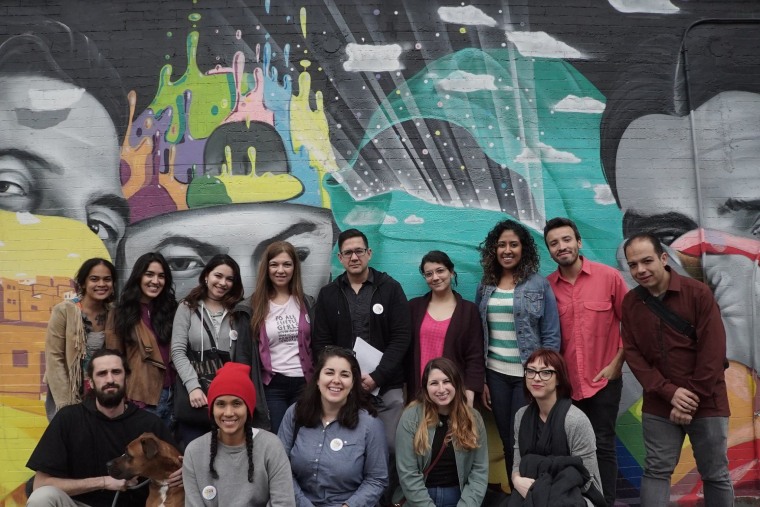 I just can't believe that every day I have to say, we are actually good people, immigrants are actually really good. A lot of my family immigrated to the United States. A lot of my friends are immigrants and Latinos. These are things we worry about and talk about all the time.
How has the response been?
I have had people reach out to me on Facebook; most are just regular people, a lot of them are immigrants or Latinos in the community. There are 30 of us working on it right now. Most all of them have no political experience. They are teachers, a mother daughter team, a holistic coach, graphic designers and one is a personal trainer. A lot of the people are from different countries.. Everybody has been effected in their own way.
How would you describe the whole experience so far?
It's overwhelming in the most positive way possible. Every day I cry for a different reason. It's usually because someone donated to the campaign. Everyone is so supportive. Today I cried because we received funding to give away t-shirts at the march. There has been overwhelming support from individuals. Another person that reached out is someone who works at Mixteca and they have become our sponsor. Mixteca is a non-profit organization. They work with Latino immigrants who have recently settled and help with housing and citizenship and provide emotions and legal support. We decided to partner up with them and they do awesome work. I told them after this I want to volunteer with them.
What do you hope happens at the march?
I would love to have a crowd. We are getting a lot of wonderful speakers. We are trying to make the rally a platform for people that haven't had a voice in this election. We want to prop up and give a voice for people who feel like they need to hide because they are immigrants or Latinos. We want to show how beautiful their stories are.
What I would really want to happen is that I want someone walking down the street to look at the rally and say, "Immigrants are so cool. Latinos are so cool. I have changed my mind. I'm going to reach out to a neighbor."
It sounds silly, but we are trying to come together. Immigrants are great and they can make the country better. A lot of people are telling us they don't. I want to change that idea.
What part of this experience stands out the most?
The group of volunteers. They are awesome. We are all strangers before we met.
What will you do after?
We definitely want to help immigrants and Latinos and causes that those groups care about and the issues they care about. We are going to go out and register people to vote and try to volunteer at organizations in the city. We have become this pact that is passionate and all new activists. We are trying to do good together.
La Marcha de Maya is on Saturday, May 6th in New York City, starting at 11:00aET at One Dag Hammarskjold Plaza, near the United Nations. A march will follow to Trump Tower.