At 25 years old, Angy Paola Rivera is a DREAMer who boldly shared her experiences as an undocumented young adult and a survivor of childhood sexual abuse. Her activism and desire to help others has landed her the American Immigration Council's Immigrant Youth Achievement Award.
"I didn't realize how big this award was until my friends called me freaking out," she told NBC Latino.
Rivera will receive the award at the 21st Annual Immigrant Achievement Awards in Washington D.C. on April 7. She will be honored alongside César Vargas, the first open dreamer eligible to practice law in New York City, and Donald Graham, co-founder of TheDream.US, a national scholarship fund for DREAMers.
Rivera left Colombia with her mother when she was four years old. She grew up undocumented in the U.S., but did not fully understand the impact that would have on her life until she reached high school. As a student back in 2009, Rivera became heavily involved in immigration activism with the New York State Youth Leadership Council (NYSYLC).
When she decided to come out as undocumented at the end of high school, she found her voice in her advice column "Ask Angy", which details her decision to reveal her status and give advice to anyone going through similar experiences.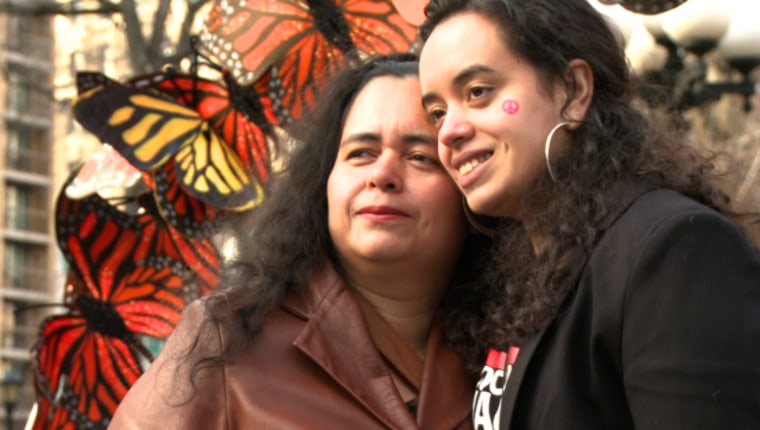 Then in 2012, Pres. Barack Obama issued an executive action called the Deferred Action for Childhood Arrivals (DACA), a program allowing qualified undocumented young immigrants brought to the United States as young children to gain temporary protection from deportation.
"When DACA was announced, I went to get screened for eligibility, and I found that I qualified for a U visa which is given to victims of crimes in the U.S.," she said.
On top of applying for deferred action, she became the focal point of the documentary on living under the radar as an undocumented immigrant. The film, "No le Digas a Nadie" or "Don't Tell Anyone," followed Rivera through the process of coming out as a DREAMer, but also her process in addressing and talking openly about her childhood sexual abuse.
"I think the best experience others will see is me overcoming fears and reaching goals," Rivera said in an interview with NBC Latino back in 2013. "Like, talking about my sexual abuse history or being able to afford another semester of school. Also, my mother coming out [as undocumented] for the first time is a big deal!"
Now 25 years old, Rivera is set to graduate from the John Jay College of Criminal Justice in May after taking seven years to afford and complete her degree, which will be in Culture and Deviance Studies with a minor in Human Services.
She plans to continue her activism to "inform other DREAMers of their rights and resources, and help them realize the power undocumented youth have in society," she said.