A Latino grandfather as the face of medical marijuana? A documentary on the life of an octogenarian New Yorker known as "cannabuelo" — a play on the words cannabis and abuelo (Spanish for grandfather) — aims to show the benefits of the medical marijuana industry to minority communities.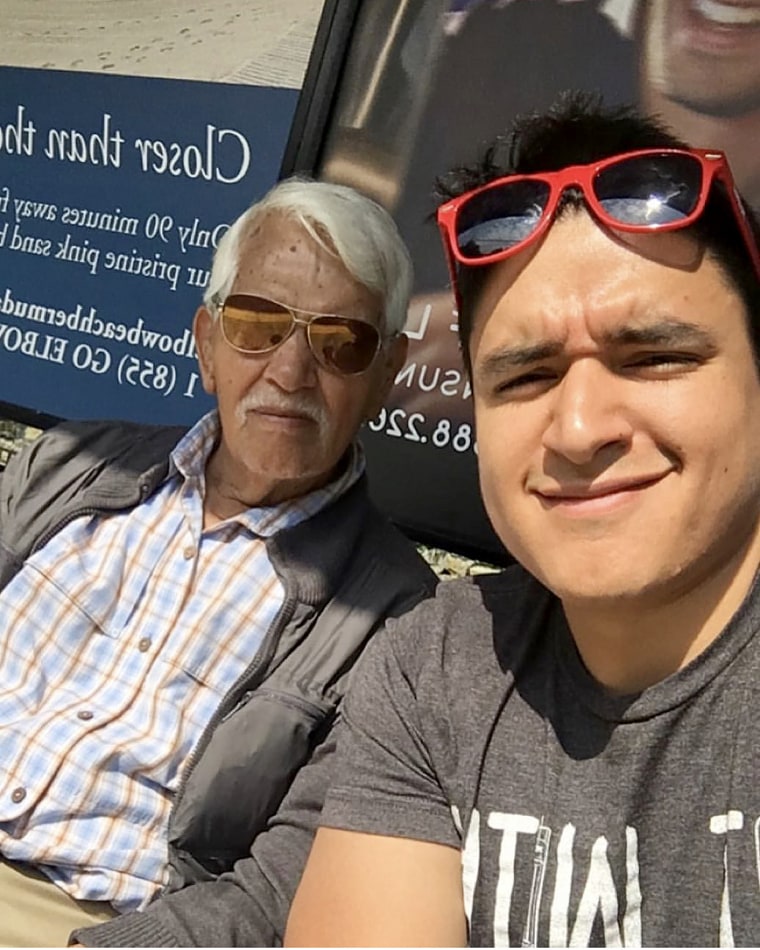 Jorge Gavilanes, 80, who is originally from Ecuador, has stage 4 prostate cancer. He lost a significant amount of weight and energy following surgery and chemotherapy and that's when his grandson and caretaker, Nelson Guerrero, 27, suggested he try cannabis to improve his quality of life.
Despite initial reluctance from Guerrero's parents, Gavilanes began taking three drops of tetrahydrocannabinol (THC) and cannabidiol (CBD) — compounds in cannabis plants that can have therapeutic properties — after each meal.
"Almost immediately, he was sleeping better and his appetite returned," Guerrero told NBC News. "And when he microdoses, it doesn't really affect his mobility or what he's doing, so he can still drive the car for short distances with no issues. The biggest thing is that cannabis has helped alleviate his pain."
Now, Gavilanes is sharing his experiences as a New York medical marijuana patient in a new film titled "CannAbuelo: The Jorge Gavilanes Story." The forthcoming film is part of a larger initiative by the Cannabis Cultural Association, a New York-based nonprofit co-founded by Guerrero to help minority communities engage with the legal cannabis industry.
"There's a lot of people suffering with cancer right now," Gavilanes said. "They should be informed about this medicine."
Guerrero, the association's executive director, said many misconceptions about medical marijuana persist, particularly among older Latinos.
"Hopefully people start thinking of it differently, in terms of the medical benefits," Guerrero said. "It's not smoking joints and hitting bongs; it's a medical breakthrough and we want to get the conversation going."
Inspiring dialogue among those who are reticent to engage with the medical marijuana industry is what the Cannabis Cultural Association aims to do through meet-ups, workshops and other events. Last Saturday, it participated in a rally at Union Square Park to advocate for equity and inclusion in the marijuana industry.
The organization has also co-sponsored community board meetings during which panels of experts speak about how the cannabis industry can impact a neighborhood.
Guerrero notes that African American and Latino communities are disproportionately criminalized for marijuana possession, which makes them reluctant to reap its medical and economic benefits. As a result, he and his team, which is mostly composed of people of color, are actively fighting for equity in the cannabis industry for black and Latino entrepreneurs and patients by providing resources about the New York state medical marijuana program on its website. The group also provides legal assistance to those who are unable to use cannabis as a medical treatment under the Controlled Substances Act.
"CannAbuelo: The Jorge Gavilanes Story," will be released in different versions over the next few months on the Cannabis Cultural Association's website and YouTube channel. The documentary is in Gavilanes' native Spanish, with English subtitles and will run at 30 minutes long. Guerrero said they plan to have different versions of the film to tailor it to people looking for specific information.
"My abuelo is my best friend and cannabis is what gave him a second shot at living," Guerrero said.
"When your grandfather is told, 'Yeah, you have six months or a year to live' and he decides he doesn't want to do chemo again, that he wants to enjoy whatever time he has left, he deserves to have the best quality of life he can," Guerrero said. "Hopefully a lot more abuelos will start using cannabis after this film."
FOLLOW NBC LATINO ON FACEBOOK, TWITTER AND INSTAGRAM.