BOGOTÁ, Colombia -- A group of thirty high-school students giggle nervously as a video is played to the class. They shuffle awkwardly in their chairs but they can't take their eyes off the screen.
They're watching an Australian condom ad. It shows an attractive young couple having sex in a pharmacy as they try out new brands of condoms. Australian censors banned it in 2013 for being too explicit. For these 16 to 18 year olds, it's just another regular day in Mr Bermúdez' sex education class.
"I'm trying to reflect how attitudes to sex differ around the world. In Latin America the fear of getting pregnant is used a means of prevention and in Western societies there's also an element of fear but sex is also portrayed as something pleasurable," social sciences teacher Luis Miguel Bermúdez told NBC News.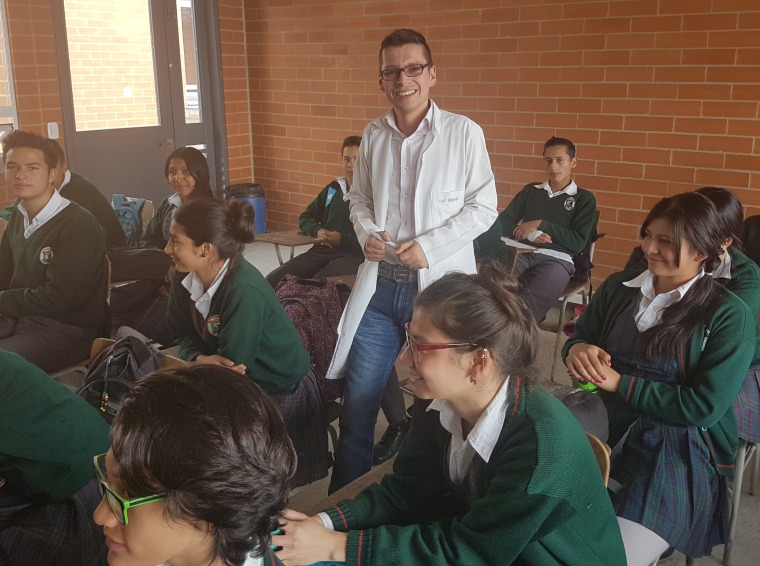 In 2010 Bermúdez, 35, left the private sector to take up a post at one of Bogotá's oldest and biggest public schools. The Gerardo Paredes co-educational school is located in Suba, a poor neighborhood with more than 4,000 students. His first task was to deal with the school's biggest issue of teenage pregnancies. The school had some of the highest rates in the Colombia.
"It was common to see 14-year-old pregnant girls arriving to class and their education was practically over, and they were left with very few prospects. Some of the girls had two babies by 16 and I was worried about their futures.'' said Bermúdez.
Colombia has one of the highest rates of teen pregnancies in Latin America. According to government figures, one in every five girls aged between 15 and 19 years are or have been pregnant.
Bermúdez invited parents, teachers and council officials to help develop a pioneering sex education program for his school. They ignored the standard religious based doctrine and started over, prioritizing themes such as sexual diversity, human rights and desire.
"I said we should talk honestly and openly about sex," Bermúdez recalls. "We needed a different approach. These kids aren't ignorant, they know a lot more about sex than we give them credit for!" he said.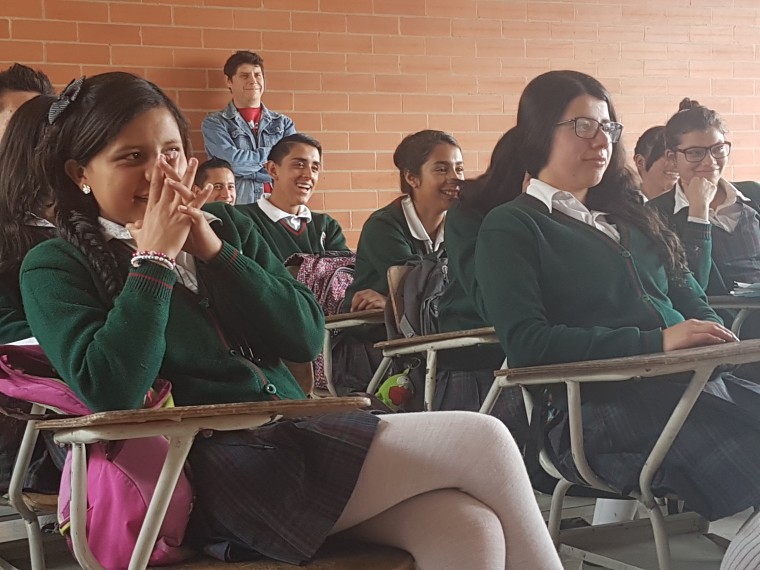 The classes were an instant hit with the students. For the first time in their young lives, they were able to talk openly about all aspects of sexuality, fertility, LGBTQ rights and intercourse. After just five years the program has been so successful it has completely eliminated adolescent pregnancies in the school.
"In 2011 we had roughly 70 pregnancies a year and this year we have zero. We no longer have any pregnant students - not even one," Bermúdez proudly said.
This is a remarkable achievement given that 314 girls aged 10-14 became pregnant in Bogotá last year alone.
"We don't tell the students it's bad to have sexual relations with your partner - it's a reality, it happens," Bermúdez said. "But we don't encourage them to have sex either. It's all about being responsible, planning ahead and respecting each other."
One of the early breakthroughs was giving the students a say in how the program is structured. "Never before in Colombia has a sex-education class focused solely on prevention and pleasure instead of morals and religious beliefs." said Bermúdez.
The class has united both girls and boys in condemning gender-based roles and female violence, a massive social problem across Latin America. During class the students have learned to respect each other and their bodies as equals.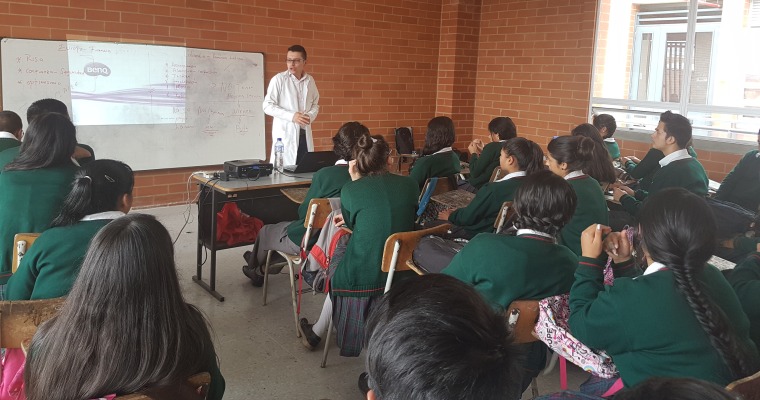 "We include our boys in the pregnancy statistics. It's not just the girls' responsibility. Just because boys live in a very macho culture those ideas are not entertained in this classroom." Bermúdez said.
It's 10:30 a.m. and Bermúdez arrives for his first class of the day dressed in jeans, sneakers and a bright, immaculate white teaching coat. His first name is sewn into the pocket. Bermúdez wants the students to see him as approachable - not aloof.
There are no spare seats and the students sit in complete silence as their teacher addresses the class. "Today we're going to talk about double-standards and male and female stereotypes," he announced in a friendly voice.
"What do people say if a boy doesn't have a girlfriend by 16 or 17 or if he has a piercing?" Bermúdez asked.
"They say you're gay and not a real man," replied one of the girls.
"And what about if you're a girl and you just ask someone for advice about contraception or even get pregnant?" he continued.
A male student sticks his hand up and answers honestly; "You're a puta" - a derogatory term for a prostitute that's widely used to denigrate women in Latin America. "And he's not wrong," said Bermúdez as he scribbled the nasty term on the whiteboard.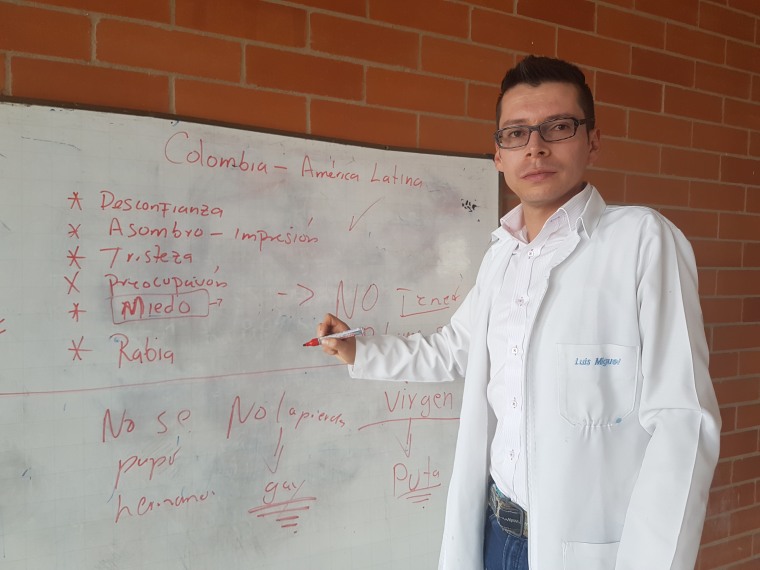 None of the students laugh – there's a lot of sighing and some shake their heads in disgust, perhaps realizing how unfairly girls are treated in Colombia's macho or male-dominant culture.
Under Colombian law, girls aged 14 and older are allowed to make their own choices in relation to sexual health. They're entitled to seek independent, expert advice about reproduction, contraception and fertility without the consent of an adult.
But during the classes it emerged that many girls were treated badly when they sought out medical advice.
"Doctors told them they had to come back with their parents. Girls were lectured on their morality and told they should be studying. If they went to the pharmacy, they tried to shame them in front of other customers." Bermúdez told NBC News.
This attempt at public humiliation didn't succeed. Instead, it empowered the girls to stand up to the authorities. They returned to the clinics with their friends and explained they knew their rights. This act of female unity didn't go down well.
"They were threatened and told to go away and that if they came back the pharmacy staff or doctor would tell their parents." said Bermúdez. "Our culture does not accept diversity."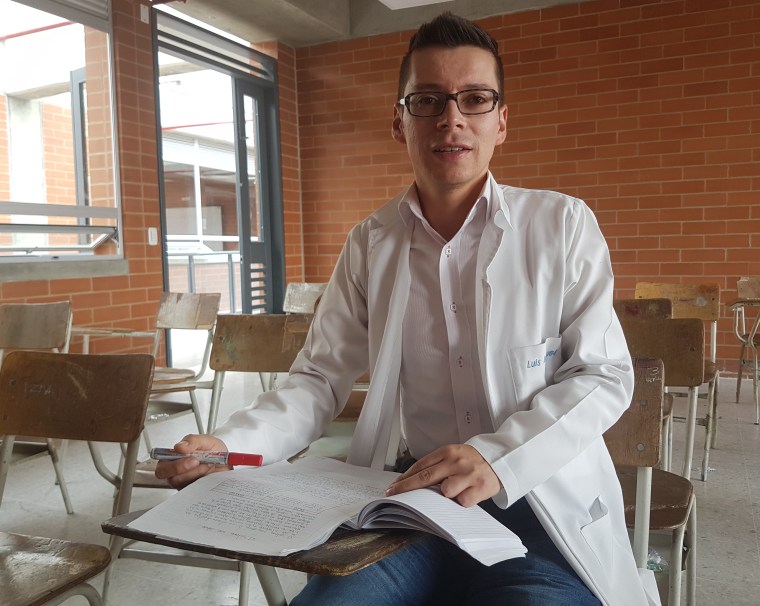 The successes at the Gerardo Paredes high school have not been repeated elsewhere in Bogota. According to council statistics, between 2012 and 2015 the number of teen pregnancies in the capital increased by 106 percent. Not one other school in the country has taught a similar program for fear of offending the church or conservative parents.
"We've been called hippies and immoral by some parents," Bermúdez said with a laugh. "But we're very proud of what we've achieved. I'm going to keep going because there's no other program like it in Latin America and I'm passionate about bringing it to other schools on a national and international level."
His success hasn't gone unnoticed. Earlier this year President Juan Manuel Santos named Bermúdez as Colombia's best teacher and praised his efforts in eliminating teenage pregnancies at his school.
Back in the classroom, as the school bell rings for lunch, the students break into a spontaneous round of applause for their popular teacher.
They huddle around their teacher with broad smiles, full of energy and enthusiasm. They seek out his advice on all sorts of domestic and school related problems.
"I'm never off duty but I can't complain," he said. "My students are an example to the rest of the world. We've shown that even in the poorest areas, you can achieve great things with so few resources. All you need is determination."