"I go chick-chicky-boom, chick-chicky boom," said Guillermo Gael Delgado Garcia, 13, from Monterrey, Mexico, who made his TV debut dancing on Steve Harvey's new show 'Little Big Shot' on NBC Sunday night.
"I was just asked if I wanted to be on a TV show in Los Angeles produced by Ellen DeGeneres," he excitedly told NBC Latino in a phone interview on Sunday. "I didn't get to meet Ellen but I did get to meet Steve Harvey, who is very kind. If they invited me again, I would do it!" Guillermo said he's still waiting for a chance to meet Ellen and that he would travel to meet her in a heartbeat.
In June 2015, Lazarin Delgado Oviedo posted a video on Facebook of his nephew Guillermo dancing to 'Cuban Pete' and it already has over 6 million views and 100,000 shares.
Guillermo said his life has changed dramatically, especially in school where he used to be bullied for being "the chubby kid that danced."
"There's some kids that didn't talk to me before who now do," said the 13 year old. "I used to be the kid that everyone bullied and now everyone just wants to talk to me - after the first video, everything changed. Everyone wants to sit with me for lunch."
Guillermo said that his entire family is overjoyed by the experience and that they are still shocked the original video went viral. "We are all glued to the TV waiting for the show to air," he said hours before the show.
His mother, Olga Garcia, said her son has been dancing since before he was even a year old. "Music came on and he would start dancing with anyone anywhere," she said, "He loves dancing to anything, not just 'Cuban Pete'. That [original] video was just because he loves Jim Carrey's The Mask."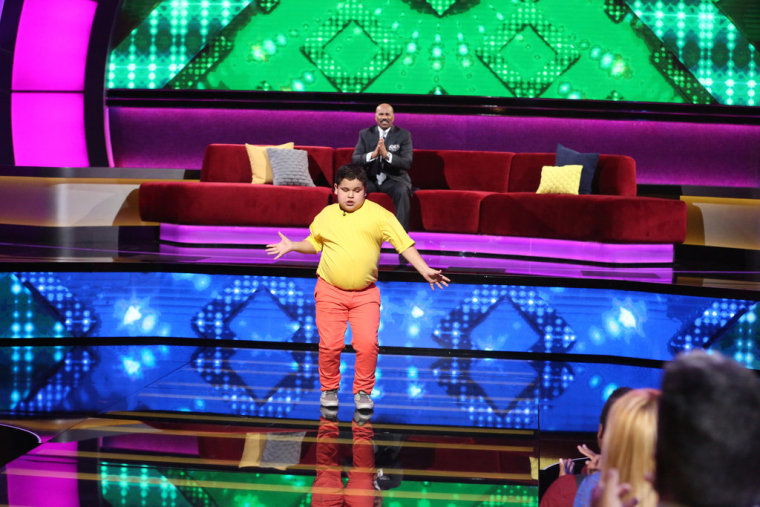 She added that she is nervously waiting to see how people in Mexico react to her son's TV debut. "We're waiting for everyone in Mexico to see because the comments in the U.S. have all been very positive but here in Mexico there's a lot of bullying," she said.
On Little Big Shots' Facebook page, comments have been pouring in since a video was posted Friday March 25. Judy Durst wrote: "This little boy is fabulous and I think he knows it. He made me want to get up and dance. And I DON'T dance."
Lorie Harley wrote "awesome little dude, puts me to shame" and Miriam Ronquillo said "I hope he never loses that wonderful personality."
Regardless of what comments may come, Olga remains proud of her son. "I'm so proud of him, I can't believe he made it so far," she said, "This is an experience I am sure he'll never forget."
Congratulations, Guillermo, and keep dancing!