Just a few years ago Emily Núñez Cavness was serving in Afghanistan as an Army Captain. But even before she started her military career, she got an idea during her senior year in college that has turned into an award-winning, socially conscious company that employs veterans and gives back to the military community.
Emily envisioned an enterprise to recycle military surplus, and she and her sister Betsy created Sword & Plough.
Using materials like old military tents, parachutes and 50-caliber shell casings, the Núñez sisters create all-American manufactured bags, jewelry, and purses. The slogan for their products is "repurposed with a purpose." The company employs veterans throughout every step of the manufacturing process.
"I thought what in my life is sometimes wasted that could be harnessed and turned into something really beautiful with a powerful mission," Emily said.
Since the inauguration of the company, the sisters have reused more than 35,000 pounds of military surplus and have supported more than 65 veteran jobs.
The sisters have come a long way since their original Kickstarter campaign. Sword & Plough recently won the grand prize in the FedEx Small Business Grant contest, which includes a $25,000 grant, plus $7,500 in print and business services to help them grow their business.
RELATED: New Partnership Seeks to Boost Latina-Owned Businesses
"Sword & Plough's business model really embodies this lifecycle where we are repurposing this material and giving back and empowering the community where the bag's materials are coming from," Emily said. "It's also really meaningful to us because we personally know just how amazing veterans are to civilian communities and the civilian workforce."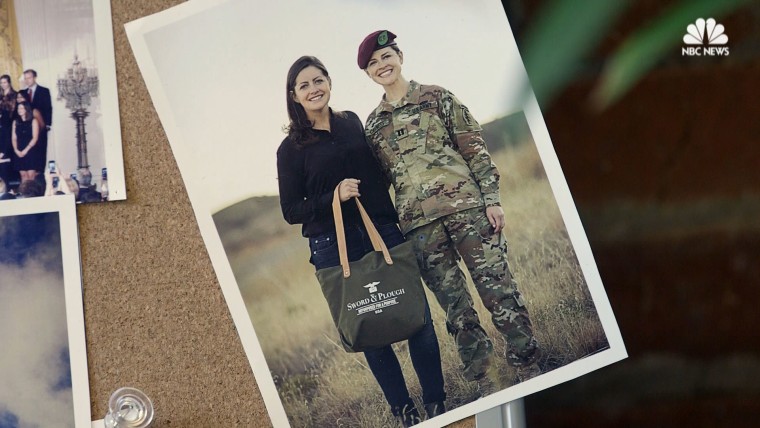 According to the Bureau of Labor Statistics, in 2016 there were 453,000 unemployed veterans throughout the country. Of those veterans, 60 percent of them are 45 or older.
"I think we just hope that they have the opportunity to share their experiences within their service with the entire civilian community, as well as really anywhere that they are because we know their experience, and their leadership and their technical skills is something that everyone can learn from," said Betsy.
The Núñez sisters said that growing up seeing their father, uncle, and other family members be a part of the military community helped strengthen their passion for their work. Betsy said that having support from their family, military community and friends is an immense feeling of pride and joy.
Along with donating dozens of bags, purses and materials, Sword & Plough also donates 10 percent of their profits to veteran organizations across the country. The sisters hope to continue growing their brand, and hope to continue giving back to the community that they said has given them so much.
"We're extremely hopeful and excited to hear that the bags are conversation staters," said Betsy.