With little money for books, the mother of acclaimed author Meg Medina took Medina to their local library on Northern Boulevard in Flushing in Queens, New York, which "had the added benefit" of being across the street from a Jack in the Box.
"My mother did something that I think was a great strategy, which was when you went to the library, it got coupled with other things. It might be a trip to the supermarket, or it was Jack in the Box, or it was, you know, stopping at the candy store," said Medina, whose middle-grade novel "Merci Suárez Changes Gears" won the prestigious 2019 Newbery Medal.
The Library of Congress named Medina the national ambassador for young people's literature for 2023-24. Medina, who spoke to NBC News in advance of the announcement, is the first Hispanic named to the position, which will take her around the country to libraries and classrooms to encourage reading.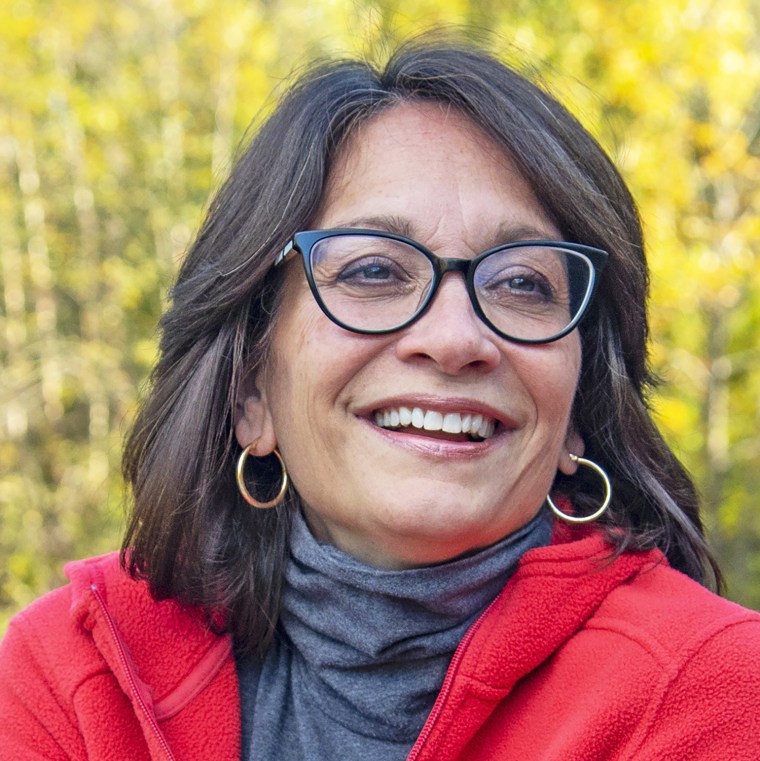 Medina, 59, has plenty of stories to tell, many that have served as foundations for the biculturalism and multiculturalism of her well-known characters and their worlds in her award-winning books.
She said she hopes she can spread to parents, families, children and their caretakers her mother's wisdom of finding ways to connect children with books and libraries and encourage them to keep reading.
'I'm pro-kid ... pro-library'
The role Medina will play is an initiative of the Library of Congress in partnership with Every Child a Reader, a children's literacy charity with funding from the Library of Congress' James Madison Council, the Capital Group Companies Charitable Foundation and the Dollar General Literacy Foundation.
Medina is taking on the job in a political uproar over literature aimed at young people and in school libraries, largely with LGBTQ themes and characters. Medina herself faced censorship over her book "Yaqui Delgado Wants to Kick Your Ass," a book about bullying, which won the Pura Belpré Award in 2014 and is being published this year as a graphic novel.
"I'm pro-kid. I'm pro-library. I'm pro knowing about the world, and to that end I feel the strongest position we can be in is to be in conversation with kids about what they are reading," she said.
"We want thoughtful people. We want to try to grow people with empathy, who know about the world to come, who can form opinions," Medina said, "and that usually happens by engaging them in a lot of conversations that aren't easy, that are layered and that require a lot of deep thinking."
She has chosen "Cuéntame! Let's talk books" as her personal stamp for her two-year ambassadorship. 
Medina's daughter, Sandra, encouraged her to use the Spanish-language greeting to define her objective as ambassador.
Spanish speakers commonly greet one another with "Cuéntame," which means "tell me" and can also loosely mean "what's happening?" Medina said she often says it to her daughter when she walks in the door and they sit down for coffee: "Bueno, cuéntame."
But to Medina's daughter, whose first language is English, the word means "story me," said Medina, who now lives in Richmond, Virginia. The word "cuento" means story in Spanish.
"That is what we want for kids. Story me — we want to bathe them in our family stories. We want to bathe them in books. We want to story them up as much as we can," Medina said. "I also like the warmth of that expression — it's an expression I use when I'm sitting with a friend and when I'm thinking about readers in this country. I'm thinking of my friends."
Drawing on family, community — and an inspiring aunt
Medina, born in Alexandria, Virginia, was raised in Queens mostly by her mother, Lidia Regla Meauten, because her parents divorced when she was young. Her mother, who valued education, was the first in her family to get a college education, which she did in Cuba. She knew little about American literature, but she bought Medina the World Book Encyclopedia, on installment, and took her to the library.
Medina remembers her mother reciting, by heart, the renowned poem of Cuban liberator Jose Martí, "Los Zapaticos de Rosa" ("The Pink Shoes"), while she cooked or walked around their apartment. It used to drive Medina crazy, but it filled her mind, she said.
Her mother had been a teacher for elementary-level students in Cuba, but in the U.S. she worked in a factory making transistors. The factory was a "sea of Latina ladies," Medina recalled.
"It was an experience being in a room with all these ladies. There was sort of a simmering trauma to it, because the immigrant story is a story of hope but also of loss. ... They often talked about their losses and the things they miss and the people they love," she said.
It was also a community in which the women shared information about who had chicken on sale or where to call to get financial aid papers, becoming its own support system.
"That, I think, is at the root of the community work I do. I just feel, whether as an author or member of my community here, you are not by yourself. ... You take from a community, but you give, as well," she said.
There was her Tía Isa, who bought the first family car. Medina described her aunt, whose full name is Ysaira Metauten, as "a horrendous driver" but the one among her sisters who managed to learn to drive.
"Nobody thought Isa would get a license, to figure out to save to buy a family car, to get this cacharra [jalopy], as she used to call it, and drive us all over the place safely," she said.
That aunt is the inspiration for her book "Tía Isa Wants a Car," which won the Ezra Jack Keats New Writer Award. The book was translated into Spanish, too, and Medina's mother was able to read it before she died in 2013.
Other books by Medina include "Mango, Abuela, and Me," a Pura Belpré Award honor book in 2016, and "She Persisted: Sonia Sotomayor," a biography for young readers about the country's first Hispanic Supreme Court justice.
Librarian of Congress Carla Hayden, the first woman and the first African American to head the national library, touted Medina's "extraordinary" commitment to young readers and libraries.
"I look forward to the ways she will invite young people — especially Spanish and bilingual speakers — to share their favorite books and stories," Hayden said in a statement.
Medina will be promoting books and libraries, but she said that with her job as ambassador she also hopes to encourage parents and families not to undervalue their oral stories of "how we came to be, of the people who loved us, the people still over there loving us [in the case of immigrant families], the people who imagined us before we ever were."
Sharing oral stories, she said, is pivotal for developing basic literacy in children.
"That sense of roots is a grounding influence, and also it's a celebration of our experience," she said. "No child begins here, right? There's a whole system underneath them."