WASHINGTON – Mexican presidential hopeful Andres Manuel Lopez Obrador has asked an international human rights commission to denounce President Donald Trump's border wall plans and alleging "persecution" of migrants in the U.S.
Lopez Obrador filed a petition Wednesday with the Inter-American Commission on Human Rights, part of the Organization of American States. It's job is to promote and protect human rights in the Americas.
Lopez Obrador's stop in Washington has been one of several he's made in U.S. cities to meet and rally with Mexican and other immigrants in this country.
Some 12,000 people signed the petition Lopez Obrador filed, including Mexicans and U.S. citizens, Lopez Obrador said. In addition, he and his party are seeking an international injunction against Trump's executive orders.
"We've requested that the massive deportation of Mexican migrants be stopped," said Netzaí Sandoval, an attorney who travels with Lopez Obrador. "And we have indicated the violation of human rights of Mexicans through the use of a racist and discriminatory discourse."
Lopez Obrador made the comments at a bilingual news conference held at the National Press Club.
Lopez Obrador is a leftist candidate who is considered the frontrunner in Mexico's 2018 presidential race, although official filings don't begin until the summer and other candidates may jump in.
His campaign on the ticket of the MORENA party, which he created, has benefited from a spike in gasoline prices in Mexico and other economic ills, frustration with government corruption and nationalist pride against Trump. He was a presidential candidate in 2006 and 2012 and his razor-thin loss in 2006 brought Mexico City to a standstill.
In addition to launching the salvo against Trump, Lopez Obrador 's move was a slam against Mexico President Enrique Peña Nieto and his party, the Institutional Revolutionary Party or PRI.
"We are proceeding legally against the complete absence of the Mexican government," Lopez Obrador said.
He said that Peña Nieto is acting submissively and is not defending the human rights of migrants. He accused Mexican government officials of having no moral authority to speak on behalf of migrants in the U.S. because of corruption in the government.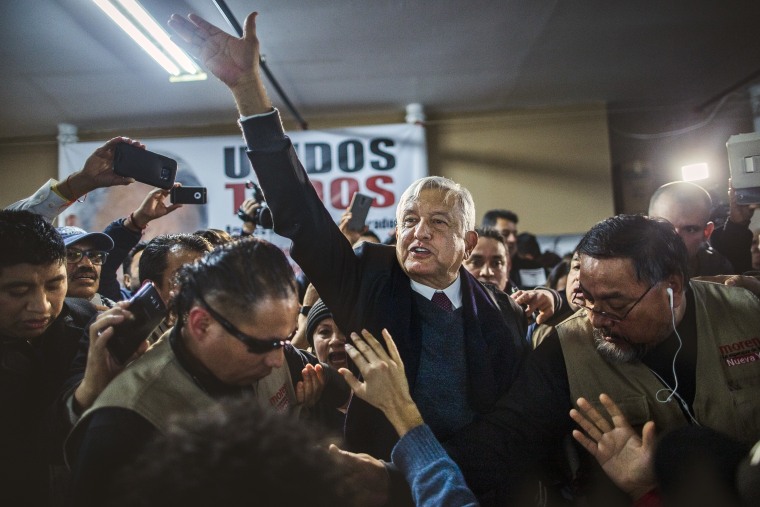 Peña Nieto canceled a January meeting with Trump after Trump continued to insist Mexico would pay for the southern border wall. He later smoothed over the escalating rift in a phone call. However, Peña Nieto has not backed down from his insistence that Mexico will not pay for the wall and would retaliate should Trump go ahead with that plan.
Additionally, Peña Nieto pledged to steer millions of dollars to consulates in the U.S. to help defend migrants who are facing deportation and help them navigate the immigration system and apply for deportation relief legally available to them. Peña Nieto cannot run for re-election when his term ends in 2018.
Related: Trump, Mexican President Peña Nieto Agree to End Public Tiff About Border Wall
The Inter-American Commission has a process for such a petition, first it must decide whether it should it be accepted, then investigate its allegations and then the staff will make a recommendation on action.
Sandoval said the petition names 30 Mexican and Guatemalan immigrants and more may be added later.
The petition includes evidence of a specific case of a woman deported within 24 hours and separated from her children, Sandoval said, calling the case a "traumatic violation of human rights."
"More than borders … it's important to defend human rights. It's a fallacy, a mistake to say United States First or America First," Lopez Obrador said. "Justice is first, universal fraternity."
Asked about the relationship between the U.S. and Mexico, Lopez Obrador said the countries complement one another in history culture, business and commerce.
But he said Trump's "excessive position" of blaming immigrants for the problems of the U.S., "we are not going to allow to permit that. You can't wage a hate campaign against Mexicans because that is neo-Facism."
He said Trump's "campaign of hate" is based on politicking and electoral interest and will Trump win his next election.
Related: Trump Could Give Momentum to Mexico's Leftist Presidential Candidate
Lopez Obrador began a tour of U.S. cities on Feb. 12, stopping in Los Angeles, Chicago, El Paso, Texas and Phoenix, Arizona. He was in New York on Monday where he was supposed to have a meeting at the United Nations, but that was scrapped because of the snow storm that hit the city. He said he also plans to visit San Francisco and Laredo, Texas, which is on the U.S.-Mexico border.
Lopez Obrador said his U.S. tour is not a political tour. However Mexicans in the U.S. are allowed to vote in their country's elections.
The Associated Press contributed to this report.