Within minutes of meeting financial entrepreneur Carlos García, you feel like you've known him for years, and suddenly, you're discussing how to solve Americans' lack of retirement savings.
"It is possible," said the 37-year-old about one of America's biggest challenges, "if you have the passion for it."
This past February, García launched a startup aiming to do just that. Finhabits is a bilingual digital platform that gives investment advice and teaches and encourages individuals how to invest and save for retirement.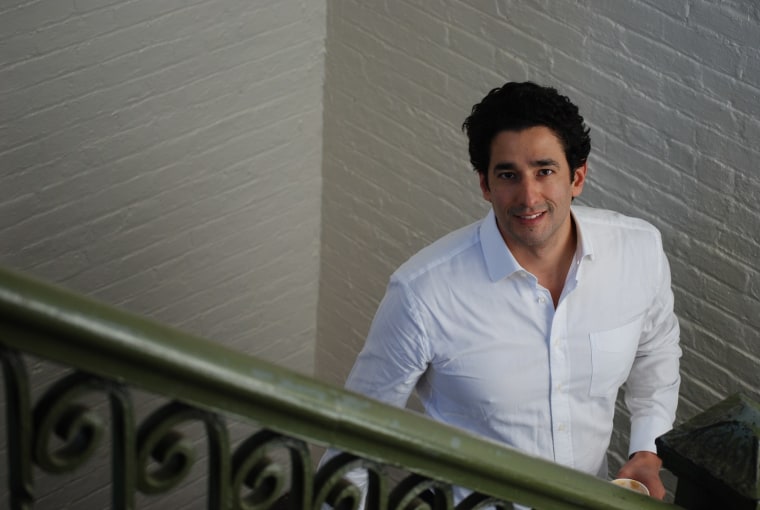 This, he explained, came from his realization that he grew up knowing very little about building wealth and saving, something he learned while working at his first job at Merrill Lynch in NYC.
"I never opened my 401K packet from H.R., and after three years, my colleague said, 'I already have $30,000 saved for my retirement and the company matched it,' and I said, 'What?' All these terms I didn't know, and then I thought about all the people I know, and maybe their parents didn't teach them either."
García said that while his parents instilled in him an ethic of hard work, they were not familiar with long-term financial planning.
According to the Economic Policy Institute, this is indeed a common occurrence among Latinos. Only 26 percent of Hispanic families had retirement savings in 2013, compared to 41 percent of black families and 65 percent of white families.
"I got frustrated when I looked at my Merrill Lynch plan, but then I thought about the people who don't work for a corporation and don't have a pension," said García. As fewer Americans work for big companies with 401Ks and pension plans, it's even more imperative, say experts, that individuals know how to chart out their own savings.
Research by the National Institute on Retirement Security confirms that only 38 percent of Latinos, versus 62 percent of whites, have access to a retirement plan through their employer.
"Most people don't contribute money to their retirement —what is going to happen when we reach 80? I thought to myself, "This is a Latino problem."
RELATED: A Shifting Economic Landscape: U.S. Latinos Discuss Jobs, Income
García designed Finhabits as a platform that helps people who have never invested, develop the habit to do it. "If I can make saving for retirement more accessible and cheaper, it's a winner — it's just like going to the gym," he said. "We text you to give you a nudge to contribute on a weekly basis."
So far, Finhabits has been highly active in Texas, Florida and California. Most clients are new investors in their 30's and saving for retirement using Roth IRA's, contributing an average of $40 a week.
"We want to be in as many Hispanic-driven places as possible," said García. "Any citizen or permanent resident can open an account. Eighty-five percent of our clients have never invested or had a retirement account before. Ninety-five percent of our users are mobile audience."
What differentiates Finhabits from other digital financial apps, said García, is that it's focused on long-term financial habits. The digital platform charges $1 per month for accounts under $2,500 and 0.5 percent per year for accounts that pass that amount.
"Many Latinos don't retire and keep working, because they have to, but what happens if you get a health issue?" said García. "And there's a difference between having a savings account and investing…Ideally, I want everyone to put 5 percent of their income away annually."
García said that no matter how much one puts away, it's best to just do it and not to put off saving.
García is no stranger to solving problems. He spent his formative years alternating between living in El Paso, Texas where he was born, and Juárez, Mexico, the birthplace of his parents —studying in both countries and speaking both languages. He left the U.S.-Mexico border when he got accepted into MIT, one of the world's most prestigious universities —to study electrical engineering and computer science.
"I was an electrical engineer first, and electrical engineering teaches you how to solve problems," said García. He later switched to a finance career in risk and asset management.
Though he has navigated in the high-stakes and lucrative world of finance, García sees his mission as helping support underserved communities, beginning with Latinos.
In 2010, after nearly a decade in Wall Street, García and a few friends from Mexico saw a need to help children affected by drug-related violence in Juarez. They formed Project Paz, a non-profit that partners with artists and socially-conscious brands to host fundraising events. The proceeds fund after-school art programs in Juarez. In the past seven years, more the 6,000 children have benefited from the program.
Apart from his philanthropic work, García is focused on helping propel what he thinks is a bright future for Hispanics.
"Latinos are the only group who has had income growth since 2008 – so there is a huge potential that we are going to be the next wealthy class."
However, García says saving money for retirement and building a nest egg has to be every individual's own priority.
"It's important that you take care of yourself, because the government is not and your employer is probably not," said García. "If you spend an hour per year thinking about what you do with your money, you can double your wealth in retirement."