LOS ANGELES -- In just three short years, Ilse Valfré has gone from being a kindergarten teacher to founder of a million dollar plus indie apparel and accessories brand. The Valfré brand can be found in over 250 stores around the world, from boutiques to Urban Outfitters and Nordstrom. What's remarkable about the petite powerhouse, born and raised in Mexico, is how she built her business.
In a world of fast fashion and disposable everything, this artist and fashion designer has used social media to rival the big brands. Valfré's followers became her fans, who then turned into customers, and today the 29-year-old, Los Angeles-based boss-lady and mother of two has over 680,000 followers on Instagram. Her company's earnings in 2016 were expected to total about $2.5 million, according to Forbes.
Born in Sonora, Mexico, but raised in Tijuana, Valfré was a Montessori kindergarten teacher until 2010, when she set her sights on becoming a professional illustrator, fashion designer and blogger.
She initially sent her sketches to magazine editors, but after she didn't get responses, she took her rejections with a grain of salt, moved in with her parents to save money, and began marketing her work via her social channels.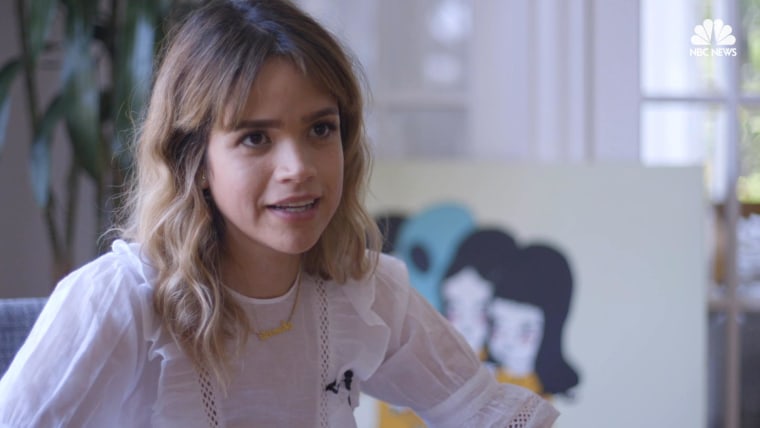 "When the editors weren't interested, I found I could use social media. I drew every day and I posted every day, and Instagram was the platform that really blew things up," Valfré told NBC News. "I owe a lot of thanks to Instagram; I guess I just used the right hashtags, and was really consistent."
Valfré's artwork is whimsical and her characters evolved out of a love of comic books, particularly her obsession with characters Betty and Veronica. She started her brand with her blog and sketches on Tumblr.
After fans of her blog wanted little pieces of her work, she started by selling tote bags and prints.
Although Valfré's demographic and retail prices are similar to monolithic brands such as Zara, H&M or Forever 21, she says she's able to be competitive by being one of a kind.
"We work hard to stay creative and make unique products, with limited runs for each design. Women want to be different, not look like everybody else. That's what sets us apart," she said.
The L.A.-based designer is a beach girl at heart. Valfré's childhood neighborhood in Tijuana, Playas, sits along the Pacific Ocean; "Baja style" is a major influence on her work.
"My work is always influenced by Mexico and the U.S. It's a very unique blend," she explained.
RELATED: Grammy Winner Ile Cabra Has Made Her 'Old Soul' a Feminine Force
Apart from her growing fashion clout, Valfré made headlines after she served cease and desist suits against retail giants Rue 21 and Forever 21 for allegedly copying her designs.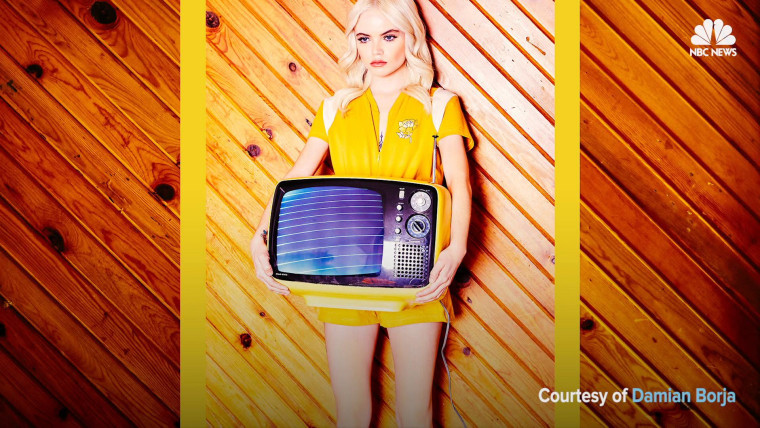 Valfré said her business settled the copyright infringement case against Rue 21 in early July. The business also filed a cease and desist suit against Forever 21, and the hope is to settle that case as well.
NBC News reached out to Rue 21 and Forever 21 but has not received a response. In an interview with CNN's Talk Asia, co-founder of Forever 21, Do Won Chang said the company has never been found liable for copyright infringement, saying "there is no way of knowing which designs have been registered."
RELATED: Residente Creates an Edgy, Musical Manifesto That Started With a DNA Test
Despite legal issues and non-stop work, Valfré is proud of being a Latina entrepreneur in such a competitive industry.
Her future project ideas are ambitious. She wants her artwork to be the center of a television show. She said she is in talks to do an animated television series; in a previous interview with Stylecaster; Valfré described it as "'Adventure Time' meets 'Sex and the City' meets 'Girls.'"
She's also working on a comic book, and planning to show her work at a local gallery.
One thing she hopes she is already doing is breaking stereotypes.
"We can be seen doing a certain kind of work, but we can also be creative, and have a company. Whatever we're doing from cleaning floors, to being a teacher, to being a CEO, we're hard-working women," she said.