MEXICO CITY — There is no doubt that Mexican President Enrique Peña Nieto had a crappy end to 2014.
Amid violence, scandals, and a sinking peso, his popularity rating tumbled 20 points to 39 percent, according to a new Reforma newspaper poll.
It is not only his lowest level since he took power in December 2012, but the worst of any Mexican president since 1995, after the peso tanked in the so-called tequila crisis.
Residents are particularly outraged by the disappearance of 43 students at the hands of local police officers and drug cartel hit men, sparking the country's biggest protests in years.
But Peña Nieto — who meets with President Barack Obama in Washington on Tuesday — was also clobbered by a conflict of interest scandal, when media revealed his wife had a $7 million mansion in the name of a company rich off government contracts.
Hoping to turn things around in 2015, Peña Nieto released a new year video, showing images of protests and violence transforming into images of progress and happiness. "We leave behind a year of challenges and learning," Peña Nieto tweeted. "With integrity and determination, let's welcome 2015."
Making such a transformation a reality looks like an uphill struggle. Here are five mountainous challenges that the president faces in 2015.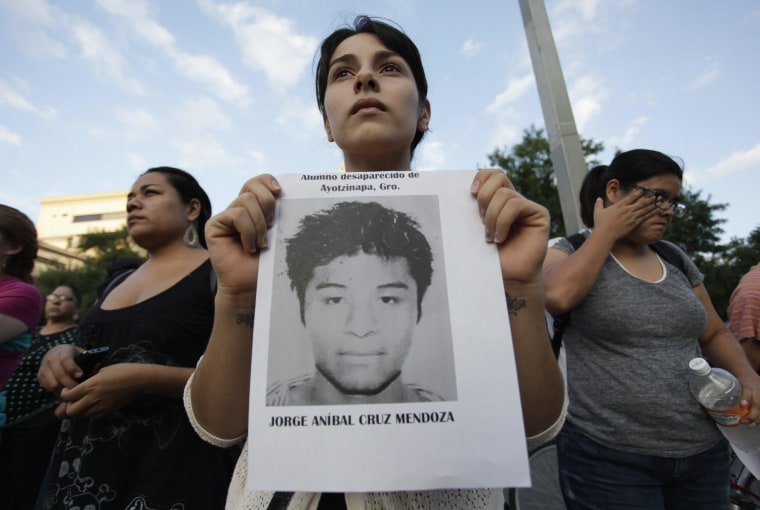 1. Finding the disappeared
The Peña Nieto government is still under pressure to resolve the case of the 43 students abducted in the town of Iguala in September. The federal attorney general has shown videos of witnesses saying they burned some students and has found crumbled bone fragments of one of the victims. However, the families of the other 42 demand solid evidence to show the fate of their loved ones.
What's more, Mexico has the open cases of an incredible 22,000 other people disappeared since 2006. The government has promised to work to find them, but it has so far shown disappointing results.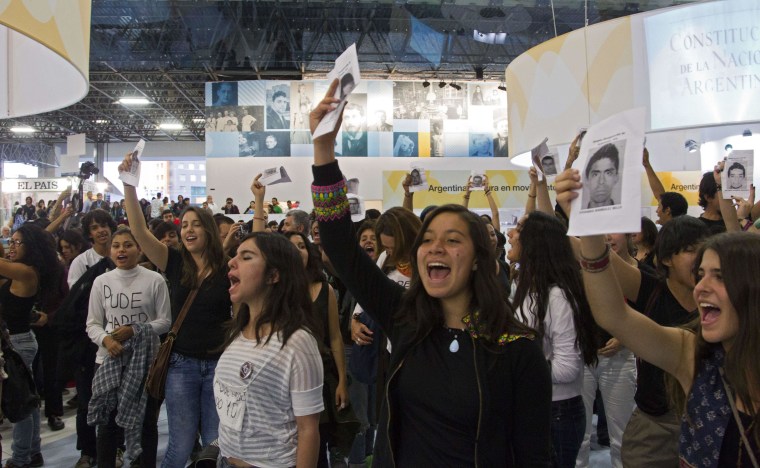 2. Diffusing protests
Demonstrations continue over the missing students. But protesters are also taking to the streets over other issues, including against education reform, which teachers say threatens their jobs. Some protesters are also calling for the resignation of the president himself.
In the state of Guerrero, where the students were abducted, demonstrators have been burning buildings and clashing with police. They also blockade roads, inflicting economic damage on the tourist town of Acapulco. Peña Nieto has promised that he will guarantee people's transit on highways. However, any heavy handed policing could provoke more outrage.
3. Stabilizing the peso
Over 2014, the peso lost 11.24 percent of its value against the dollar, its worst fall in six years. When markets opened on Friday, it continued to tumble, selling at just under 15 pesos to the greenback.
Mexico's currency has suffered from low international oil prices, with petroleum providing the lion's share of the federal budget. The cheaper peso could bring in more tourist and investment dollars to help stabilize it. But a fall too far could prompt a run on the currency.
4. Fighting Corruption
Outrage over corruption has been a driving force behind recent protests. Peña Nieto has promised a new law to fight corruption. The government may also look for some concrete convictions of high-ranking officials over embezzlement, bribery or other such charges to show it's serious on the issue.
Mexico is seen as the most corrupt country in the Organization for Economic Cooperation and Development, or OECD, according to Transparency International's Corruption Perceptions Index.
Still, Peña Nieto needs to avoid more scandals among his own circle. The revelation of the first lady's mansion became known as the Casa Blanca scandal, and Mexico's congress has promised a commission to investigate the affair.
5. Overseeing Clean Elections
In 2015, Mexicans vote for a new congress and 10 of the nation's 31 state governors. Some of the elections take place in states rife with cartel violence and protests, including Michoacan and Guerrero.
Peña Nieto needs to make sure voters can cast their ballots peacefully and legally. But there are tough challenges. In Guerrero, some protesters have called for elections to be postponed, saying that violence and corruption are too rampant for a free exercise of democracy.