Sixty rotting bodies have been found at a shuttered crematorium near Acapulco after neighbors complained to authorities about a foul smell coming from the building, officials said Friday.
The bodies, including those of men, women and children, were discovered Thursday evening during a raid at the facility on the outskirts of the Pacific resort city. The bodies were "perfectly embalmed," according to a statement from the state prosecutors' office. Many of the remains had been heavily doused with quick-lime powder, apparently to reduce the odor of rotting flesh.
Authorities have said they are investigating the case as a possible fraud by the funeral home, suggesting operators may have accepted bodies for cremation without actually performing the service. Funeral home operators who had dealings with the crematorium told prosecutors the facility had been closed for about the last year, after it allegedly went bankrupt or failed to pay creditors. Authorities listed the owner of The Cremaciones Pacifico crematorium as Guillermo Estua Zardain.
The bodies were taken to a local morgue for testing to establish their identities, and funeral homes in Acapulco were asked to supply lists of all the bodies they sent for cremation since 2013. Authorities initially said Friday that 61 bodies had been found.
The gender, ages and embalming of the corpses appeared to rule out any possible link to the disappearance of 43 college students who allegedly were rounded up by corrupt police in central Guerrero state on Sept. 26 and handed over to a drug gang.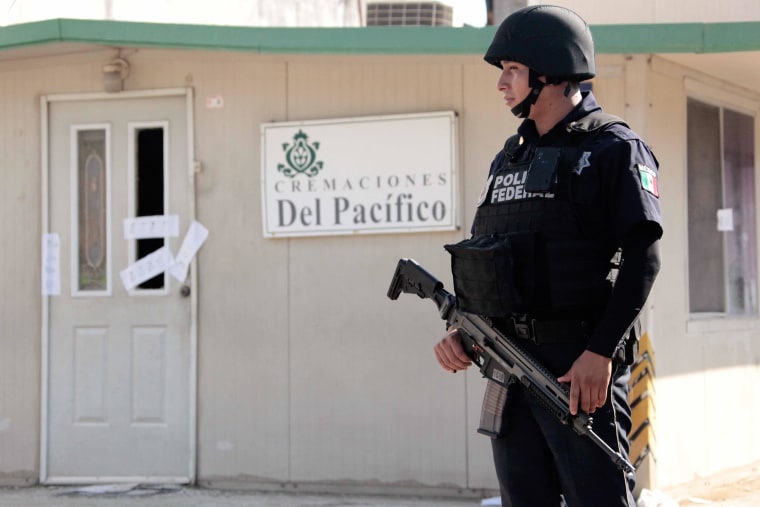 IN-DEPTH
— The Associated Press