MEXICO CITY — Pola Carballo was bringing a cup of coffee to one of her patrons when she felt like the world was coming to an end amid an eerie rumble and things crashing all around her. It was the magnitude 7.7 earthquake that shook Mexico City on Sept. 19, 2022.
"It was a very big fright; one always thinks that everything is going to fall," said Carballo, a 53-year-old Indigenous woman who owns Café de Raíz in Mexico City's Roma neighborhood.
"But I remembered that in my town of Huasteca, in Veracruz, we form community by helping each other and forging ties," she continued, "which is why I grabbed the 50 bolillos [bread rolls] that we had and began to cut them, to distribute them," she said.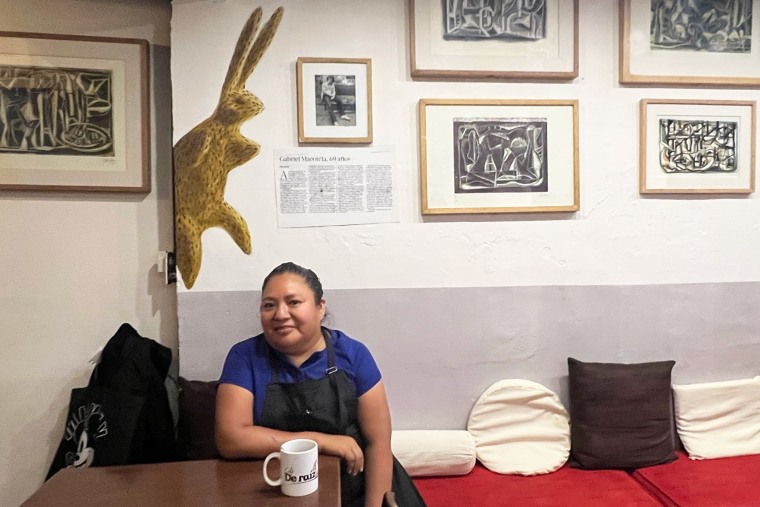 Videos of Carballo and her employees handing out pieces of bread amid the commotion soon went viral. "People came to grab it and they liked it. As tradition says: When you get scared, you eat a bolillo and it's gone," Aniceto Antonio, Café de Raíz's chef said in one of the most shared videos.
Carballo and Antonio were just following an ancient Mexican tradition: Here, when someone goes through a stressful situation, such as getting bad news, having an accident or getting an earthquake alert, they are advised to eat "un bolillo p'al susto" — which translates to "a roll for the fright" — a custom rooted in the advice of grandmothers.
Bolillos have the shape of long ovals with a longitudinal cut; a good bolillo should be golden and crunchy on the outside and a core that's white and soft.
"I think that beyond simply eating bread after the earthquake or a great scare, we rather offer it as an offering of peace and calm. It is like the bread of communion, of salvation," said Mexican writer Alonso Ruvalcaba.
But there's a science to it
However, there's a scientific basis to support this ancient custom. Nayeli Ortiz Olvera, a gastroenterologist and researcher at the National Autonomous University of Mexico, said it makes sense that people want to eat following a shock or after they're subjected to situations of acute stress.
"All of this stimulates our nervous system and makes the heart beat much faster, and breathing is much faster. The body thus favors the production of energy so that we can have a response and, at the level of the digestive tract, we feel that we have a hole in our stomach, nausea or it make us want to go to the bathroom," Ortiz Olvera said.
That's where the bolillo, which is similar to French bread, comes into play.
"The bolillo is a carbohydrate, when we eat it the acid that is produced in the stomach is neutralized. In addition, the simple fact of chewing, of distracting our attention, helps to reduce agitation and we control our body again," the gastroenterologist and researcher explained. Some people also eat tortillas or whatever carbohydrates they have on hand during stressful situations, she said.
For more from NBC Latino, sign up for our weekly newsletter.
"The bolillo mitigates the feeling of anguish and emptiness in the stomach, that's why it helps us. So our grandmothers and our mothers are right when they tell us to eat a bolillo to take away our fear and anxiety, because it does work," Ortiz Olvera said.
According to researchers at Harvard University, studies have shown that physical or emotional distress increases the intake of foods high in fat, sugar, or both. High cortisol levels, in combination with high insulin levels, may be responsible. Other research suggests it may be related to the release of ghrelin, known as the "hunger hormone."
Bolillos are omnipresent in the Mexican diet since they are used to prepare various sandwich-like dishes such as molletes or pambazos, and the tortas or sandwiches eaten by El Chavo del Ocho, the TV character from the iconic children's TV show of the same name.
The cost of bolillo is so important in the Mexican basic basket that when wheat prices increase, the price of the bolillo rises, which is usually an indicator of inflation in Mexico.
"This idea that corn is like the most important thing in Mexico ... It's like we don't realize that the bolillo is as important as tortillas in daily food. A fonda (casual restaurant) without bolillos would be very rare, it's like a failure," Ruvalcaba said.
Remedies for fright
Susto or fright is one of the "morbid complexes" or ancestral ailments that have most attracted the attention of researchers.
The Encyclopedic Dictionary of Traditional Mexican Medicine defines it as a malady caused by a strong and sudden impression caused after "encountering dangerous animals, inanimate objects and supernatural entities, and by experiencing a fall on the ground or on the water; and, in general, the product of any traumatic episode that threatens the person's physical and/or emotional integrity."
"In my culture, the disease is called susto, susto of emotions (...) It is because of the emotions, which we call susto, that the body loses control, cools or heats up. Every emotion becomes physical. We say: You heal because the soul returns to your body," said Ángela Méndez Hernández, a Zapotec healer.
Scholars like Arthur Rubel , professor of Family Medicine at the University of California, Irvine, delves into the anthropological roots of fear in books like "Susto: A Folk Illness." In this work, he explains that the phenomenon of susto or fright is not limited to Mexican culture, but occurs among Mexican Americans in the U.S. and in other countries such as Argentina, Bolivia, Colombia, Guatemala, Mexico and Peru.
According to traditional medicine, it's advisable to eat hard bread — bolillo — or even a cold tortilla because the shock manifests itself in the stomach and it's not advisable to keep it empty since gastric juices increase. The bolillo or the tortilla helps settle the stomach, which is why it's recommended, but other foods do the same.
"The truth is, we are a culture of food. Everything we do is for food," Mexican chef and anthropologist Claudia Serrato said in an interview with Telemundo. "Food is something that helps with strength. It's important to know where one comes from."