/ Source: Associated Press
The National Security Commission announced that federal agents arrested Felipe Flores, 58, the former police chief of Iguala, Mexico where 43 students went missing in 2014.
Flores was detained Friday in the southern state of Guerrero in a raid in which no shots were fired. Two years after the 43 students from the Ayotzinapa teachers college students went missing, Mexican authorities and relatives of the disappeared hope this development could shed new light on the case.
Flores was arrested at 6:30 a.m. leaving a house where he had visited his wife, Commissioner Renato Sales said. He said he had not always been in Iguala, but did not elaborate on his movements. He said Flores was unarmed.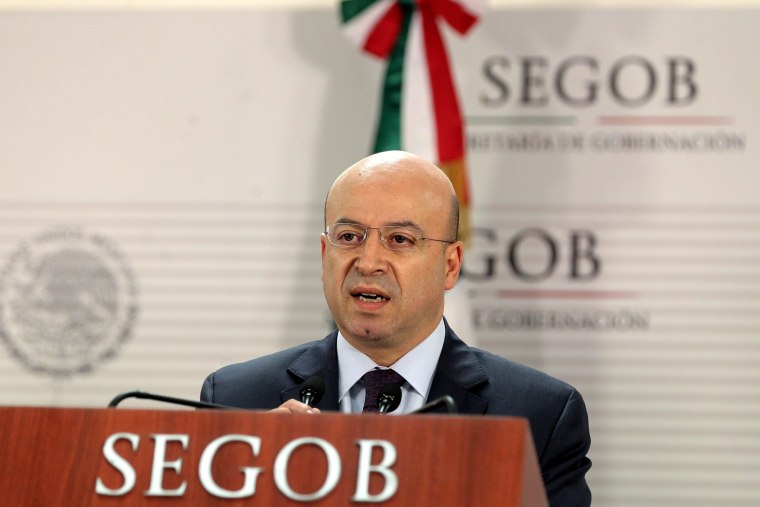 Flores is accused of offenses including organized crime and kidnapping the students. He is alleged to have followed the then-mayor's order to attack the students and then tried to cover up the role of Iguala police in the disappearances.
"The investigations indicate that this person was one of the people responsible for coordinating the operation that turned into the aggression against the students," Sales said at an afternoon news conference.
RELATED: Witness in Case of Mexico's Missing 43 Students Seeks U.S. Asylum
Attorney General Arely Gomez tweeted that the detention "will allow the collection of key testimony to clarify the facts of Iguala."
The students from the teacher's college at Ayotzinapa were taken by police in Iguala on Sept. 26, 2014, and have not been heard from since.
Prosecutors say they were handed over to a drug gang, killed and incinerated in a massive fire at a trash dump. But independent experts who reviewed evidence in the case have cast into doubt the contention that the students' bodies were burned, and the victims' families continue to vocally demand more answers.
Authorities have now arrested 131 people in connection with the disappearances. Seventy of those, mostly police officers and alleged cartel members, are currently being prosecuted. A number of them have alleged torture by officials and it is unclear how that will affect their cases. But Flores could provide a break or at least a new perspective on how events unfolded that night.
RELATED: Mexico Agrees to Advisers to Monitor Missing Students Investigation
"We hope that the arrest of this person leads to some good news for us," said Felipe de la Cruz, a spokesman for the families. "We hope that what he says takes us definitively toward the truth and to where the youths are, because that's what we've looked for all this time."
The disappearances and authorities' inability to conclusively clear up what happened to the students have been an embarrassment for the government of President Enrique Peña Nieto.