Nineteen months after 43 Ayotzinapa college students were abducted on September 26, 2014, two Mexican fathers--poet and activist Javier Sicilia, whose son was murdered by a drug gang in 2011, and Antonio Tizapa, whose son was among the 43 — say that violence in Mexico will not stop until the drug war is ended.
"I think drug legalization could help put an end to organized crime," said Sicilia in an interview with NBC Latino. "Prohibition destabilizes society and targets people who are the most vulnerable — but we need a comprehensive solution that also addresses gun violence."
Legalization proponents like Sicilia say that prohibition creates illegal drug and gun markets, which have escalated violence between the Mexican government and drug gangs competing to control different territories. And as a result, Sicilia explained that thousands of innocent Mexicans are being killed in a brutal war.
Several days ago the Inter-American Commission on Human Rights reported there was strong evidence that Mexican police tortured some of the key suspects arrested in the disappearance of the 43 students. The students, including Tizapa's son, have not been heard from since they were taken by local police in the city of Iguala, in the Mexican state of Guerrero.
RELATED: Focus On Drug War Victims, Not El Chapo, Says Mexican Poet and Activist
Sicilia's 24-year-old son — a college student on an athletic scholarship who had never used drugs — was kidnapped, tortured and murdered along with others who also had no ties to organized crime, all killed by members of a drug cartel group seeking money. In the last five years, Sicilia has rallied thousands of protesters in anti-violence marches across Mexico to end the drug war.
Four years ago, Sicilia traveled over 11,000 kilometers (almost 7,000 miles) with the Caravan for Peace, visiting 27 U.S. cities — including Los Angeles, Houston, Chicago and New York — with the mission of bringing visibility to thousands of victims from the drug war and other related policies on both sides of the U.S.-Mexico border. And in late March, another group of activists set out in a caravan — traveling through Honduras, Guatemala, El Salvador, Mexico and the United States — to New York for the special U.N. summit on drugs last week.
Activists from the 2016 caravan hoped to persuade world leaders to address drugs as a symptom of a much larger crisis connected with gun violence, immigration, health, poverty, human rights and other global issues. Without this comprehensive approach, Sicilia warns that the crisis will only get worse.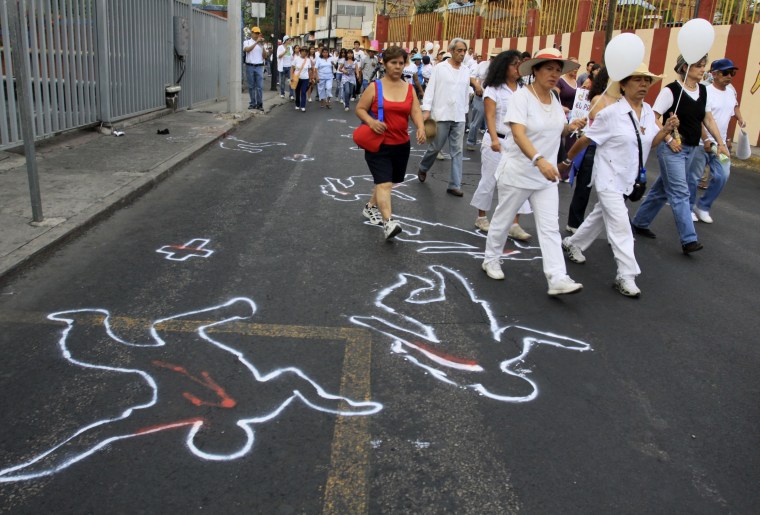 "Just over three years, approximately 105 kilometers [65 miles] from where the massacre that took my son's life happened, 43 kids disappeared and 6 were killed in Iguala," the poet said, referring to the 43 Ayotzinapa students who disappeared on September 26, 2014. Since the beginning of the drug war in 2006, more than 200,000 people have died, 30,000 are missing and 1 million people are displaced.
Similarly, Antonio Tizapa, father of one of the 43 missing Ayotzinapa students Jorge Antonio Tizapa Legideño says that drug control policies like the Mérida initiative — a military partnership between the U.S. and Mexico to fight drug trafficking and organized crime — have not been effective at protecting Mexican citizens from the ravages of organized crime.
RELATED: Film 'El Poeta': Mexico's Drug Wars' Toll On Innocent Families
"If Plan Mérida were effective, then Mexico would be safer because the government is protecting the streets," Tizapa told NBC Latino in a phone interview.
Instead, activists worry about the latest report on the missing college students, which points to the alleged involvement of local police and military in the case.
Both Tizapa and Sicilia agree that the violence will not end until leaders can see the pain and suffering of Mexican families and understand that the drug war and the effects of drug policies extend beyond Mexico.
"My son was a good kid. He had no vices. And like many other kids in Mexico, had a lot to offer his country," Sicilia said. "But instead… [the drug war] aiming to save kids has killed them and put an entire country on its knees."