Mexican officials said they are investigating the meeting that then-fugitive drug lord Joaquin "El Chapo" Guzman had with American actor Sean Penn and Mexican actress Kate del Castillo in October to see if any crimes were committed.
But government spokesman Eduardo Sanchez said late Tuesday that it is the possibility of illegal acts, rather than specific people, that the government is looking into.
"We investigate actions, we don't investigate people," he said. "The Attorney General's Office is investigating this event and others involving contacts that Joaquin Guzman had while he was on the run."
Carlos Barragan y Salvatierra, a professor of law at Mexico's National University, said there would be little ground to prosecute Penn or Del Castillo, unless money or gifts changed hands.
RELATED: Who Is Kate del Castillo, And What Did She Write to El Chapo?
"If during the dinner El Chapo gave them money, or jewels, or he gave them money for the movie or any other transaction, they could be charged with money laundering," Barragan y Salvatierra said.
He said that "meeting with a fugitive or criminal is not a crime, even if the law says we should report crimes, there is no punishment for not doing so."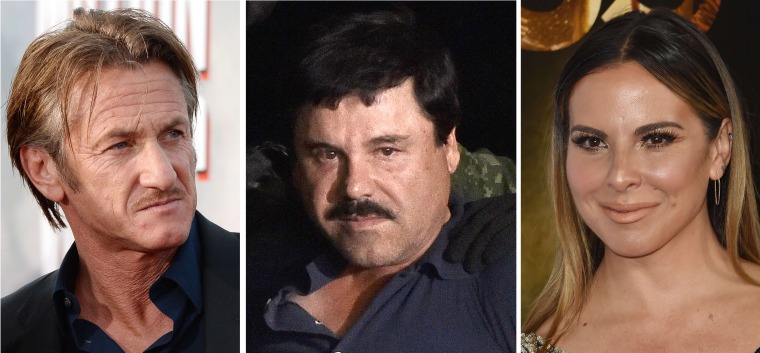 Asked about scrutiny of his controversial meeting with the fugitive drug lord at a hideout in rural Mexico, Penn on Monday would only say: "I've got nothin' to hide."
Mexican officials have said the meeting helped them track down Guzman, who was recaptured Friday following a bloody shooting with marines in the city of Los Mochis in Guzman's home state of Sinaloa. Images released to a Mexican newspaper showed that Penn and Del Castillo were under surveillance.
Del Castillo has not publicly commented on the meeting.
But a government official said that it looks like El Chapo Guzmán was infatuated with del Castillo, apparently referring to her by the code name "Hermosa," or "Beautiful."
The official who could not be quoted by name said the drug lord also wanted a second meeting with her.
Sanchez, however, did criticize what he said were attempts to glorify drug traffickers. "We very much regret the acts of any citizen who collaborates with organized crime, because many times drug traffickers have been stereotyped as people who have their good side, or who in some way do good things."
"They paint them as heroes, and attractive and generous," Sanchez said. "The reality is that these types of criminals have raped women, have killed children, have tortured women and men."
Late Tuesday, a Mexican federal official said the government is moving Guzman constantly from cell to cell. Guzman has been moved eight times at the Altiplano prison since his recapture Friday, he said.