MEXICO CITY — The last time Rosa Jiménez spoke to her son Roberto was the morning of May 28, 2013.
"Mami, I'm going to cross the border now," he called to tell her. He was 14 at the time.
Jiménez, who is from El Salvador, had asked relatives in the United States for much of the $8,000 she paid a coyote to help her son cross the border from Mexico into Texas. Roberto was being pursued by a local gang in El Salvador that wanted him as a member, and Jiménez hoped he would be safer and have more opportunities in the U.S.
Jiménez hasn't heard from Roberto since that phone call more than five years ago.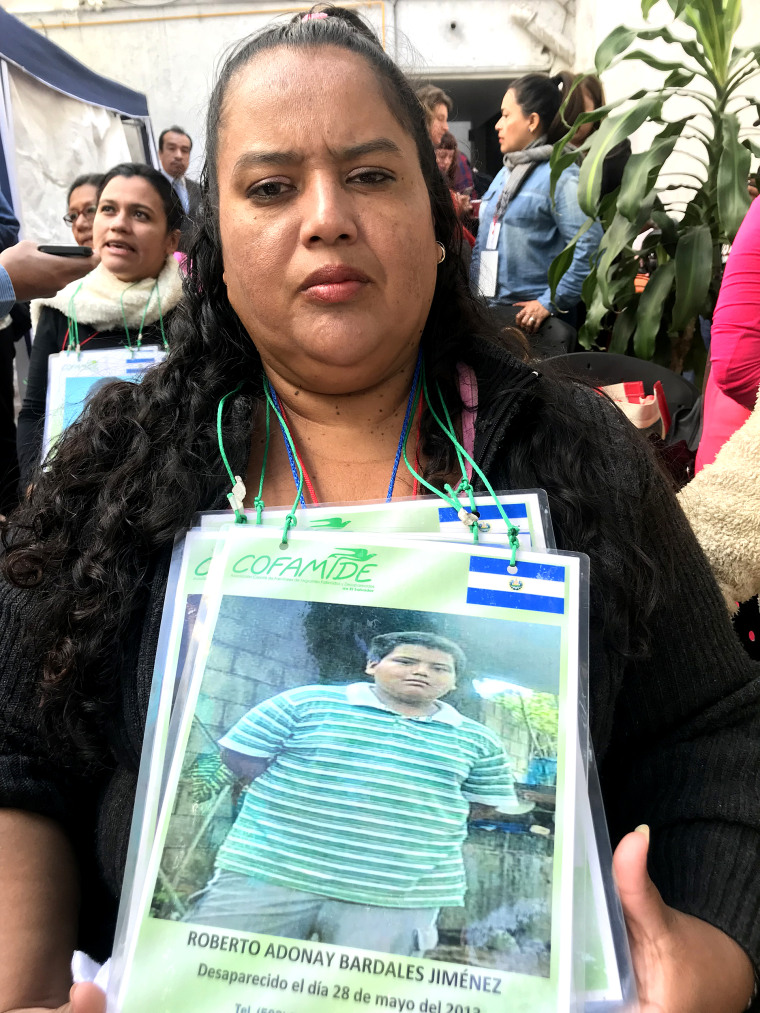 As thousands of migrants arrived in Mexico City this week, inching their way closer to the U.S. border, Jiménez was part of a smaller caravan crossing Mexico.
But this caravan has no intention of coming to the U.S. Their purpose is to warn people about the danger of trying to cross the border.
They call themselves the Caravan of Mothers of Disappeared Migrants.
Twenty-five mothers, sisters, daughters, lovers — all women — traveled from countries including El Salvador and Honduras to Mexico, searching for their relatives and trying to bring awareness to what advocates believe are tens of thousands of migrants who have disappeared as they have made the arduous trek north toward Mexico and the United States.
For the past three weeks, this small caravan has posted photos in parks and shelters along the most frequently used migrant caravan routes. They've stopped in local police stations pleading for investigations. They've arranged meetings with politicians and ambassadors to demand more protection for migrants.
"My daughter was 12 years old when she left El Salvador for the United States," Yolanda Ramírez, who joined the caravan, said in Spanish. That was in 2007.
Ramírez, a single mother in El Salvador, said she had struggled with illness and was unable to provide for her children — so she couldn't say no when her daughter, Ana María, wanted to leave to find a job in the U.S. "She went to help me," Ramírez said. And then Ana María disappeared.
The caravan is part of the Mesoamerican Migrant Movement, a Mexico City-based nonprofit founded in 2004 by activist Marta Sánchez Soler, after she met Honduran mothers who had been searching for their children for years. They started the annual caravans in 2006 with 11 Honduran mothers, though Soler said mothers have been unofficially traveling together in search of their missing children long before then.
"We look in parks, on trains, in camps, we post photos," says one mom whose migrant child has never been found after journeying north. "We can't rest."
Activists with the Mesoamerican Migrant Movement believe that in the past 10 years, tens of thousands of migrants from Central America have disappeared in Mexico while trying to make it to the United States, potentially victims of trafficking and drug and gang violence. The activists' estimate is based on the number of families that have contacted them for help, as well as their conversations with local police, shelters and churches.
"This caravan is to remind authorities investigations are needed and to try and prevent this from continuing to happen," Sánchez Soler said Tuesday at a press conference in Mexico City.
To date, the organization has reunited 300 missing migrants with their families, Sánchez Soler said. The group pays fieldworkers to travel the route taken by migrants and ask about missing people at police stations, shelters and transit hubs. The organization receives private and university funding but does not get money from either the Mexican or U.S. government.
For Jiménez, one of the hardest things about her son's disappearance is feeling helpless and not knowing if he is alive.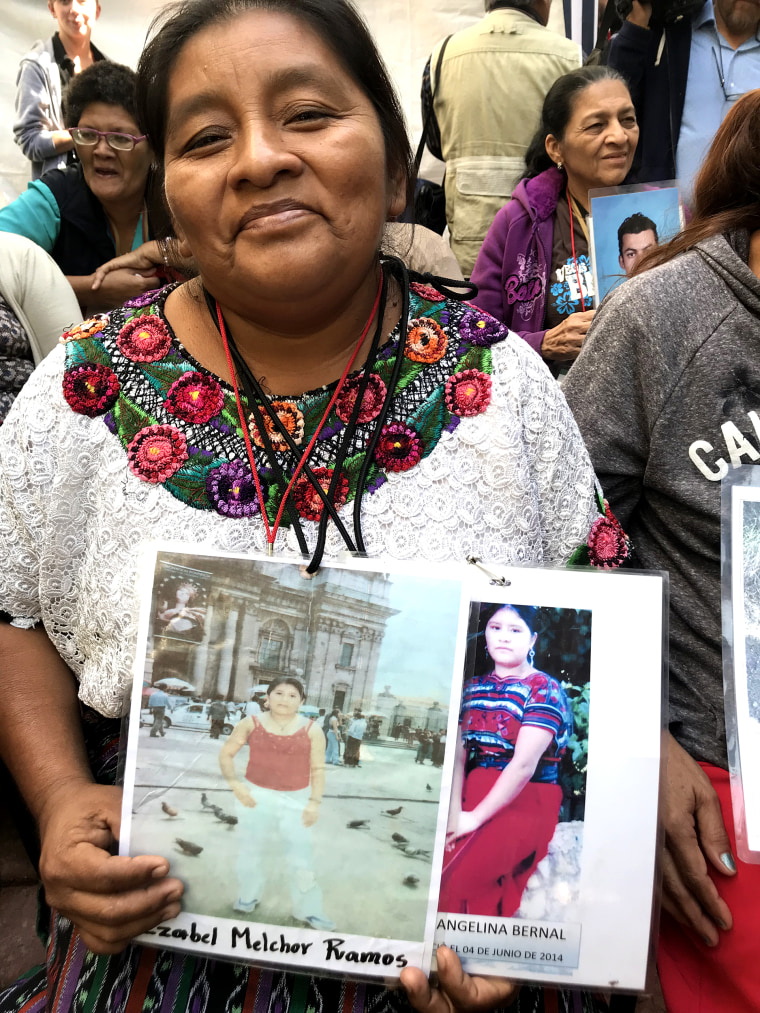 After her son disappeared, Jiménez said in Spanish, "I called the coyote. He told me to call Immigration and Customs Enforcement. ICE said they didn't have anyone by his name in their records. I spoke to the Salvadoran consulate in the U.S.; they told me to hire a lawyer. So I hired a lawyer. And nothing. We just don't know."
Sánchez Soler said she is especially concerned for the unaccompanied minors who are traveling in the migrant caravans making their way through Mexico.
"There aren't enough shelters or places to put these migrants in Tijuana. They will arrive at the U.S. border and there will be children sleeping on streets," Sánchez Soler said, "We can't have that."
At Tuesday's press conference, mothers took turns reading portions of a manifesto they had written, inviting the world to join their fight for migrants to be able to travel safely and for their families to get answers when their loved ones disappear.
"We look in parks, on trains, in camps, we post photos," said mother Katalina Lopez, from Guatemala, in Spanish. "We inform other mothers looking for their children. We can't rest."
On Monday, reports emerged that 100 members from the migrant caravan currently traversing Mexico had gone missing somewhere between the Mexican states of Veracruz and Puebla over the weekend. Local migrant advocates reported that the 100 migrants had boarded trucks on Saturday expecting to be taken to the next stop on their journey and hadn't been heard from since.
The United Nations High Commissioner for Human Rights in Mexico said in a press release Thursday that the U.N. had received information about missing migrants and was in touch with authorities in Puebla to investigate further. Police and prosecutors in Puebla did not respond to requests for comment.
The members of the mothers caravan, glad that they were able to draw attention to their cause this week but discouraged by the news of the 100 missing migrants, will return to their home countries in Central America this weekend. But they said they won't stop fighting or searching.
"I know my sister-in-law is still alive," said María Elsa Ramírez, from Nicaragua, in Spanish. Her sister-in-law, Lilian Ramos, went missing in June 2017. Ramos and her son were traveling to the U.S. with a coyote their family had hired. The last time Ramos' son saw his mother, she was being held back by the coyote on the side of the road in Mexico, as her son crossed into the United States alone.
"My heart isn't broken," Ramírez said, "because she is alive and one day we will find her."
FOLLOW NBC LATINO ON FACEBOOK, TWITTER AND INSTAGRAM.