MEXICO CITY — Journalist Javier Valdez focused his award-winning reporting on the victims of violence in Mexico, including the orphans left behind by a failed war on drugs and the reporters who were assassinated for their muckracking work. On May 15, 2017, the co-founder of the independent newspaper Rio Doce was fatally shot down in broad daylight in Culiacan, Sinaloa, believed to be murdered by some of the same forces that he had denounced in his book Narcoperiodismo (Narcojournalism) released just a few months before.
A year after his death and ahead of the country's presidential elections in July, Rio Doce co-founder Ismael Bojórquez and other independent media outlets and press freedom groups have organized a week of rallies and events to celebrate his life but also demand answers and action so that journalists like him are not killed with impunity.
The week of action's main event is a march in Culiacán on Tuesday that ends at the Sinaloa State Attorney General's office. Vigils and protests are also being held in Monterrey, Mexico City and other cities.
"They didn't kill Javier, they can't kill our memory; his legacy lives on through his work," said Bojórquez. "We will keep demanding justice."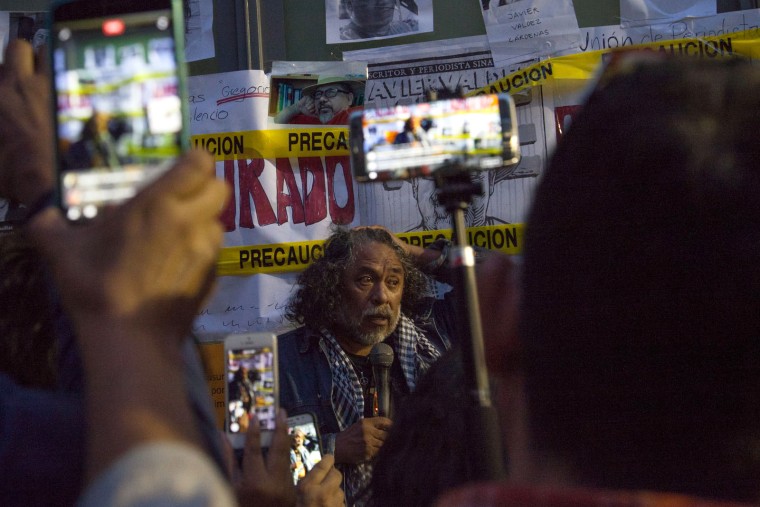 In recent years, Mexico has become one of the world's most dangerous places for journalists. In 2017, 11 journalists were murdered in Mexico, a statistic only surpassed by war-torn Syria. This does not include the number of attacks on reporters and some of the media outlets they work for, including cyber attacks, espionage, kidnappings, rape and death threats. The prevalence of these attacks has increased self-censorship, throttling the possibility of a free press.
Valdez was dogged in his attempts to expose violence and corruption; it led him and Bojórquez to found their independent newspaper in 2003; they felt mainstream outlets were not critical enough of the government in their reporting. "The society deserves a free press that is critical and dedicated to exposing all the things that those in power are doing," said Bojórquez in an interview with NBC.
The state of Sinaloa is the birthplace of the world famous drug lord, Joaquin "El Chapo" Guzman, who is currently on trial in New York for his role in international drug trafficking. In recent years, various criminal groups have been warring to control the territory and trafficking routes.
The government investigation has pointed to a group known as the Damaso Clan, and believes that Valdez had published information that angered them, leading them to order a hit on him. One of the alleged hit men was recently arrested and it is believed he was awarded with a silver pistol for taking Valdez' life.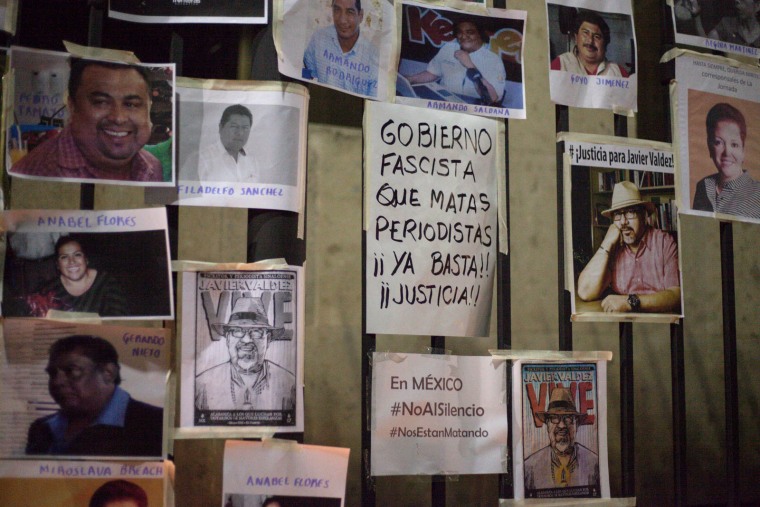 But Bojórquez said they are still waiting for the intellectual authors to be apprehended and have had to reexamine their editorial line, without giving in to self-censorship. "We tightened the bolts one turn more, and have devised our own security measures, which is something necessary when you work in an environment when there is close to 100 percent level of impunity in journalist murder cases," he said.
This frightening level of impunity has been documented by press freedom group Article 19 which reports that 115 members of the press have been killed but fewer than .4 percent of the suspected criminals have been prosecuted. Human rights groups have pointed out it's indicative of deeper problems within the Mexican judicial system, which is confronting its highest levels of violence in decades, yet over 90 percent of crimes are not prosecuted.
"The staggering impunity rate in Mexico incentivizes those who want to do harm to journalists to attack them, because they are aware that the crimes almost always go unpunished," said Jan-Albert Hootsen, the Mexico coordinator for the international organization Committee for Protection of Journalists who awarded their prestigious International Press Freedom Award to Valdez for his work in 2011.
Hootsen believes the lack of thorough investigations is what allows these crimes to keep happening, especially when journalists are themselves criminalized by authorities.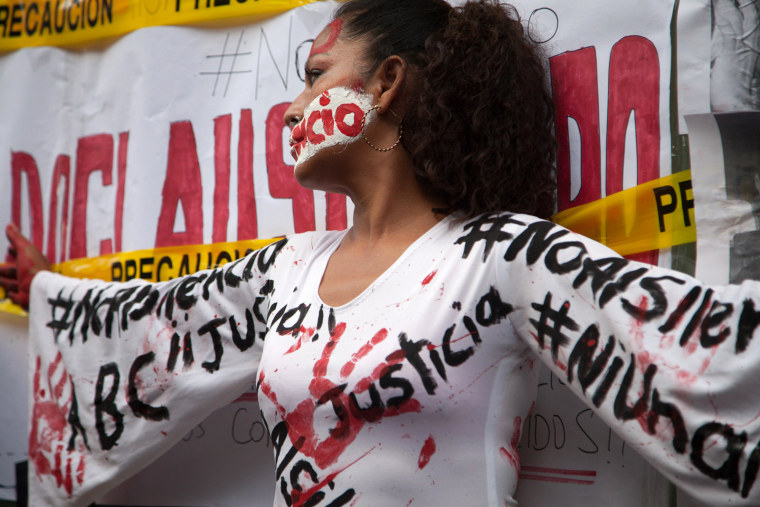 "The quality of police work is very often abysmal, whether because of inability or, even worse, the unwillingness of authorities to conduct swift, exhaustive and credible investigations," said Hootsen.
The government has invested thousands of dollars in protective measures that journalists can access, including the use of panic buttons, bodyguards and barbed wire for their homes, but it has barely improved the situation. Journalist Cándido Ríos, who was under the federal protection plan, was assassinated last August, in Veracruz.
Valdez's case is unique in that he was an internationally recognized journalist who specifically wrote about violence against journalists. But the brazenness in which he was killed was not unique, nor was his work, which, like other journalists sought to expose links between criminal groups and sectors of the government.
Just two months before Valdez's murder, investigative journalist Miroslava Breach was gunned down outside her home in the northern city of Chihuahua as she was preparing to take her son to school. A note was left, saying she was killed "for being a loud-mouth" She was a correspondent for the national media outlet La Jornada and Norte, a local news outlet, and she had reported extensively on the impact of organized crime on the Tarahumara indigenous people. Norte closed its operations down, following her murder.
The forced displacement of Mexican journalists is another consequence of the violence against reporters and media outlets. Journalist Patricia Mayorga worked closely with Breach as a correspondent for the weekly magazine Proceso and was forced into exile, following her colleague's murder.
"I lost basically everything, besides my life" said Mayorga, speaking by phone to NBC News from Lima, Peru, far from friends and family.
Mayorga said she will not return home until there is more political willpower to take action against journalists' murders, which she called "the grand cancer of Mexico" which has fostered an "existence of a submissive, silent press."
In July, Mexico will hold its largest elections in history — which have also proven to be the bloodiest, with over 70 killed to the date.
Human rights and press watchdog groups have criticized presidential candidates for placing little importance on combating violence against journalists.
Mayorga has a sliver of hope that government changes will create a better environment for journalists, which would allow her to return to Chihuahua. She said she wants to work to build stronger networks with journalists who can flex their muscle together and strengthen the country's free press.
In Narcojournalism, Valdez described Mexico as a country with a marvelous geography but also one "where the economic interests of some are placed above the grand majority and they impose their law with impunity, assassinations, corruption, elections plundering, kidnappings and bribes all ruthless to the journalists who search for the truth."
Those participating in the marches on Tuesday hope his words help eventually usher the necessary changes.