At a recent political rally in this crime-ridden Mexico City suburb, next year's presidential election was discussed as much as the upcoming June 4 vote for governor in the country's most populous state.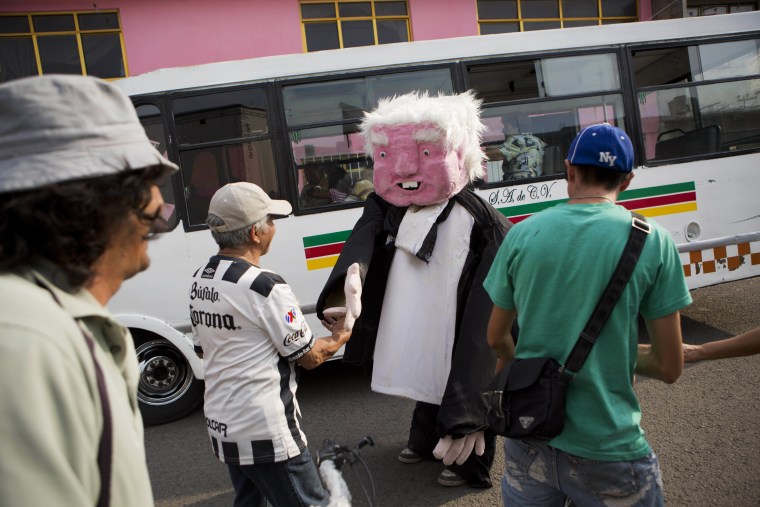 The banner stretched across the stage carried the face of Delfina Gomez, a teacher-turned-politician with the leftist Morena party seeking the Mexico state governorship, and that of her party's president, Andres Manuel Lopez Obrador, a charismatic early favorite for a third run for Mexico's presidency.
One year before Mexicans pick their new top leader, the impending gubernatorial election in Mexico state is seen as a referendum on the government of Enrique Pena Nieto, who was governor here before becoming president five years ago as the candidate of the Institutional Revolutionary Party, known as the PRI.
A PRI win here could stanch the bleeding after the party's loss last year of four governorships it had always held. Mexico state has long been a key source of the PRI's so-called "voto duro," or hard vote — voters it can count on year after year, most of them from a lower socio-economic status, less educated and many older than 50, said Ivonne Acuna, a professor in Iberoamerican University's social and political sciences department.
RELATED: Mexico's 'Hillary Clinton' Rips Trump Over 'Useless' Wall
A Morena victory in the state would give Lopez Obrador "an immense advance in his quest for the presidency in 2018," Acuna said. But the opposition vote will be shared among several candidates, which will make it difficult to overcome the PRI's deeply rooted organization.
A poll released Wednesday by the newspaper El Financiero put PRI candidate Alfredo del Mazo ahead of Gomez by five percentage points in the gubernatorial contest. Juan Zepeda of the leftist Democratic Revolution Party, which Lopez Obrador left to form Morena, was a distant third and Josefina Vazquez Mota of the National Action Party came in fourth. The poll surveyed 1,200 eligible Mexico state voters from May 20-23 and had a margin of error of three percentage points.
With more than 11 million voters, the state of Mexico has been governed by the PRI for 88 years and is the largest potential prize of three PRI-controlled states holding gubernatorial races June 4. The others are Coahuila and Nayarit.
"For the PRI, winning Mexico state is indispensable to be able to have something to do in 2018" during the presidential election, said researcher Marcela Bravo Ahuja at the National Autonomous University of Mexico's Center for Political Studies. "That's not to say that if it wins Mexico state it's guaranteed, far from it, but if it doesn't win Mexico state there won't be anything to do."
Pena Nieto won the presidency for the PRI in 2012 after two consecutive terms held by the more conservative National Action Party. Before National Action took the presidency with Vicente Fox's election victory in 2000 and then retained it with Felipe Calderon's 2006 win, the PRI had ruled Mexico uninterrupted for 71 years.
Pena Nieto himself used the Mexico state governorship as a stepstool to the presidency. And as the president's approval ratings dip close to single digits, the PRI has chosen his cousin — eighth degree, del Mazo says — as its gubernatorial candidate. Politics have long been all in the family, with del Mazo's father and grandfather both serving as past governors of Mexico state.
A few blocks away from the recent Morena rally, Carmen Morales chatted at her food stall with neighbor Maria Aviles.
Morales said she was selling sliced fruit for the first time that day because her evening taco business two blocks off the main thoroughfare had dried up amid fear over street crime.
The pair said they knew at least three girls and young women who were raped in the area in the past year or so, including one of their relatives, and no one was arrested in the cases.
Both said they planned to vote for "Lopez Obrador" in the June 4 contest even though his name will not be on the ballot.
"Morena, it's the same," said Morales. "Hopefully, really this time, there will be a governor who focuses on the people, not just on what he can take."
At a more polished event earlier in the day in the denim-producing city of Jaltenco, the PRI's del Mazo told a boisterous crowd he wants to be governor for the state's women.
RELATED: Mexico Presidential Hopeful Lopez Obrador Dings Trump on Human Rights
He rattled off a list of promises — potable water, jobs, security, pensions, improved health services. But he focused on something he called the "pink salary," a proposed monthly payment for homemakers. Many women in the crowd wore PRI hats that read: "Pink Salary Support for Housewives."
There have been opposition party complaints that the PRI is giving women plastic cards they supposedly can use to draw salaries if del Mazo wins. Rumors swirl that residents will lose social services if the PRI is defeated.
Acuna, of Iberoamerican University, said women vote in greater numbers than men, making del Mazo's strategy a good one, but questioned how such a program would be funded.
Jesus Antonio Cruz Martinez, a 20-year-old student from the community of San Miguel Xaltocan, attended del Mazo's rally because his sister likes the candidate, but he left unimpressed.
"I feel like there has to be a change," he said. "We've already been governed (by PRI) for almost 90 years."