MIAMI — David Garcia, 42, owner of Little Havana restaurant La Camaronera, is struggling to keep his business afloat.
The landmark Miami seafood establishment — founded by Garcia's father and uncles after they immigrated from Cuba — was set to have a successful year.
Then the coronavirus pandemic swept the globe — and business is down by 80 percent.
"I'm just trying to keep everyone employed," he said. "These people need to eat."
La Camaronera is located in Little Havana, one of South Florida's most iconic areas and a destination for locals and tourists from around the globe. Considered the heart of the city's predominantly Latino community, the neighborhood is mostly occupied by single-owner businesses, some run by several generations of families, starting with the wave of Cuban immigration in the 1960s.
Though Florida's governor has announced a limited reopening of certain businesses in the state on May 4, this won't apply to South Florida, which has the majority of coronavirus cases and deaths.
Many business owners in the Miami area worry they won't survive the pandemic.
"About 90 percent of these businesses are micro-businesses," said Bill Fuller, one of Little Havana's main developers and owner of its signature music venue Ball & Chain. "Most are places where the business is an embodiment of the person herself, and her culture."
"Suzy Batlle's Azucar ice cream shop is a great example," he said.
Turning to delivery, searching for loans
Batlle opened Azucar on Little Havana's famed "Calle Ocho," or Eighth Street. Batlle has used her grandmother's signature Cuban recipes to make her well-known ice cream. Her best-selling flavor is "Abuela Maria," paying tribute to the classic Caribbean snack of guava, cream cheese and the famous Maria brand of biscuit cookies.
"I make ice cream that everybody who was in Cuba 50 years ago used to have," Batlle said. "I have had old men approach me, crying, saying they haven't had this taste in their mouth since they've been in Cuba. That's why I started Azucar — to allow people to relive their memories from long ago."
In the nine years since she opened her company, it has grown to employ 33 people across two locations — Miami and Dallas.
"Little by little, we have really catapulted into success," she said. Like Garcia, she thought this was going to be her best year yet.
Batlle now has completely reinvented her business model. Before, she relied entirely on foot traffic. "Now, we're delivering to people's homes. I spend eight hours in my car every day delivering ice cream," she said.
She said she's worked tirelessly to obtain help from the federal government's Paycheck Protection Program, (PPP) which authorizes forgivable loans to small businesses to pay their employees.
"On Day 1, I went to my bankers — two huge banks that should have been able to fund me — and I did not get funded by either, even though Azucar qualifies [for the loan]. I've called, sent emails — no call back, no follow through, nothing," she said.
But Batlle found guidance from a group of small restaurateurs in the community. "Because of them, I learned to apply for the loan through a small local bank. Now my request is in the 'underwriting' phase, so it's under review," she said.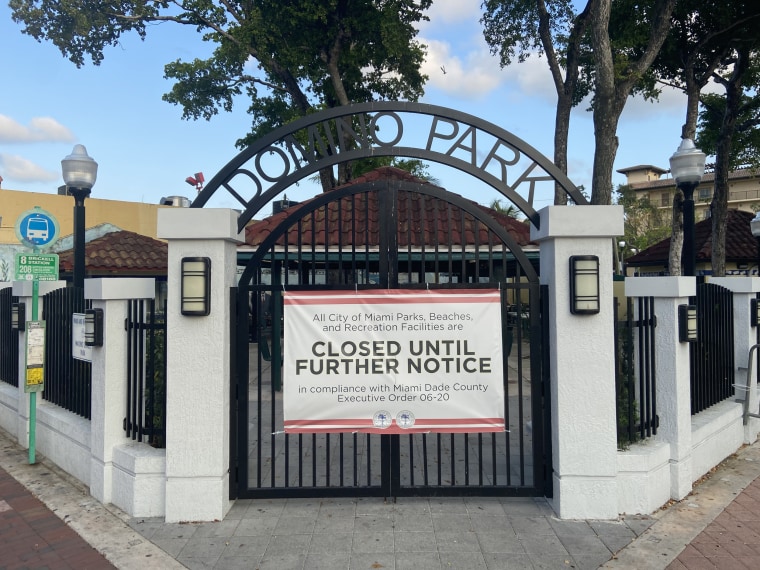 Garcia also sought help through the PPP program. Echoing Batlle, he said, "I bank with a small bank, and from what I gather, that has been an easier process. It is so unfortunate that we are seeing big companies receive some of these funds."
Garcia's father and uncles founded La Camaronera when they left Cuba in 1964, after Fidel Castro's communist revolution. The brothers ran a fishing company in Cuba until the government confiscated their business, he said.
Initially just a seafood market, La Camaronera has evolved into an iconic restaurant drawing a loyal local following.
"The rewarding part is that we have really evolved, and [our customers] know my father and my uncles, and know that I am the second generation. They've seen us expand from only a stand-up counter market into a family restaurant," Garcia said. "The've watched the American dream happen for my family."
"I just did payroll this week, and I can't sustain another two weeks of doing what I did this past week. And that is without paying ourselves," he said. "We are all kind of holding on. How much longer can we sustain this? I don't know."
In the event that these small businesses do close, Florida has been among the slowest states to process unemployment claims, making it extremely difficult for those without a job to access critical safeguards.
Despite uncertain future, "just another hurdle"
Even when nonessential businesses open again, Little Havana will face economic obstacles.
Of the 3.5 million people that visit Little Havana each year, most are tourists, many of them international. Given the pandemic, the unpredictability of the consumer base poses an existential threat to the community.
"The consumer that we have is one that flies, stays in hotels, wants to spend his or her time on the beaches, and plans to go out at night. That is the biggest concern — how long will it take for life to return to that level of normal — and for these people to return to Little Havana?" Fuller asked.
Business owners say, however, that Little Havana was built by survivors.
"These days, Little Havana is not just made up of Cubans, but also Ecuadorians, Hondurans, Colombians, Venezuelans, Brazilians, you name it," Garcia said. "And we all have one thing in common: We are all people who have left our countries to start over. We had to work tirelessly, and we had to reinvent ourselves. That instilled a drive within us."
"Now, we are going to fight to get success back, just like we did before," he added. "And we will. We will rebuild again. This is just another hurdle."
Follow NBC Latino on Facebook, Twitter and Instagram.