EL PASO, Texas — The end of Title 42 came and went without an immediate influx of migrants here, defying predictions of local and federal officials. More than a day after the pandemic-era law lifted, it remained to be seen what lay in store for many migrants and the border towns where they reside, however temporarily.
In total, Border Patrol apprehended just over 6,200 undocumented migrants crossing the border on Friday, the first day after Title 42 was lifted, two Homeland Security officials told NBC News on Saturday. That figure was lower than the 11,000 apprehended each day on Tuesday and Wednesday, as well as the 10,000 apprehended on Thursday.
The mayor of El Paso said Friday that "We have not seen any big numbers" when compared with last week.
Multiple migrants still in El Paso said that the reason for the decrease on the numbers of those crossing could be attributed to rapidly spread online rumors and a whisper network in Juárez, Mexico, saying that the time to cross was before Title 42's end. They said they feared their best chance to come to the U.S. was about to expire.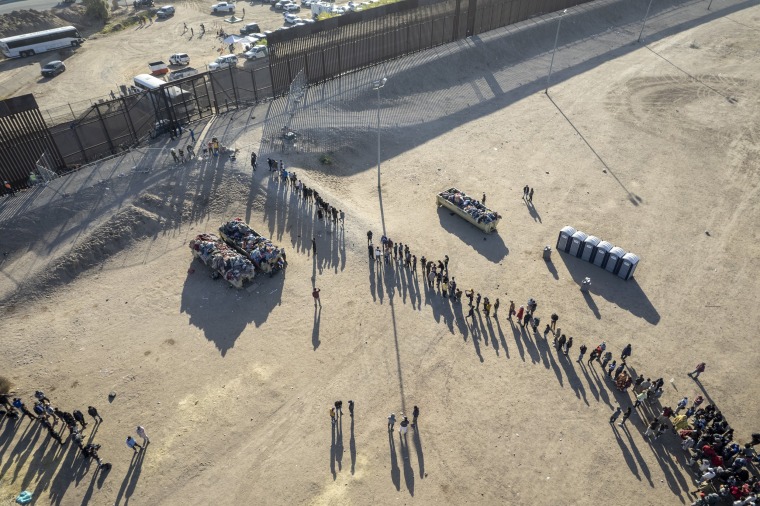 "There was a lot of talk that after the end of Title 42 it was going to be very difficult to come into the United States," said Rosa, 30, who had traveled from Venezuela.
Rosa, her husband and their three young children had recently arrived at the Rescue Mission shelter, where about 220 migrants were staying as of Thursday night. The family had turned themselves in to immigration authorities to seek asylum about a week earlier.
As she spoke, Rosa's 6- and 9-year-old sons played around circular tables where dozens of migrants had gathered to eat dinner together. The brothers ran over to explore a piano, their experimental music and laughter filling the air. In a nearby room, her 2-year-old daughter slept under her father's watchful eye.
Rosa, who asked that her full name not be used for fear of immigration reprisal, said she and other migrants were very fearful of possible punishments under Title 8, the section of U.S. law that was in place before Title 42 and is now being enforced again in its absence.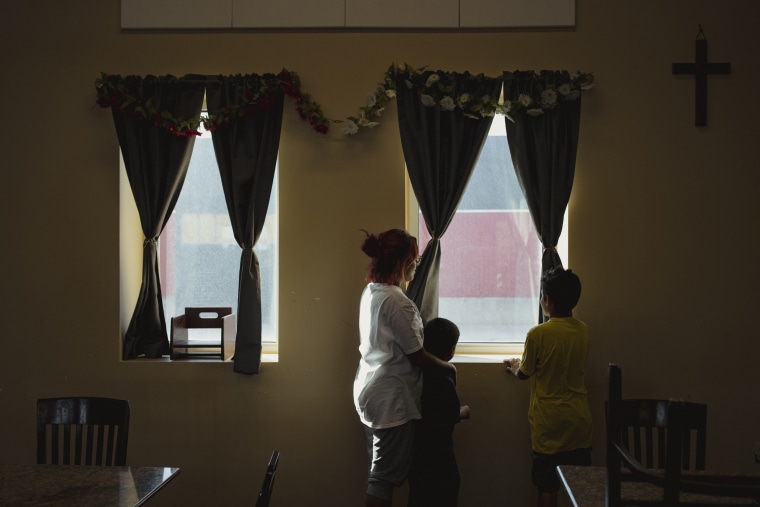 Under Title 8, those who repeatedly attempt to enter the U.S. illegally face penalties, including a potential five-year ban and criminal prosecution. Title 42 had suspended those penalties, which led to an increase in the number of people who repeatedly crossed the border after they had been expelled.
"At the end of Title 42, that would be eliminated, and so that was the fear, not being able to come and turn yourself in," she said.
Juan José Rivera, 25, a Colombian migrant staying in the area outside Sacred Heart church, said fear of deportation and punishment "motivated a lot of people to turn themselves in."
"Sadly, a lot of us were still turned away. But thank God we were allowed to come legally," said Rivera, who wore sneakers with bright turquoise laces and carried a clear plastic bag containing his immigration documents.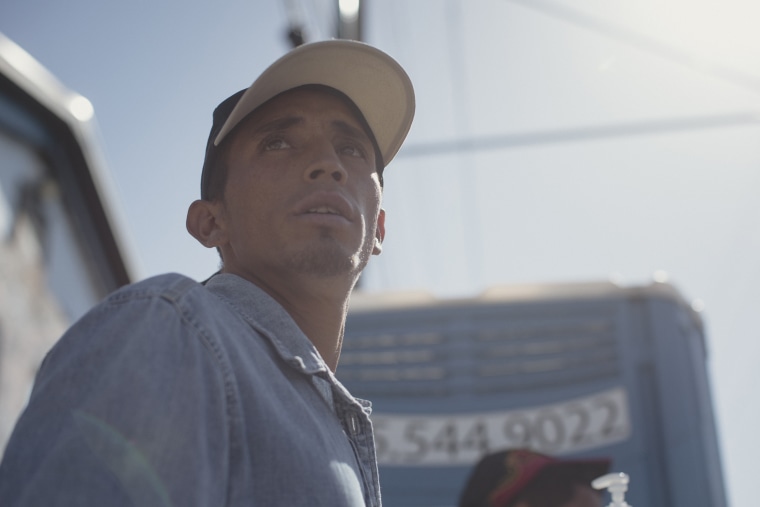 Around the church on the morning after Title 42 ended, migrants discussed the fate of others who turned themselves in to authorities earlier in the week as they ate donuts handed out by a fellow migrant and lined up along a wall to use portable toilets.
"In Juarez, there were a lot of murmurs that we would get deported after May 11," said Elienny Mavarez, a 20-year-old Venezuelan who was staying at the Opportunity Shelter for the Homeless. "A lot of people were scared because it cost us a lot to get here."
In recent days, there were as many as 3,300 migrants outside the center and a local church. That number has largely dissipated after hundreds turned themselves in for processing this week before the end of Title 42, urged by authorities who handed out flyers in areas where the migrants were camped.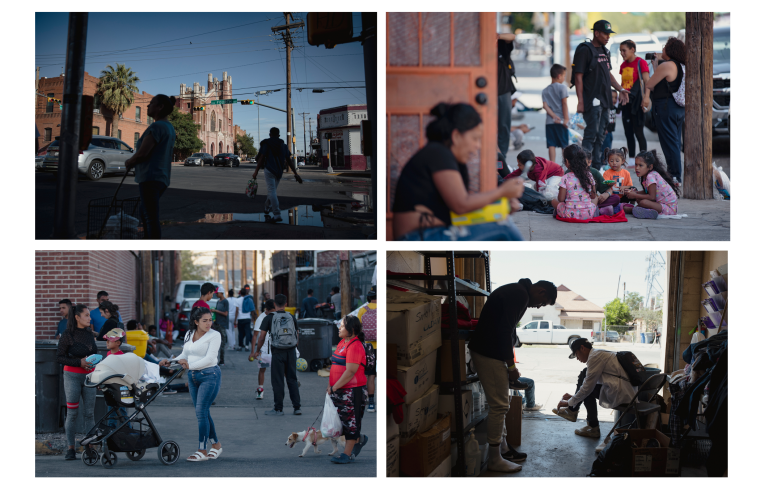 El Paso county's Migrant Support Services Center processed some 528 migrants on Friday, with 28 needing shelter in the city, county spokesperson Laura Gallegos told NBC News on Saturday. On Thursday, 715 migrants were processed there, and 115 of those went to shelters, she said. The center had scaled up operations to process 800 people a day starting Friday, compared with 650 previously, according to Irene Valenzuela, executive director of the county of El Paso's Community Services Department.
Still, some nongovernmental organizations in the city said their facilities were at or very near capacity on Friday. Overnight, there were probably about 750 to 900 in the wider shelter system in the city, which includes a school, hotel rooms and NGO-run facilities. That number includes migrants and local people in need of shelter.
'Do I turn myself in or not?'
Mavarez fled political instability and extreme poverty in Venezuela, where she was forced to go through garbage to eat or rely on her 4- year-old daughter's leftover oatmeal.
"It's a horrible situation," said Mavarez, who wore a large white T-shirt bearing a silhouette of Texas and the words "Hey, y'all." Around her, other migrants looked through bins of donated clothes, holding them out to see if they would fit.
Mavarez said her daughter is waiting in Colombia with her grandmother because the trip through the jungle to the U.S. was too dangerous. She said she almost died three times along the way, nearly drowning in rivers.
"I questioned, do I turn myself in or not?" she said, about her decision ahead of Title 42's end. "But I had to do it because of the fear."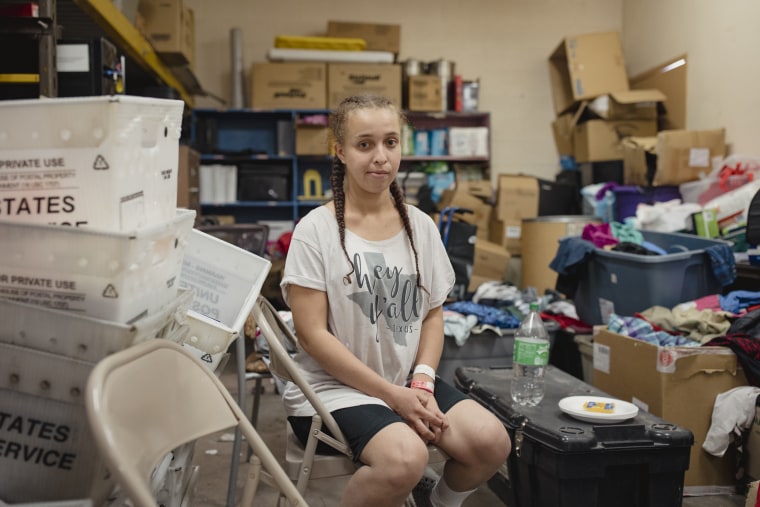 Multiple migrants also said others stayed across the border in Mexico, determined to secure an appointment through CBP One, an online application from U.S. Customs and Border Protection, which federal officials have urged migrants to use to make official appointments at ports of entry.
Many have said they struggled to get the application to work, and immigration authorities have since expanded the app's capability.
Tony David Mujica Micett, a 26-year-old Venezuelan at Rescue Mission, said he and his family were able to apply for an appointment through CBP One about six weeks ago after a difficult process of trying. He was at the shelter with his wife, Rotsy Lopez Martinez, 24, and their son Emmanuel, 3.
"We did it with faith. Each time we got turned down we kept building more faith and then we accomplished it," said Mujica Micett, who was wearing a black T-shirt with "New York" written in blue. His wife held their smiling son, who held on tightly to a small green toy truck.
Mujica Micett said as a father to a young child he was "desperate" for the app to work because he did not want to cross illegally after being robbed and threatened by cartels.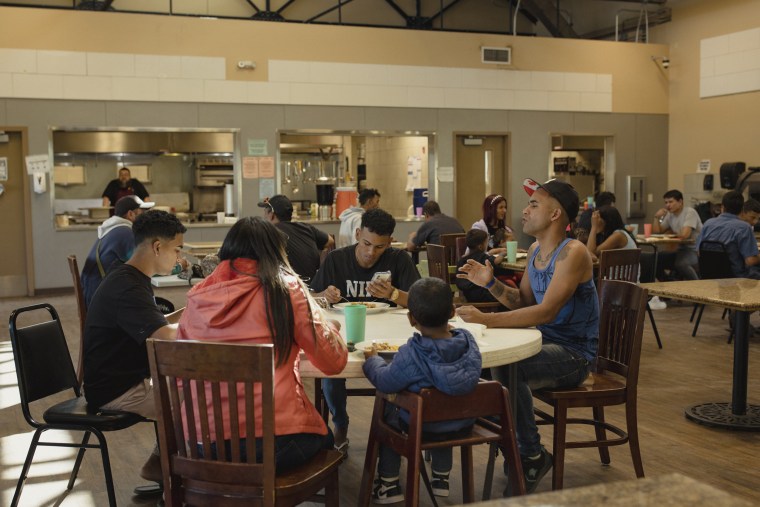 He described large groups of migrants gathering in a plaza in Juárez, attempting over and over again to use the app.
"The people who tried the most constantly accomplished getting an appointment," he said.
While Mujica Micett and his family await their appointment, some migrants who had turned themselves in were now desperately searching for their loved ones after being separated during processing.
Two Venezuelan brothers outside the Sacred Heart faced the same agony as they waited to hear from their wives.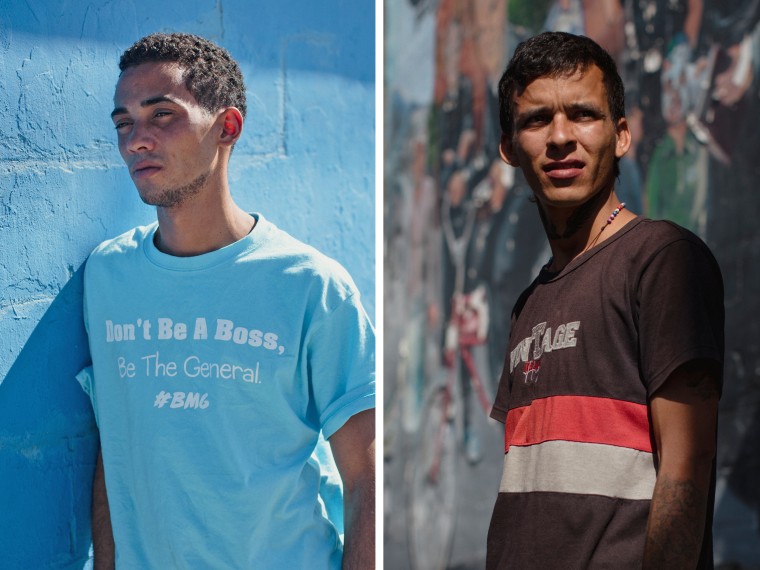 "I'm very worried because yesterday I heard they were deporting a good percentage of people," said Geryensen Renial Castro Marin, 22. "I haven't spoken to her, I haven't heard anything about her."
Castro Marin said he still held out hope because a fellow Venezuelan told him that morning that she finally heard from her husband after she was released before him.
His brother Davier Pulido Peñaranda, 28, was separated from his wife and 3-year-old twin daughters.
"I'm very worried," he said, adding that his sister-in-law had been sent back to Juárez overnight. "We did things the right way and turned ourselves in."