Spider-Man comics just got a new leading man, thanks to popular demand.
Marvel Comics announced this week that Miles Morales, a half Latino, half African-American character who was Spider-Man in the alternate universe version of the comic is now Spider-Man.
"When we first peeled back Spider-Man's iconic mask to reveal a new face — that of African-American/Hispanic Miles Morales — we didn't dare dream that he'd connect the way he has with so many fans of all creeds and colors," said Marvel Editor-In-Chief Axel Alonso to NBC News via e-mail. "That speaks volumes about the growing comic book audience and the universality of Miles' story."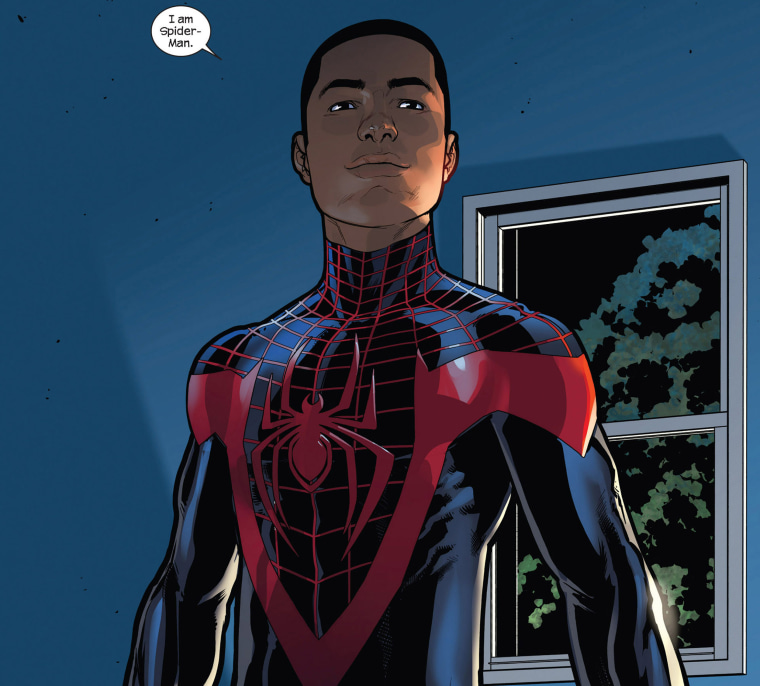 The storyline of teen Miles Morales, son of an African American father and Puerto Rican mother, was first introduced in 2011. He played a version of Spider-Man in Marvel's offshoot "Ultimate" comic books, replacing the murdered Peter Parker. In the new version coming out in the fall, Peter Parker still will be part of the series, but as a mentor to Morales.
The comic book giant has been trying to create new heroes after years of fans asking for a more diverse lineup. Marvel has already come out with a new female Thor, a black Captain America last year and its first Muslim superhero, Ms Marvel.
Fans online heralded the company for its choice but the celebration was short lived. When Sony and Marvel announced they were going to make a new Spider-Man movie for the screen, fans all over clamored to cast a diverse Spider-Man and make him biracial Miles Morales. But today Marvel and Sony Pictures announced actor Tom Holland will take over the role of Peter Parker in the upcoming film. Twitter reacted swiftly.
While seeing Miles Morales in the big screen might be years away, Latino and African American kids will be able to pick up the new Spider-Man series and see the possibility of someone who looks like them saving the world.