Minneapolis police squad cars will start carrying placards detailing immigrants' rights in both English and Spanish, the city's mayor announced Wednesday.
The so-called "Know-Your-ICE-Rights" placards will be installed in all Minneapolis Police Department squad cars, Minneapolis Mayor Jacob Frey said at a news conference on Wednesday.
He had first announced the plan to add the placards in May.
"Right now, cities have to step up and do what our federal administration and Congress won't," he said. "We will not let this lack of compassion at the highest levels of our government prevent us from doing what is right for our immigrant communities here in Minneapolis."
"They will make it clear that you don't have to answer questions about where you were born, your immigration status, whether you are a citizen and that you have the right to remain silent," he added.
Frey's office said Wednesday afternoon that the police department was already at work installing the placards.
The "notice of rights" placards also say immigrants can choose not to speak to immigration officials and "any information you offer at the jail may be shared with immigration officials."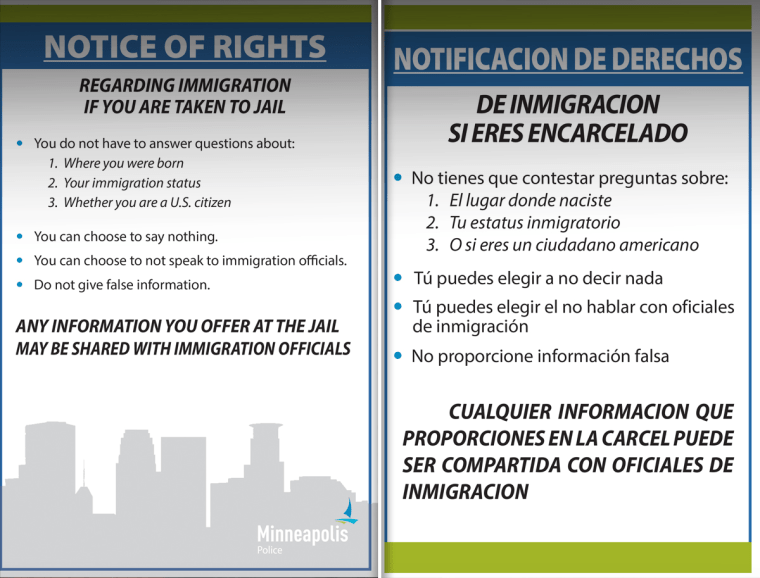 Police union head Lt. Bob Kroll, meanwhile, has been a vocal critic of the placards.
"It's simply insane. Thankfully we are less than four weeks from elections and we can possibly begin to restore the safety of our citizens with help at the state level," he said in a statement.
Frey said he was working directly with police on the placards and those he had spoken to were supportive of the effort.
David Soto, an immigrant and recipient of the Deferred Action for Childhood Arrivals program, known as DACA, also spoke at the Wednesday news conference and said the placards were a sign of support for the immigrant community in Minnesota and would help grow trust within those communities and police.
"Even if it's something rather simple, it makes all the difference to our community," he said.