SANTIAGO, Chile — When the Miss Universe beauty pageant takes place in a few weeks, Chile will be represented by a slender brunette who has a killer smile and speaks Spanish with an unmistakable Venezuelan accent.
Andrea Diaz was born and raised in Valencia, Venezuela, where from the age of 12 she learned to sway her hips and glide gracefully down catwalks at a local modeling academy. At 19, she won a pageant organized by her hometown's baseball team and became a goodwill ambassador for the squad.
But Diaz's career changed course in her twenties as she moved to Panama and then Mexico for modeling jobs, which are now scarce in crisis-wracked Venezuela. Three years ago she settled down in Chile, where most of her family has also relocated.
"I represent the new Chile," the 26-year-old said as she was training at a local gym in Santiago for the upcoming competition. "This is an inclusive country where immigrants come in search of opportunities."
As thousands of people leave Venezuela each day to escape food shortages and an inflation rate that is expected to surpass 1 million percent, dozens of would-be beauty queens are also taking flight and finding work as models and media personalities overseas.
Some are even representing their adopted homelands in international beauty pageants.
Next month, Portugal will be represented at the Miss World competition in China by a former Miss Venezuela participant. And the recently concluded Miss Earth Contest, held in the Philippines, featured two Venezuelan models who competed on behalf of Peru and Spain.
"My dream of being a beauty queen was not going to stop just because I arrived in a new country," said Jessica Russo, who represented Peru in Miss Earth, just a year after moving to that country.
She failed to make it into the finals but said she will now train for more pageants, where she hopes to win a crown for Peru, the country where her mother was born.
"I'm still young," said the 22-year-old. "And I want to be a global spokeswoman for good causes."
Beauty pageants are followed almost as closely as baseball in Venezuela, which has long been obsessed with glamour and good looks. The South American country is a world leader in international pageants, with seven Miss Universe crowns and six Miss World titles.
While critics have described the pageants as misogynous and antiquated, they are defended by many Venezuelans who say the events have helped hundreds of women from all social classes launch careers as models, actresses, TV hosts and news presenters. One former Miss Venezuela winner even served as a mayor of a district in Caracas and ran — unsuccessfully — for the country's presidency.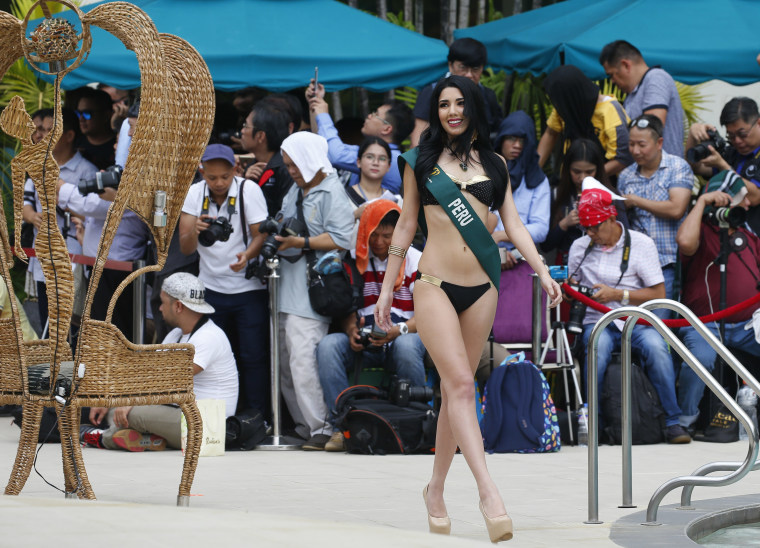 But as Venezuela's economy plunges, the country's many pageants no longer offer a direct path to employment. Live fashion shows have ground to a halt, TV productions have slowed down and companies such as fashion brands increasingly refrain from spending money on advertisements.
Giselle Reyes runs four modeling schools for young women in Venezuela that she touts as the "university of beauty." She estimates around 70 percent of her graduates have left the country over the past decade to seek modeling jobs in Mexico, Colombia, the United States and other countries.
"I even have a tough time finding modeling instructors now," Reyes said at a studio in Caracas that is lined with photos of celebrity Venezuelan pageant winners. "People always tell me they will work for me for a few months while they find a way to leave the country."
Even Venezuela's most competitive beauty pageant no longer seems to guarantee its graduates a job in their own country.
The nationally televised Miss Venezuela contest chooses 24 participants each year and puts them through a grueling six-month academy that includes daily gym routines, modeling lessons and pep talks from instructors who sometimes coax their pupils into having plastic surgery.
But at least 17 members of the Miss Venezuela class of 2015 appear to be working abroad in Mexico, Colombia, Turkey and even as far away as India, according to a web search of their social media profiles. The number of 2014 contestants working overseas is similar.
"In the '90s, participating in Miss Venezuela virtually guaranteed you work in modeling or in TV," said Rafael Briceno, a Caracas-based radio host who has given public speaking classes to dozens of Miss Venezuela participants. "Now the local market for models is very small."
Many of the Venezuelan beauty queens who have gone abroad credit their rigid preparation in Venezuela with helping them to succeed. But they also are relieved to be free of the demanding, cookie-cutter beauty standards imposed by pageant organizers at home.
Diaz said that while she was still living in Venezuela, she went to a skin cleansing session that went wrong and left small scars and reddish blotches on both her cheeks. Modeling agencies in Venezuela then started to reject her.
In Chile, Diaz was able to win the national beauty contest despite the rashes, which can be easily hidden with makeup. She was able to participate because her father is Chilean.
"Chile accepted me as I am and helped me to regain the confidence I had lost," Diaz said.
Now, as she readies for the Miss Universe pageant next month in Thailand, the model hopes that the jury doesn't just focus on her physical attributes but sees her as a cosmopolitan woman who has moved around the world in pursuit of her goals. She says that she dreams of becoming a motivational speaker working with youth on self-esteem issues.
"A beautiful woman is not just a woman with perfect skin," Diaz said, "but someone with a heart, with ideas and a sense of purpose."
FOLLOW NBC LATINO ON FACEBOOK, TWITTER AND INSTAGRAM.