Three Mexican film students who went missing in March in Guadalajara, in the state of Jalisco, were kidnapped, tortured and killed, and their bodies were dissolved in acid, authorities said Monday.
State prosecutors said criminals had confused them with members of a rival gang.
The grim news led to outrage and strong sentiments on social media from ordinary Mexicans as well as from Academy Award winning director Guillermo del Toro, who is a native of Guadalajara.
"Words can't explain the dimension of this madness. 3 students are killed and dissolved in acid. The 'why' is unthinkable, the 'how' is terrifying," he tweeted.
Del Toro, whose film "The Shape of Water" won the Oscar for best picture this year, joined thousands of Mexicans who have been protesting for over a month and calling for help via the Twitter hashtags #NoSonTresSomosTodxs ("It's not three, it's all of us") and #LosTresEstudiantesDeCine ("the three film students").
The students — Javier Salomón Aceves Gastélum, Daniel Díaz and Marco Ávalo — were last seen on March 19 in the municipality of Tonala. The aspiring filmmakers from Universidad de Medios Audiovisuales, a film school in Guadalajara, were there filming a class project during their spring break. Díaz had crutches and Salomón had brought along his girlfriend, his cousin Alejandra and a friend of hers.
According to Jalisco state prosecutors, their car broke down during the trip and they were later kidnapped by at least six people who tortured and killed them.
"Subsequently their bodies were dissolved in acid so that no trace of them remained," the state prosecutor's office said.
The state prosecutor in Jalisco, Raul Sanchez, said that two people had been arrested so far in the investigation.
Prosecutors said the youths were confused with members of another gang by gunmen from the Jalisco New Generation Cartel, which has become the most powerful in Mexico, according to U.S. authorities.
Criminal groups in Mexico often kidnap, torture, dismember and even dissolve their victims in acid, and the remains are often dumped in clandestine graves.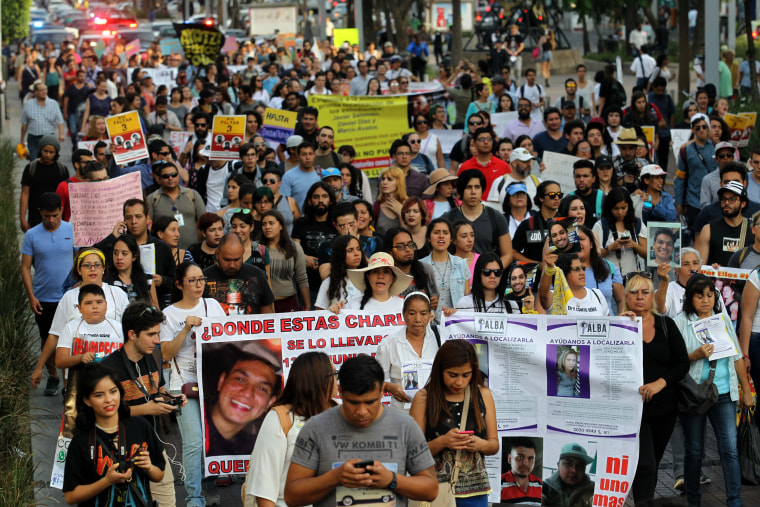 The three film students join a growing list of young adults and other people who have gone missing in recent years.
As of Feb. 28, over 5,000 people have gone missing in Jalisco. As reported by a local publication, 36 percent of all people missing are 16 to 28 years old — meaning that a third of all the disappeared in Jalisco are young people like Javier Salomón, Marco Ávalo and Daniel Díaz.
In 2014, the case of 43 missing student teachers in the southern state of Guerrero attracted national attention after a group of nearly 100 students from the Ayotzinapa Teachers College were ambushed by local police on Sept. 26 of that year — leaving six dead.
The case spurred protests in Mexico and internationally, as well as calls for the Mexican government to investigate. The government said the students had been kidnapped by police who handed them over to a criminal group that killed them and burned their bodies.
The families of the 43 victims are still demanding answers.
International observers objected to the government's investigation and the case shook the administration of President Enrique Peña Nieto, who has seen his popularity decline sharply amid corruption allegations and a spike in violence.
More than 25,000 people were murdered last year in Mexico. Homicides hit their highest level in records going back 20 years.