The co-creator of the largest Latino digital media network on YouTube sees herself as a "proud border girl."
Mitú network's Beatriz Acevedo has lived a bicultural life from the start. The media entrepreneur's parents were living in the San Diego area before she was born, but when it came time for her birth, her father rushed the family across the border. Her father, Acevedo explains, wanted to be sure that she was not born in the U.S., so that she could someday run for President of Mexico. Acevedo laughs at the memory, noting, "It's usually the other way around!"
Born in Tijuana, Acevedo grew up in Mexico City and later attended college in San Diego. "I loved living close to the border," she said. "Having one foot in Mexico and one foot in the U.S. gives you the best of both worlds. I am a proud Mexican, yet also very proud of all the opportunities the U.S. has given me as well."
Acevedo has worked in nearly every aspect of the media industry. As a child in Mexico, she hosted a kids' radio show, then broke into TV at age 15. She worked as a host, producer, and writer for the Televisa network, winning three Emmy Awards along the way. On the advice of filmmaker Robert Rodriguez, in 1995 she headed for Los Angeles, where she began producing for Discovery and USA Networks.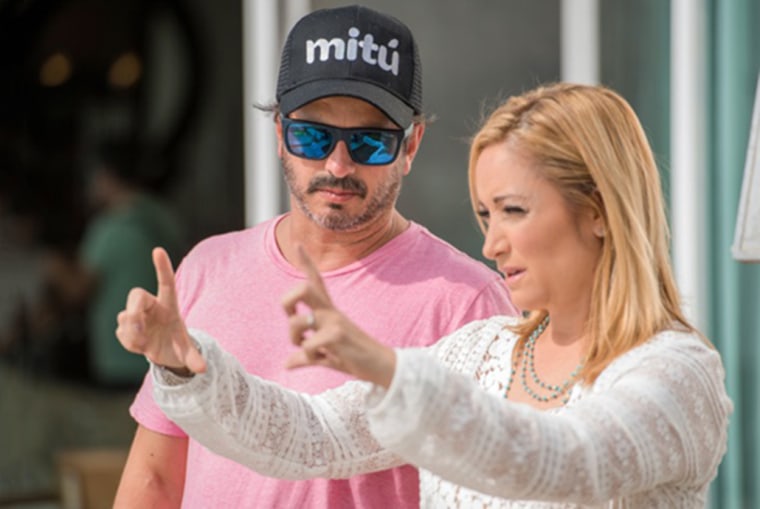 In 2012, Acevedo, her husband Doug Greiff, and Roy Burstin launched the Mitú Network, now the largest Latino digital media company on YouTube. Their channels have a combined 100 million subscribers and get 800 million monthly views.
Acevedo sees the Mitú Network as filling a content gap. "On U.S. television, we are represented often in a very stereotypical way, while Spanish-language TV is focused on soap operas, variety shows, and news." The Mitú Network aims to fill this gap, offering everything from sketch comedy to Do-It-Yourself beauty tutorials to cooking videos.
So far, Mitú has been steadily growing. The company has major advertisers, including Nestle, Proctor & Gamble, and Honda. In January 2014, Mitú signed a licensing deal with AOL, and in February, the company announced that it had raised $15 million in funding. NBC Universo has licensed Mitú's summer programming block, "Vive el Verano," and Mitú content will premiere on the network on August 1. And through "Mitú University," the company offers its content creators guidance and training in site design, growth strategies, and production skills.
Part of Mitú's success can be attributed to the way that Latinos consume media. According to the Pew Research Center, Hispanics are more likely than non-Hispanic whites to visit video-sharing sites (81 percent vs. 69 percent). Pew also reported that, overall, Latinos are the most active users of social media.
Acevedo, 46, now lives with her husband and their twins in Santa Monica, California. She recently spoke with NBC News about how Mitú is channeling Latino viewers.
NBC: What kind of impact did you see among Latinos in the digital community after Donald Trump's anti-immigrant comments?
BA: We were incredibly surprised by the response from our community. His comments really fired up Latinos; we sent a small crew over to USC to get reactions from people, and that video went viral. It has been seen more than 4 million times. I have never seen our community rally together like this, it was illustrative of the pride in our heritage. Our creators were uploading videos and selfies, we had Vines, Instagrams, Tweets… We started a hashtag, "ImNotACriminal." I believe we had over 30 million impressions on this hashtag.
NBC: How do you find your talent for Mitú?
BA: Now it is easier, because we have a track record of three years, and people may have heard about us. There is a lot of word-of-mouth among the digital community, about how we provide opportunity and help people succeed. But in the beginning, one of my co-founders and I would make cold calls and reach out on social media to people we thought were influential. And people believed in us, and they signed on! We treat our influencers (talent) as partners. We want them to be entrepreneurial and own their own content. We started with maybe 20 partners, now we have over 3000, and it is incredible!
We are not only a YouTube network, we have creators on other platforms, including Viners, Instagrammers, and Facebook celebrities. Forty percent of the top Viners in the world are Latino, so that has been a great platform for people to express themselves. Comedy gives us a wink, plus a glimpse into the community.
NBC: What can people do if they want to be part of the Mitú network?
BA: We actually have a page on our site where people can contact us, or they can email us at info@Mitúnetwork.com. If you are a Viner or YouTuber, and want to be part of our community, you can reach out to us and we will respond. We will get the process going if we are interested. The whole idea of Mitú, besides giving a community a voice, is to let people be part of larger community like themselves. For creators, this means collaborating, sharing audiences, connecting. On the other side, this is a coveted brand and advertisers want to work with these creators. We actually offer people a chance to make a living at what they love doing, by making branded content for their channels. We have our "Cinderella" stories; we have one kid in El Paso, we shot with him for a few days and he made enough money for one year of college! His parents were really proud of him, and so were we.
NBC: Can you tell us about some of your crossover success stories?
BA: One of our stars is Guzii, who was recently on The Today Show. When we first found him, he had small YouTube channel. He was working at a custodian at City Hall, and was surprised that we wanted to produce a series with him. Now he gets a lot of requests from brands, and he is signed to a big agent. We even did a series with him, "Guzii Style." Maiah Ocando, a fashion videoblogger, signed a development deal with ABC. We have a mom of three, Cris Ordaz, who was making beauty videos in her bathroom. We did a small series with her called "Beauty Coach," and we sold a TV series with her called "Beauty Gurus" to Discovery Hispanic. Now they have a billboard in Times Square! It speaks to the power that everyday people have in their audiences, how they can transfer from a small platform to a bigger one. And for us, it is exciting to help people get to the next level.
NBC: What is next for Mitú? Is a TV network your next goal?
BA: We have a really big goal; we want to be the voice of the millennial generation. Where the audiences are, that is where we want to be. Today, millennials consume media on digital, so we want to stay there. But we don't say no to traditional TV or movies, we are doing crossover deals. Most of all, we want to be the company that is the safe platform for our community to speak up. We hope to continually identify the issues that fuel Latinos today, and we will fuel them by creating content. We want to be the voice of an emerging generation.