HAZLETON, Pa. — A town that was once under the spotlight for cracking down on its Latino immigrant population has seen that population grow and thrive and now grapples with the prospect of renewing enforcement with the aid of President Donald Trump's executive orders.
Over the last 15 years, the Hispanic population has spiked by more than 800 percent in this central Pennsylvania corridor.
The Latino presence, primarily due to a surge of immigrants, now rivals Hazleton's white population - descendants of Italian and Irish immigrants - and makes up roughly half of the city's 25,000 residents.
RELATED: Cubs Manager Joe Maddon Goes to Bat for Hometown Hispanics
"With the influx and change in population, they come here and open small businesses - it's the same thing that happened 100 years ago," said Mayor Jeff Cusat, standing on a downtown Hazleton street corner as he noted the changes to the city's storefronts.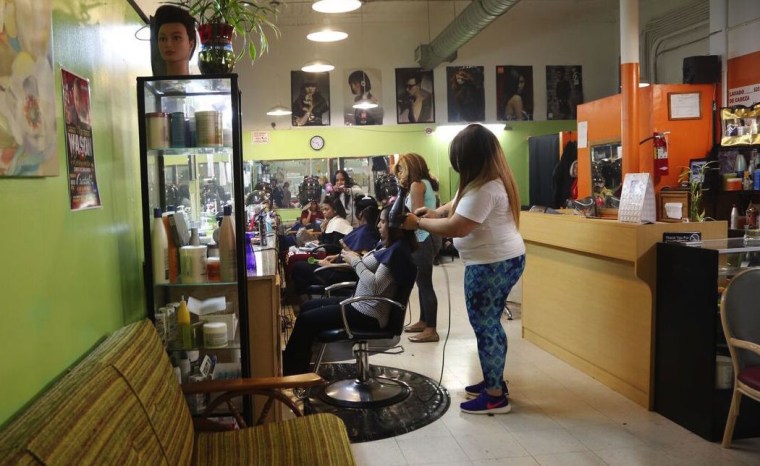 The city's businesses are now largely reliant on a diverse customer base of support. The owners of Frankie's Pizzeria expanded their menu two years ago, offering tacos and burritos alongside its counter of pizza slices.
Yet the apparent integration of the immigrant community into Hazleton is undercut by the prevailing grievances among many of the city's Latino residents.
"I have a lot of people who are concerned. They are afraid," said Ben Medina, the executive director of the Hazleton Integration Project, a community center in town that sponsors educational and athletic classes and programs for nearly no cost. The two schools closest to the center now have student populations that are 85 percent Latino, he explained.
Medina noted the worry in Hazleton about the Trump administration's unclear intentions for those who are living in the U.S. without documentation.
"Maybe they're not going to be in that situation, but they may have family," said Medina, who is originally from Puerto Rico. Puerto Ricans are American citizens from birth so they are not affected by immigration issues, but the town's Hispanic residents include immigrants from countries such as Mexico or the Dominican Republic.
Last week, Trump, as part of his executive order on immigration, declared that the federal government would begin working to re-implement the 287(g) program, which could authorize local law enforcement agencies to enforce federal immigration law.
Cusat, the mayor, supported Trump's presidential campaign and is part of a cadre of Republican leaders representing the rapidly diversifying city.
Asked by NBC News whether he believed all undocumented immigrants should be removed from the city, Cusat demurred, only insisting that "everybody has an identity and should be able to prove [it] if need be."
"If we can't prove who you are, how do we know what your intentions are?" asked Cusat.
Related: Mayor's Switch on Immigration Detention Protested in Miami-Dade
Over a decade ago, Hazleton generated national headlines over controversial immigration proposals. With the City Council, Hazleton's then-mayor and now-congressman, Lou Barletta, authored multiple city ordinances in 2006 that he said would make Hazleton "the toughest place on illegal immigrants in America."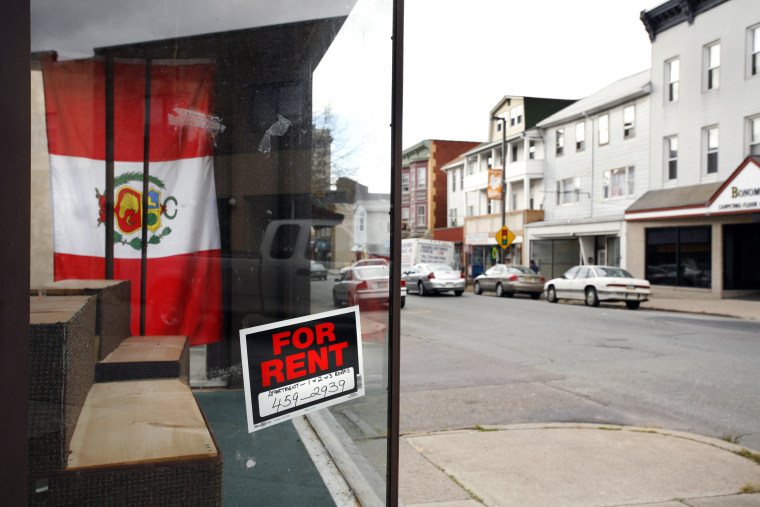 The ordinances would have barred landlords from renting to undocumented immigrants and employers from hiring them. One ordinance also declared English as the city's official language.
Its impact, several say, was instantaneous, and reverberated, in the midsize town.
"People were taking a look at their neighbors for the first time and some of the immigrants moving through the area, and saying, 'Hey, I don't know if that person is legal or illegal,'" said Bob Curry, who founded the Hazleton Integration Project with hometown "son" and Chicago Cubs Manager, Joe Maddon, who wanted to foster more unity in the town where he grew up.
"Suddenly, the soreness, the sore spot started to develop," Curry said. "And over time, people felt the people they saw on an everyday basis may not be who they were."
Ultimately, a federal appeals court rejected the city's efforts, saying immigration enforcement was the job of the federal government. The Supreme Court refused to consider Hazleton's appeal, so Hazleton had to drop its effort.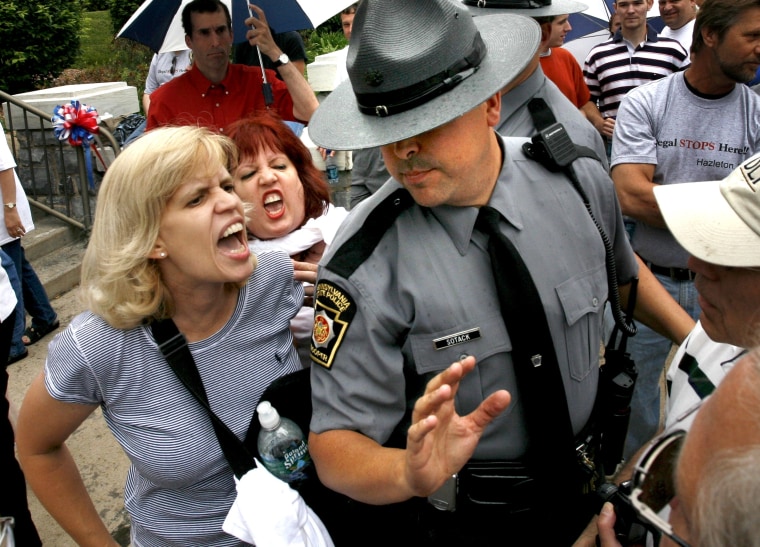 This time around things could be different because Trump has renewed the 287(g) program that deputizes local authorities to do some of the work of federal immigration officers. Former Arizona Sheriff Joe Arpaio was on of the program's participants.
And Barletta is one of Trump's most vocal supporters.
When NBC News visited the city, there was noted hesitancy among Latinos to speak out about Trump. Though Obama twice won the vote in Hazleton, the white population in town is still distinctly Republican and many immigrant businesses rely on non-Latino clientele.
But Niurka De La Rosa, owner of the Bumble Bee Daycare in downtown, said the rhetoric – even if intended at undocumented immigrants – has ripples that extend throughout the entirety of the Latino community. De La Rosa works with young children of Honduran, Guatemalan, Puerto Rican and Dominican – as well as white – descent.
"If [Trump] continues the way he's been doing so far, it's going to be a big impact on those kids – even though they're second or third generation because everyone is going to label them: 'Go back to where you came from,'" said De La Rosa, who emigrated from the Dominican Republican in 1991. Like many immigrants, she moved from New York to Hazleton in 2005.
This November on Election Day, the city split nearly evenly between Trump and Clinton at the ballot box.
Some members of Hazleton's Latino community believe the rise of Trump has propelled discrimination – albeit often implicit – by some in Hazleton.
"There are the undertones of what people don't want to label as discrimination or racism or don't want to call it that -- but it's there," said Amanda Lara, 23, assistant education director at the Hazleton Integration Project and the daughter of a Mexican immigrant.
Related: Small Town Backing Trump Draws A Contrast to Big City Protests
The subject of crime is a point of contention when it comes to the town's changing demographic landscape.
"As a Trump supporter, we're saying we need to stop the bleeding – we need to go after the ones who are causing the problems," said Rick Morelli, a delegate to the Republican National Convention for then-candidate Trump last summer and a former chairman of the Luzerne County Council.
But speaking to the Philadelphia Inquirer last April, retired Hazleton police chief Frank DeAndrea said many of the town's "old guard" choose "not to remember" that Hazleton has had a history of crime; it was known as "Mob City" in the 70s and 80s.
The Inquirer's review of crime statistics found "offenses dropped every year between 2006 and 2011, went up significantly in 2012 and 2013, and fell steeply in 2014 and 2015," and the spike was correlated to a rise in crime nationwide.
Related: Immigrant Teens Less Likely to Do Drugs, Violence: New Study
Curry as well as others in the Latino community don't reject the crime statistics but suggest it shouldn't cloud the larger impact of the immigrant surge on Hazleton.
"We're not naïve. We understand that we have drugs and crime that wasn't here before," Curry said. "But on balance, [the immigration] is a wonderful thing for the Hazleton area. We're much better off than where we were ten years ago."