Think you know your U.S. history and government? Then why does the flag have 13 stripes? What are the three branches of government? Who did the United States fight in World War II?
A new poll shows that only a little over a third of Americans would pass a basic multiple choice U.S. citizenship test, modeled after the one taken by immigrants in the process of naturalization.
The survey, released Oct. 3 by the Woodrow Wilson National Fellowship Foundation with the research firm Lincoln Park Strategies, sampled 1,000 American adults. It showed that only 36 percent actually passed the test.
Respondents 65 and older scored the best (74 percent), while only 19 percent of test-takers 45 and younger passed.
The survey asks about everything from important dates to historical figures and current events. Only 13 percent knew when the U.S. Constitution was written — Sept. 17, 1787 — and 24 percent of respondents knew what Benjamin Franklin was known for (hint: it wasn't inventing the light bulb).
More than half (60 percent) of those surveyed did not know which countries the U.S. fought against in World War II. Fifty-seven percent didn't know how many justices are on the Supreme Court, despite recent media coverage. (Nine, including newly confirmed Brett Kavanaugh.)
"With voters heading to the polls next month, an informed and engaged citizenry is essential," said Arthur Levine, president of the Woodrow Wilson Foundation, in a news release. "Unfortunately, this study found the average American to be woefully uninformed regarding America's history and incapable of passing the U.S. Citizenship Test."
Levine added that such lack of knowledge of U.S. history is "an embarrassment."
Understanding the country's past, Levine said, is "fundamental to maintaining a democratic society, which is imperiled today," and it can also help Americans "make sense of a chaotic present, and an inchoate future."
Those applying for U.S. citizenship must pass a naturalization test, which includes 100 questions and a required interview with a United States Citizenship and Immigration Services officer. Six of the 10 questions asked during the interview must be answered correctly — and in English — in order to pass.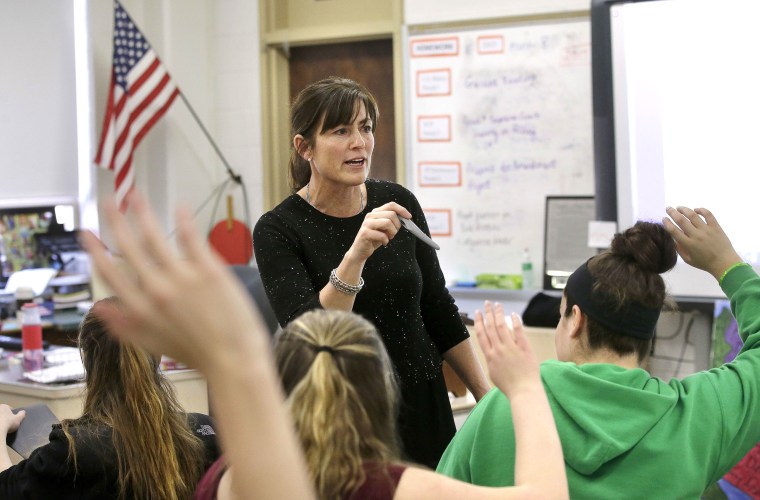 According to immigration services, certain applicants are exempt from the English requirements if they meet age or residency eligibility, and may take the civics test in their native language.
History offers "the promise of providing a common bond among Americans in an era in which our divisions are profound and our differences threaten to overshadow our commonalities," Levine added.
Alana von Voigt, a history teacher at Etiwanda High School in Rancho Cucamonga, California, found the survey's results "very disheartening." She says that her approach to teaching U.S. history is looking at it like a "melting pot."
"By continuing to teach our students about U.S. history and government, we are continuing to build upon their foundation, just as the Founding Fathers built for us," she said. "As teachers, we can show our students how to be leaders, and inspire them to be the inspiration for others. As the saying goes, history repeats itself."
Yohan Garcia, an immigration activist and program coordinator based in New York City, said that some U.S.-born youth tend to "tune out" when it comes to politics or policy.
"Most young people are uninformed about important issues; they also base their opinions on what they see or read on social media venues, such as Facebook and Twitter," said Garcia, who teaches citizenship classes at St. Jerome H.A.N.D.S. Community Center in the Bronx.
Garcia, a Mexican immigrant, sees the value in learning U.S. history in order to understand the value of citizenship.
"We need to find a way to revive such disciplines, like history, philosophy and ethics, to better prepare our leaders of tomorrow, not only to make ethical decisions, but also to know what it means to be an active and productive member of society."
Ironically, 40 percent of adults polled said that U.S. history was "an appealing subject" — even one of their favorites — while in school, according to the survey.
The Woodrow Wilson National Fellowship Foundation, founded in 1945, plans to announce a new educational initiative next year, which is aimed at changing the way history and government is taught in schools.
How would you do on a U.S. citizenship exam? You can take a practice test on the USCIS website.
FOLLOW NBC LATINO ON FACEBOOK, TWITTER AND INSTAGRAM.