With a crushing debt and a health care and humanitarian crisis in the making, the beautiful island of Puerto Rico could use a superhero right now. And thanks to Brooklyn-based Marvel Comics writer and comic book nerd, Edgardo Miranda-Rodriguez, it got one. Her name is La Borinqueña, a New York-born superhero who discovers her superpowers when she visits the island.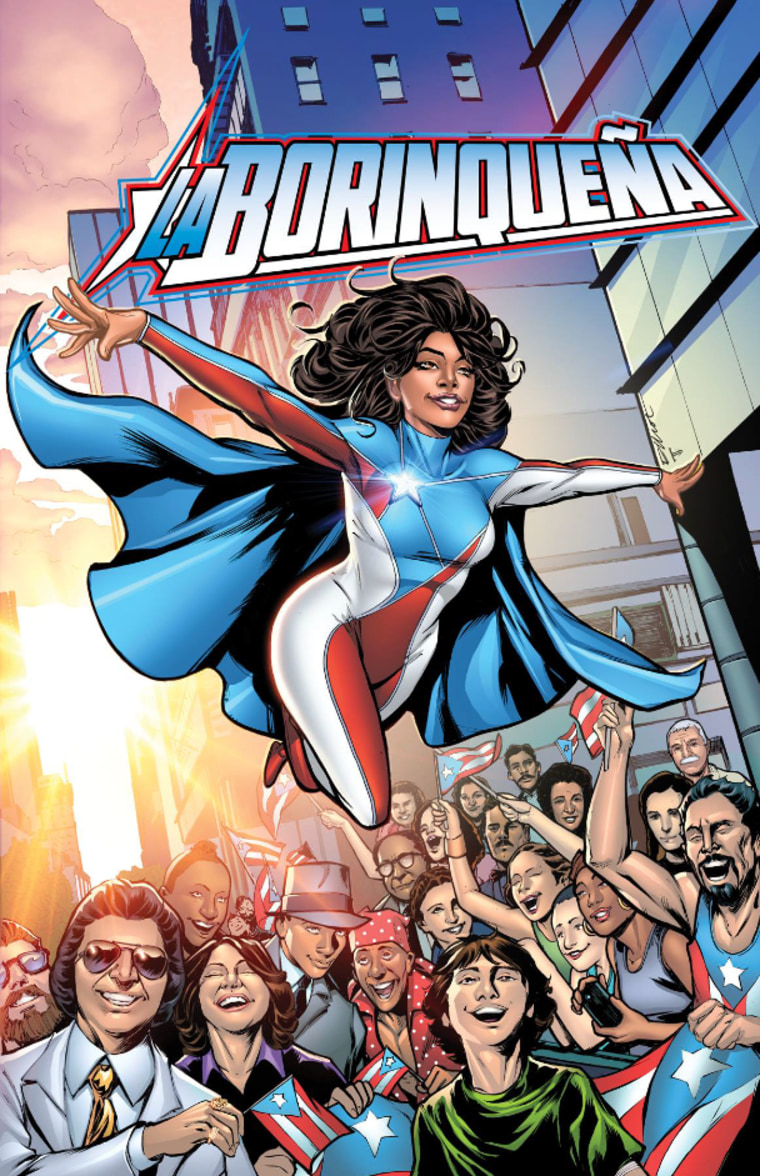 "She is symbol of patriotism at a time when Puerto Ricans need to be reminded of their superpowers," says Miranda-Rodriguez, who pitched the idea of creating an original comic book to the National Puerto Rican Day Parade committee several months ago.
"She is a patriotic symbol of hope for Puerto Rico and Puerto Ricans. We don't need to look outside of us for the power—we have it inside. If we come together, we will win," he says.
"She is a patriotic symbol of hope for Puerto Rico and Puerto Ricans. We don't need to look outside of us for the power—we have it inside," says La Borinqueña's creator.
La Borinqueña made her debut this week at press conference in New York and is the first officially endorsed superhero of Puerto Rican Rican Day Parade which will take place on June 12 in the famed Fifth Avenue. The fly-girl costume inspired by the nation's flag is a little bit Wonder Woman mixed with a lot of Superman.
Clad in a Jlo-esque body-hugging red, white, and Caribbean blue spandex bodysuit, La Borinqueña is seen flying in Gotham over a gaggle of famous Puerto Ricans—Justice of the Supreme Court Sonia Sotomayor, salsa singer Hector Lavoe, Scholar Arturo Schomburg, and imprisoned nationalist hero, Oscar Lopez-Rivera, among others.
RELATED: 'Hanging on the Cliff': Puerto Rico to Default on $422 Million Debt Payment
"I like to tell stories that are rooted in narratives that inspire social change," explains the former educator and activist. "It's an origin story that is rooted in history with beats of modern day issues."
According to Miranda-Rodriguez, La Borinqueña has three extraordinary superpowers--she flies fierce as the winds of a hurricane, possesses super human strength of ocean waves —think tsunamis, and can teleport wherever a Puerto Rican needs her.
The comic book will be written in English with splashes of Spanish and make its debut is October during Café con Comics, a Latino comic-con conference at the City University of New York.
RELATED: 'Forced Exile,' Say Puerto Ricans Leaving Island Amid Financial Crisis
Miranda-Rodriguez, who released "Guardians of Infinity" with Marvel Comics early this year, which also featured another Latina superhero—a wise grandma named Abuela Estela—says that La Borinqueña will fight villains and address the financial crisis and the role of the Puerto Rican diaspora.
Marisol Ríos de la Luz is a regular girl born in Brooklyn to an Afro-Puerto Rican father and a white Borícua mother who doesn't realize that she is a superhero until she visits the island.
"Puerto Rico activates her superpowers," explains Miranda-Rodriguez. "And in the end, through art, I want all Puerto Ricans to know that being Puerto Rican is in and of itself a superpower."