As the Dia De Los Muertos (Day of the Dead, Nov. 1st to the 2nd) tradition gains in popularity in the U.S., Latino author and illustrator Eric Gonzalez finds October to be his busiest time as educators, parents and groups around the country request his children's books to celebrate the Mexican tradition of remembering the dearly departed. Now Gonzalez is focusing on spreading his colorful stories from the page to the screen.
Gonzalez and his co-author, college friend Erich Haeger, have just announced their upcoming animation series Muertoons, produced by Latino actor Wilmer Valderrama. This follows the success of what started with their first project, Rosita y Conchita, a beautifully illustrated bilingual book with a somewhat unlikely subject matter - a young girl, Conchita, is preparing her ofrenda on the Day of the Dead in the memory of her departed twin, Rosita.
Conchita makes her sister's favorite dish (chocolate chip enchiladas), dances to her sister's favorite song, and decorates her ofrenda with candles and marigolds. As Conchita prepares the ofrenda, Rosita smells the delicious aroma of her favorite dish, hears her favorite song and knows her sister is thinking of her. So she sets out to make it back to the Land of the Living for just one night, in keeping with the Day of the Dead tradition.
"We wanted to tell a story with lots of heart and didn't shy away from the larger issue at hand -- the idea of death and loss," said Gonzalez. "But we handled it the way the Dia de los Muertos tradition taught us, to celebrate life rather than mourn death." The subject matter, he explained, was also the reason why they had to self-publish. Gonzalez said that it's not the type of story a large publisher would typically release.
Follow NBC News Latino on Facebook and Twitter
Born in Southern California to parents who emigrated from Guadalajara, Mexico, Gonzalez and his three brothers grew up with Mexican traditions such as Día de los Muertos. "I think I fell in love with Mexican culture more so because I was close to it, yet so far away from it," he said. That interest in the culture found its way into Gonzalez's professional life when he co-wrote and illustrated the book.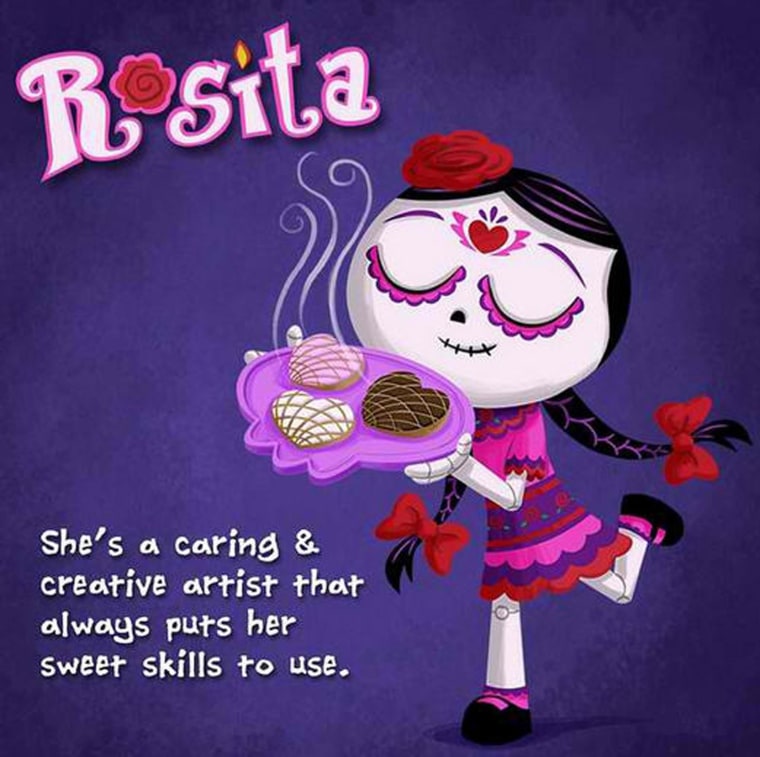 Gonzalez and Haeger started collaborating shortly after college on some comic book anthologies and later worked together professionally at an animation studio called Oddbot Inc. The two enjoyed working with each other, so after the comic book anthologies ended and everyone went their separate ways, they started pitching each other ideas for their next project.
"At the time, a close friend of mine had been killed by a drunk driver, and I was already working on a story about grieving," said Haeger.
So when Gonzalez pitched him the idea that centered around the tradition of Día de los Muertos, it immediately resonated. Haeger, who is not Hispanic, was born and raised in Los Angeles. "Latino culture isn't something new or foreign to me since I grew up with it all around me," he said. "It's just part of being from LA."
Muertoons started with an idea for a graphic novel the two were planning on writing together around 2008. They had a short deadline for an upcoming San Diego Comic Con, but they didn't have time to properly write and draw that story before it was time to exhibit. So instead, the two decided to write a shorter children's book to introduce the character, Rosita.
"We exhibited with the Rosita y Conchita book and it was a huge success -- in our eyes, anyway," said Gonzalez. In fact, they received such great response from the readers that they decided to continue to market Rosita y Conchita with prints, buttons, and homemade plush dolls. "We already loved our little Rosita. She was family to us now, and our audience was starting to fall in love with her, too."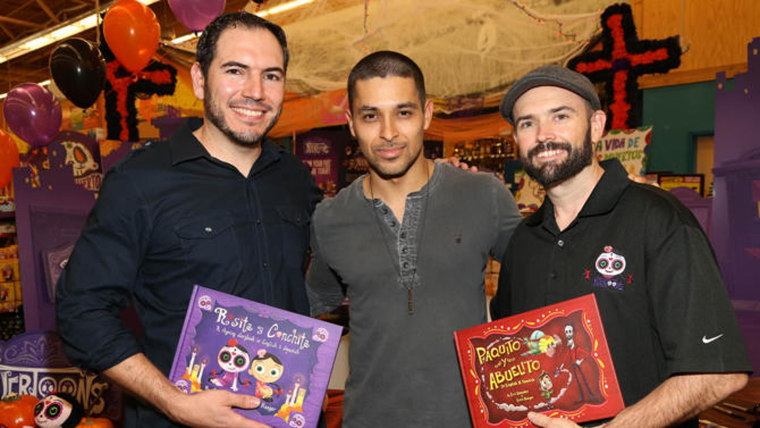 From there they decided to continue to expand the world that Rosita lives in and introduce her four friends Lupita, Gabi, Bibi, and Rubi. The co-creators have also released a second book, Paquito y Abuelito, to complement the first and to provide a story with male characters to make it a little more accessible to boys.
In 2010 they launched their production company Muertoons. Four years later, they produce children's books, dolls, an app, and now an animated series of characters living in the Land of Those Now Gone.
Last year, Muertoons made Rosia y Conchita 3D with a peek 'n play story app by the same name. The eBook boosts literacy skills with its Read to Me and I Can Read settings for beginning readers, and it keeps all readers engaged with its interactive surprises and Day of the Dead activities, such as how to make sugar skulls and how to draw Rosita. Muertoons also has a Facebook page for its fans.
But being animators from the start, Gonzalez said that animation was always a goal with their brand. "The production of animation requires lots of time and money," he said. "We started with the books because we had very little of both."
Their hope was that they would find someone out there who would be willing to help them produce the animation. And they did.
After licensing with Surge, an entertainment development company, the two pitched Muertoons to Wilmer Valderrama and his production company. "We were already fans of Wilmer and being a young, successful Latino, we thought he would be a perfect partner to help us launch this brand," Gonzalez said.
"Nobody works harder than Wilmer and his team, and so far they've achieved some amazing accomplishments with Muertoons, one of them being the great promotion with Northgate Gonzalez Markets," a California-based supermarket chain.
The California supermarket chain is giving their customers codes on their receipts between October 15th and November 4th to unlock two episodes of the new Muertoons series on mobile or connected devices.
Gonzalez and Haeger couldn't be more pleased and flattered by the response that their series has garnered. "Our readers and fans have been amazing!" Gonzalez said. He thinks the popularity of the book comes precisely from the fact that it tells a story that is outside the norm of a typical children's book.
"I think parents like that they can use the book to ease their kids into the idea of loss or even to help them through the grieving process if they've already been through something like that," said Gonzalez, who is the father of a three-year-old girl.
Haeger agrees.
"In a way, it helped me because I went from focusing on grieving to instead focusing on what it is to celebrate life," he said. "I'm so glad that through our stories, we have been able to convey that message onto others as well."