WASHINGTON, D.C. – There are nine Saturdays left before Election Day and a few dozen Latinas have packed into a townhouse believing they can affect the outcome.
They have been assembled by Hillary Clinton supporters not just to ensure they check or punch the ballot for the Democratic nominee, but to get them to ply their Latina networks for five others to do the same.
So on command, they whip out their cell phones, send photos of one another on social media with the appropriate hashtag, #MujeresforHillary (#WomenforHillary) and text five Latinas to make sure they turn out to vote for Clinton and be part of this Mujeres In Politics campaign within the campaign. The aim is that for each of the five Latinas reached, they reach out to another five Latinas.
"If you want a country that's for Latinas, for women, you need Hillary Clinton in office," Sara Valenzuela told the women who gathered at the home in the Adams Morgan neighborhood.
The 2016 election is in its final months. Election Day is Nov. 8 and state voter registration deadlines start coming up next month.
Latinos see this election as more important than 2012 and are more enthusiastic about it, according to a Latino Decisions poll of registered Latino voters.
Clinton holds a strong advantage among Latino voters; 70 percent of Hispanic voters said they expect to vote for her, compared to 19 percent for Trump, according to the poll. Only 5 percent are undecided, four percent would and 2 percent said they wouldn't vote.
It's not even. It's not undecided. It's not close. She's ahead quite a bit," Sylvia Manzano, Latino Decisions on Latino voters' preference for Hillary Clinton.
In addition, 60 percent of Latinas think she is making the party more welcoming to all Hispanics, important because Latinas outvote their male counterparts by five to 7 percent, said Sylvia Manzano, a principal with the Latino Decisions polling firm.
"This is what it looks like when a reality has a partisan bias. It's not even. It's not undecided. It's not close. She's ahead quite a bit," Manzano said of the lopsided numbers at a recent National Council of La Raza news conference.
Still these women were being rallied like they've got ground to make up. A new poll finds the race is tightening in battleground states, making turnout crucial for the Clinton campaign.
At this brunch, one of several that Clinton campaign supporters are holding around the country, the music of Cape Verdian pop singer Cesária Évora, a Cape Verdian pop singer and Cuban rock band Moneda Dura are on the playlist. But the music is nearly drowned out by the enthusiastic chatter of the women.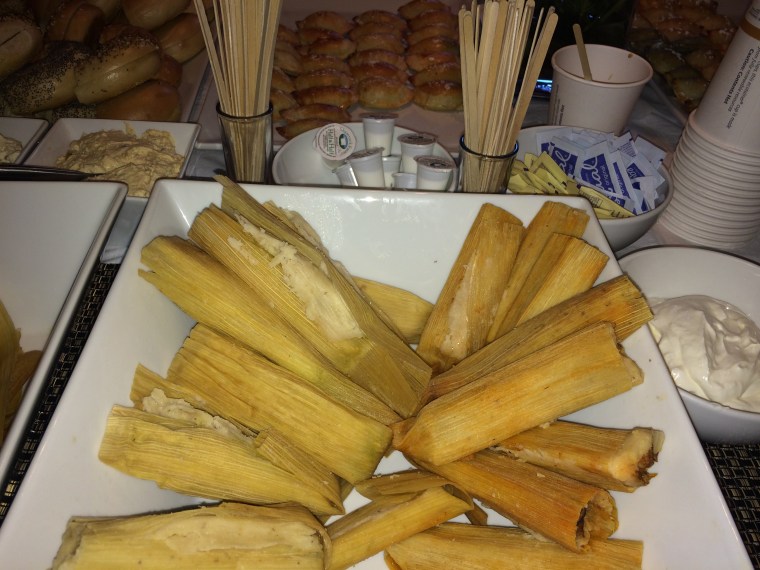 They are offered mimosas on a tray carried by a server. Amid the brunch fare of fruit and bagels are mini empanadas and tamales made by someone who makes them for the Mexican embassy.
Valenzuela calls them the campaign's "secret weapon."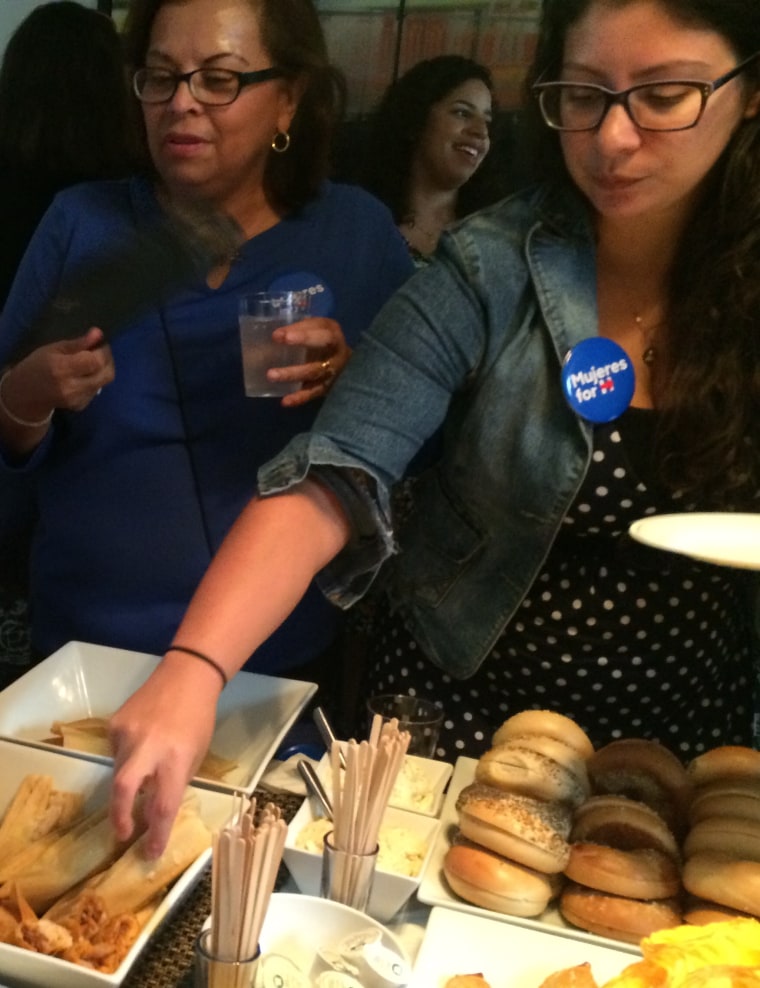 Many of the women who have come are professionals, several of them government workers who emphasized that they were attending the event on personal, not government time.
Host Helga Flores Trejo, a foreign policy and development expert and board member of Latino Victory Project, said the brunch had drawn women of all walks of life.
Among them was Elsie Guerrero, who had been invited to attend by another Latina at the gathering.
A millennial of Salvadoran descent, Guerrero is hoping for a career in public policy on issues affecting people with disabilities. During the week she works as a public policy assistant and on weekends, she works with special needs children in undocumented families.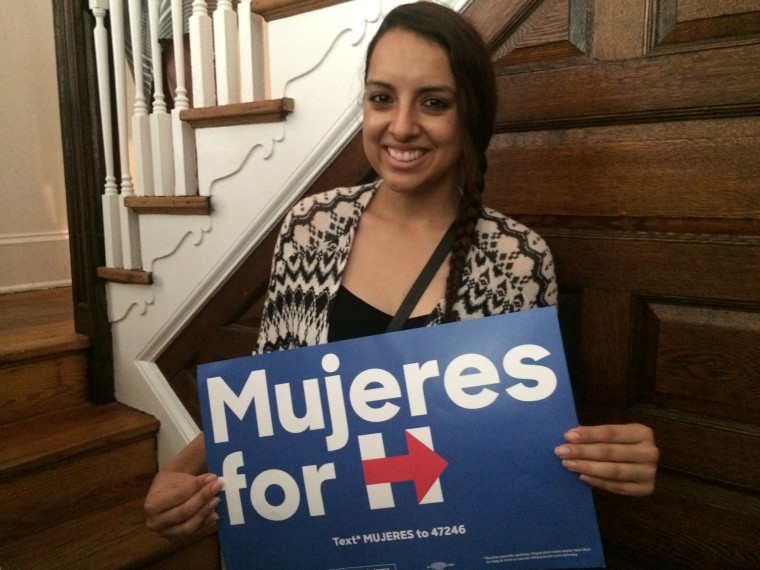 Guerrero has written a children's book, "How Emily and Eli Became Friends," with a character who is a girl with autism. Guerrero also started a Latina mentoring program that she dubbed Advancing Latinas into Leadership. She had landed an internship with Clinton, but because it was unpaid couldn't participate, so she plans to volunteer for her campaign.
"I always admired Hillary. I like how strong of a woman she is. She's a huge advocate for women and children and the community of people with disabilities," she said.
Guerrero wants to see more Latinas with academic degrees – she has two master's degrees and is in law school – in leadership, so she's doing her part by making use of a Voto Latino voter registration app that she says she logs onto regularly on her phone.
"I'm registering everyone, even my mom," she said.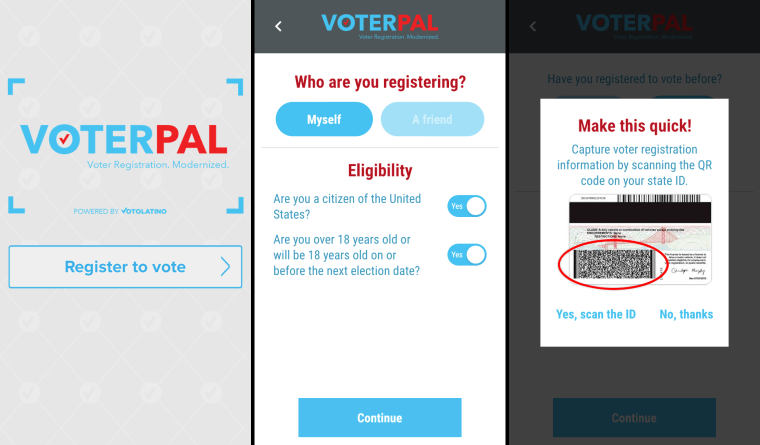 There was one male in the room - 14-month-old Myles Roberto - who had come with his mother Miryam Gerdine of Largo, Md., who is expecting twins around Election Day.
Gerdine had been invited by two of the other organizers, Catherine Pino and Ingrid Pino Durán, founders of D&P consulting firm and PODER PAC, a political fundraising committee that focuses on getting Latinas elected to Congress.
"We (Latinas) are like octopuses. We have so much reach," said Gerdine.
Clinton's strong performance with Latinas is worth noting in part because women of color can often feel excluded by or not identify with the white feminism movement.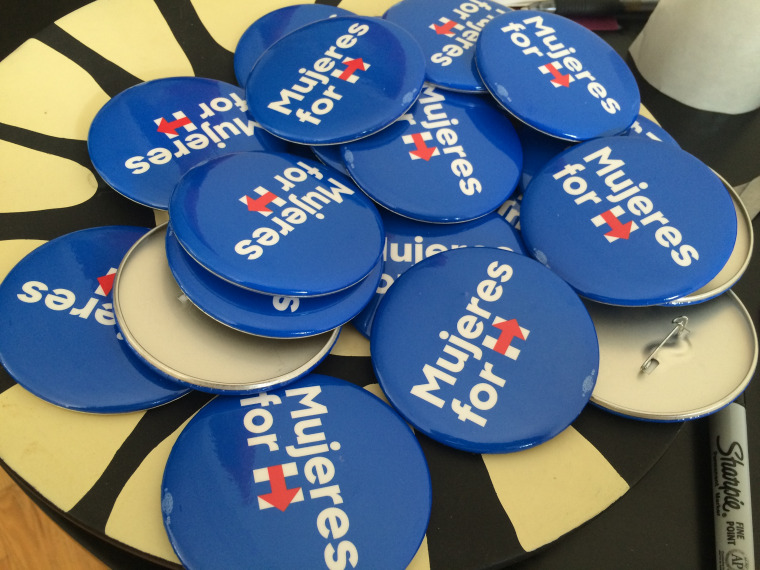 Consider the recent Supreme Court case brought by Abigail Fisher, a young white woman, challenging the University of Texas consideration of race as a factor in admissions. According to a 2015 Gallup poll, 67 percent of white women support affirmative action for women, while 55 percent support it for minorities. The wage gap between men and women is higher for women of color.
"Women of color are a pivotal group for Clinton to continue to mobilize this election. The campaign can not solely focus on their shared gender identity, but need to also address policy issues that uniquely impact their racial and ethnic communities," said Christina Bejarano, a University of Kansas professor with expertise in Latino politics and women in politics.
Lorella Praeli, Clinton's Latino vote director, said Clinton has not tried to convey a message that Clinton is like you.
"Hillary Clinton represents a breaking of a glass ceiling for all women and Hillary has thought through how to empower other leaders who look like their community to be in position of power and influence," Praeli told NBC Latino.
Clinton, however, has acknowledged benefiting from white privilege in speeches.
On Sept. 19 and 20, the group non-partisan We Won't Wait is sponsoring a national summit at National Harbor, MD on the 2016 elections and the issues important to women of color and low-income women.
The multiracial group will call for an economic agenda for these women and "address the fact that women's economic well-being doesn't hinge on any single issue but rather the intersection of several." The group includes Alicia Garza, one of the founders of the #BlackLivesMatter movement who has said she would not publicly support Clinton.
Clinton has addressed such topics as guaranteeing paid family medical leave for up to 12 weeks to care for a new child or a sick family member and closing the gender pay gap.
Donald Trump says on his website he wants to lower taxes for everyone and exempt childcare expenses from taxes. He once said people should be paid the same for doing the same job. Ivanka Trump said at the Republican convention her father would fight for equal pay for equal work, but the candidate has yet to say the same. Trump has also been criticized for sexist statements he's made throughout the election cycle.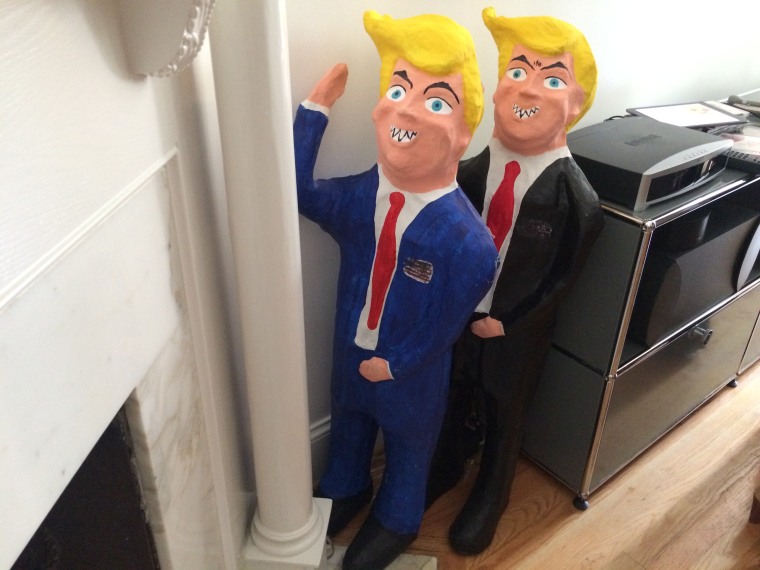 Irma Esparza, one of the women who attended the brunch, acknowledged the gap between the gains of white women and women of color. But she said she had seen Clinton include women of color in her efforts to elevate women.
"Hillary Clinton as first lady, then when she was New York senator and secretary of State, has always had strong women of color in leadership positions," said Esparza who had worked in the Bill Clinton administration. "She's led by example on what diversity really means."
Esparza thinks she can build on what she's seen Clinton do.
"I hope the last couple weeks of the campaign to take my daughter out and go knock on doors," she said, " to get low income people out who can't afford not to vote in this election."