PHOENIX, AZ -- A mural painted on the side of a sporting goods store on 16th street in Phoenix is what started Calle 16, a mural project meant to build community pride in a Latino neighborhood.
It was created five years ago in response to Arizona's controversial immigration law known as Senate Bill 1070, which instructed police officers to question the immigration status of people they suspected were in the country illegally.
Silvana Salcido Esparza, a well-known chef, commissioned a local artist to paint the mural titled "Bienvenidos a Arizona" just a few doors down from where her restaurant, Barrio Cafe, is located. The mural is now one of many that adorn the walls on 16th street, turning the area into an outdoor art gallery of murals.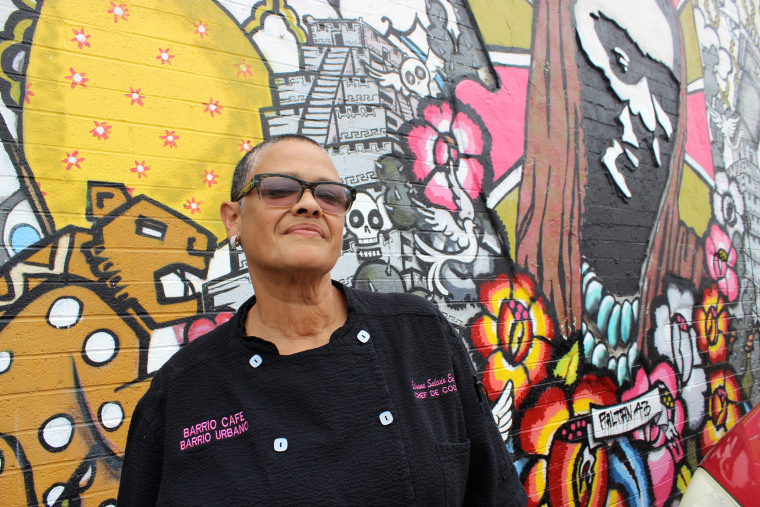 Salcido Esparza, whose parents are Mexican immigrants, said she got the vision for Calle 16 in the summer of 2010. At the time, then-Gov. Jan Brewer had just signed the bill into law, causing public outrage particularly among Latino residents.
"What's happening? Somebody do something," Salcido Esparza said she remembers saying.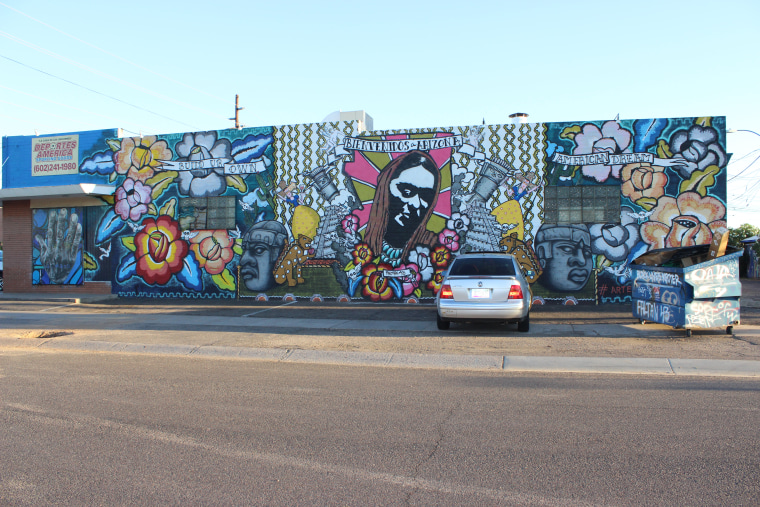 She was walking outside her restaurant late one night in July 2010 when she came up with a vision of creating murals throughout 16th street and inviting the community to help. She saw it as a way for people to channel their outrage over SB 1070 into something positive.
But she needed help turning her vision into a reality so she turned to Mexican-American artist Gennaro Garcia and Bolivia-born artist Hugo Medina. The two artists helped Salcido Esparza launch Calle 16.
"We wanted to showcase the beauty and talent that Arizona and Phoenix have to offer and paint another picture for the media that we weren't getting because of SB 1070."
Garcia created the design for the first mural and invited the community to help paint it. In the fall of 2010, about 150 people—including many children—heeded to the call and showed up to help throughout a period of several months.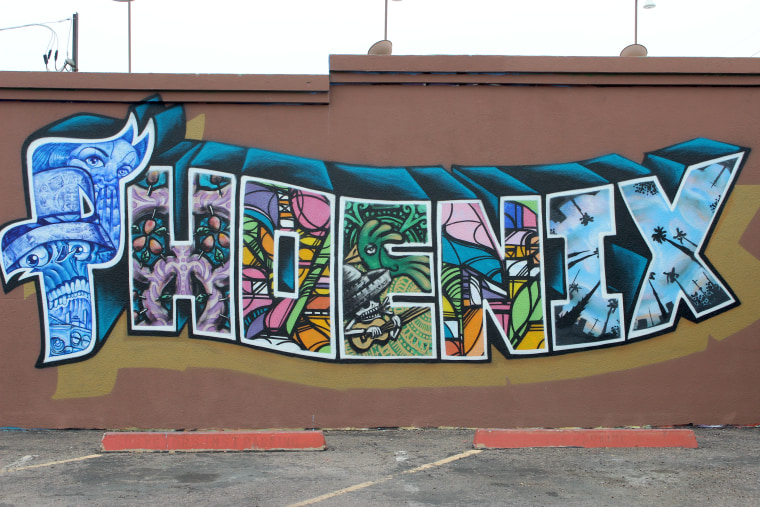 At the center of the mural is an outline of the state of Arizona. Inside it is a relief plaster carving of Frida Kahlo's face. Surrounding it are Mayan symbols and images that represent the Mexican culture. The mural proclaims the messages "Bienvenidos a Arizona" and "Build Your Own American Dream."
Medina, who created his own mural for Calle 16, said he saw the mural project as something that could be "cultural, educational and positive." He also saw it as a way to change the perception people from other states had of Arizona following the passage of SB 1070.
"At that time, there was a lot of bad press going around about what was happening in Arizona," he said. "We wanted to showcase the beauty and talent that Arizona and Phoenix have to offer and paint another picture for the media that we weren't getting because of SB 1070."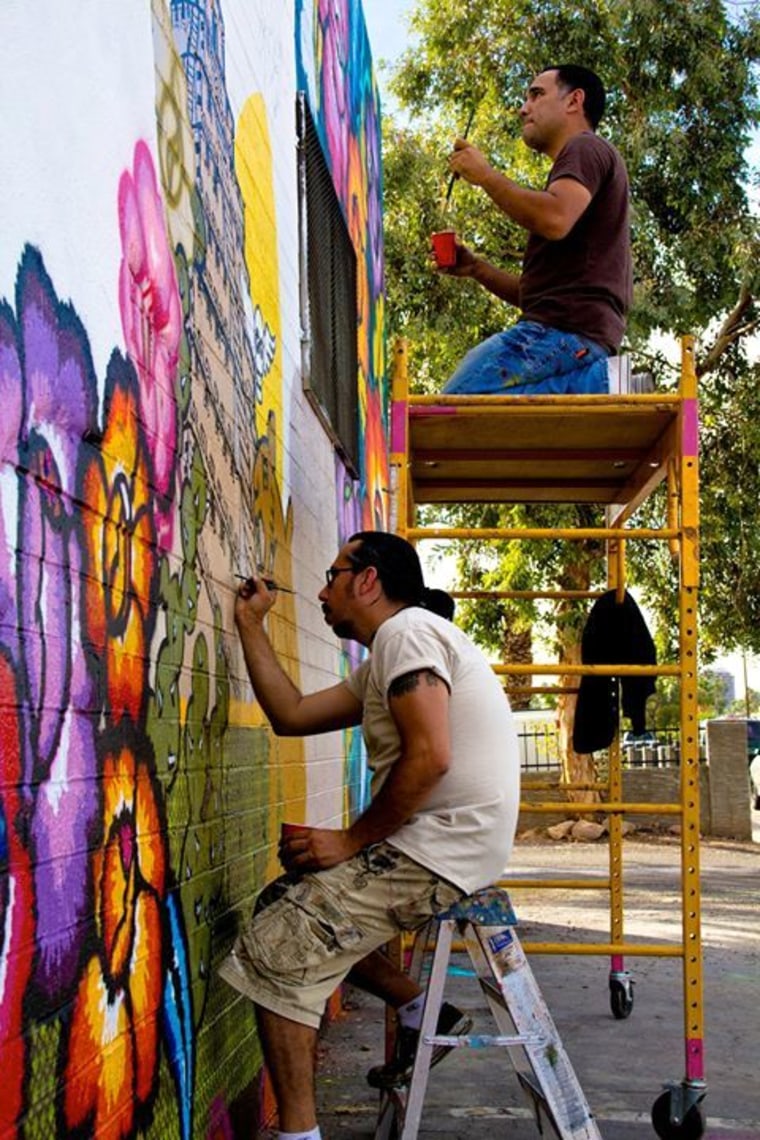 Not all artists who've been involved with Calle 16 are Latinos, though most are. The second mural was created by Jenny Odom Ignaszewski, which Medina said "added a different view."
"I didn't want this to just be a Latino movement," Medina said, referring to Calle 16. "The idea was to bring fine art and different worlds all together for a joint cause."
Today, after five years since it was started, murals are still being painted for Calle 16, though not as often as before.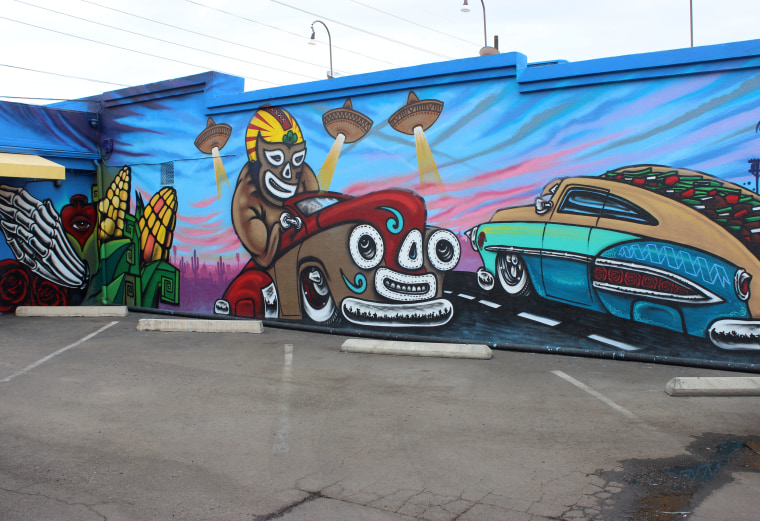 But Salcido Esparza insisted there's still plenty going on. She said murals are being painted every year during Paint Phoenix, an annual mural art festival. She also talked about plans to paint a mural at a local school, as well as a toy drive that Calle 16 puts together every year during Christmas to help a nearby crisis center.
Changes have occurred throughout 16th street since the beginning of Calle 16. More businesses are opening up, the area is cleaner and graffiti vandalism is down. The neighborhood is also becoming a popular place to live in, especially among young couples looking to buy their first home.
"If you live here, you see the difference on 16th street," Salcido Esparza said. "The community has a sense of pride."