SAN DIEGO, CA -- For so many reasons, the Latino law and policy makers who gathered in Southern California felt they could pat themselves on the back for their many accomplishments and believe in a bright future, but the reality checks kept coming.
At the National Association of Latino Elected and Appointed Officials conference last week on Coronado Island, just over the bridge from San Diego, state Assemblymember Nora Campos applauded the state, local and federal officeholders.
They had achieved what their parents sought for them when they endured and resisted racial discrimination, worked multiple jobs or immigrated to this country, Campos said.
"Look at us. Look at us in the room today," she said, clapping for them from the stage. But she added, "despite the enormous gains we have made, there is no denying that as a community, Latinos are still being impacted by many of the same social issues that came before us.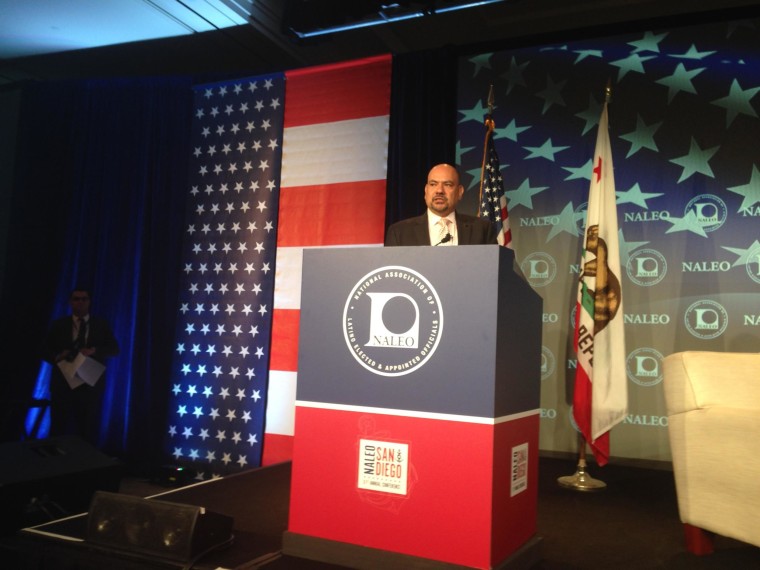 California Latinos capitalized on passage of the anti-immigration ballot measure Prop 187, two decades ago, by galvanizing their voting power and filing the state's Legislature and congressional delegation with Latino office holders.
With that change has come laws that allow immigrants not legally here to attend college in California at in-state tuition rates, to obtain drivers' licenses and maybe one day to get health care.
But for every achievement and accomplishment, there were naggings of what hasn't been won and how far Latinos have yet to go.
Looming largest was the failure once again of immigration reform. Further, the inability to move a Congress that does not yet reflect the nation's demographic makeup, served as a reminder that the Latino vote still falls short in wielding influence to get some of the community's most critical issues resolved.
NALEO projected increases in Latino voter turnout in nine states states ranging from a 5.8 percent jump in New York to 39.3 percent hike in California this November.
Nationally, NALEO projected 7.8 million Latinos will vote this November, an 18 percent increase over 2010, and will be 7.8 percent of the national share of all voters.
However in the conference's opening session, a slide that NALEO executive director Arturo Vargas posted on the giant TV screens flanking the stage showed giant gaps between the lines tracking growth in Latino U.S. citizens, 21.3 million, compared to Latino registered voters, about 11 million, and then to actual Latino voters at 6.6 million.
"We're making strides. The Latino vote is growing, but I'll be honest with you, for NALEO it is not growing fast enough," Vargas said.
"We're making strides. The Latino vote is growing, but I'll be honest with you, for NALEO it is not growing fast enough," Vargas said.
Political scientist Victoria DeFrancesco Soto said at this time age is a liability for the community. The average age of Latinos is 10 years below that of African Americans and whites. In "new destination" states like North Carolina, Arkansas and Tennessee, the average age is 15. "Young people just don't vote," she said.
On the flip side, Latinos have made huge gains in education attainment and are seeing increases in economic attainment. "What we see with this rising tide of economic attainment, Latinos are gaining on, this is also going to push us to the vote."
She said they continue to matter because Latinos, although they definitely vote Democrat, are swing voters and inhabit a middle ground, also in important swing states.
And while they celebrated how far they've come in the 50 years since the signing of the Civil Rights Act, a discussion on the progress quickly shifted to voting rights and whether they were under fire.
Congress is nearing its summer recess with just a single hearing held on a bipartisan proposal to restore protections against discrimination to the Voting Rights Act eliminated by a Supreme Court decision a year ago this month.
"We continue to have challenges in the voting context. Next year is the 50th anniversary of Bloody Sunday and the 50th anniversary of the Voting Rights Act of 1965 and what we continue to see here today are all too many ill-advised efforts to restrict as opposed to expand the right to voting," Labor Secretary Tom Perez said.
"We continue to move to make progress," Perez said. "But we have a lot of unfinished business."