The nation's oldest museum dedicated to Latino art has just celebrated its 50th anniversary, a historic milestone for an institution that started in a classroom and is now part of New York City's venerated Museum Mile.
Yet as El Museo del Barrio turns 50, it's wrestling with how to address the concerns of those who think it has shifted its focus away from its community-inspired mission as it includes more art, and leadership, from Latin America.
From activism to art
During the spring of 1969, a collective of black and Puerto Rican parents, teachers and activists in Central and East Harlem were demanding more study materials and lessons that reflected students' racial and cultural backgrounds from School District 4. Under pressure from this group, Superintendent Martin W. Frey solicited Rafael Montañez Ortiz, a local artist and high school teacher, to create educational materials for schools on Puerto Rican art and history.
But instead of making a few posters or worksheets, Ortiz reimagined the project and founded what is now known as El Museo del Barrio, dedicated to elevating the works of the predominantly Puerto Rican and Hispanic community who lived in that part of New York City.
The name of the museum translates to "the museum of the neighborhood," a nod to the fact that the institution would be of and for the people of East Harlem — also known as "El Barrio."
In a 1971 essay titled "Culture and the People," which was published in Art and America, Ortiz wrote: "The cultural disenfranchisement I experience as a Puerto Rican has prompted me to seek a practical alternative to the orthodox museum for an authentic ethnic experience."
"To afford me and others the opportunity to establish living connections with our own culture, I founded El Museo del Barrio," he wrote.
El Museo has undergone various changes since its inception at the end of the '60s, including its location. The historic institution originated in a schoolroom at PS 125 in West Harlem. The museum then operated out of a series of storefronts and brownstones on Third and Lexington avenues in East Harlem before finding its permanent home at the Heckscher Building at the end of Museum Mile.
Latinx vs. Latin America?
At an event June 11 to celebrate the museum's 50th anniversary, El Museo unveiled the second part of its "Culture and the People: El Museo del Barrio, 1969-2019," an exhibition highlighting selections from its permanent collection — the museum has more than 6,500 objects, including artifacts dating back to the Taíno Indians in Puerto Rico before Columbus — as well as displays of never-before-seen archival material. The exhibit is named after Ortiz's aforementioned essay.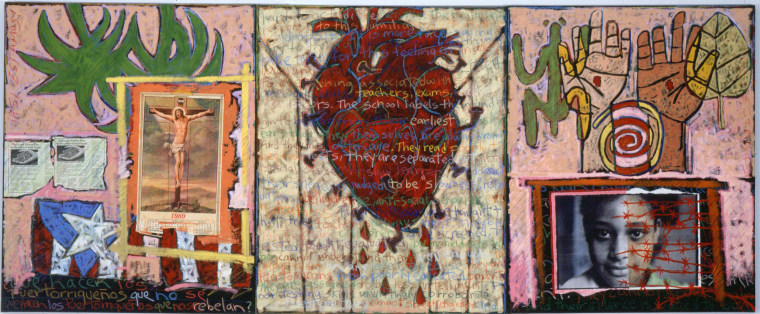 Writing about the anniversary exhibit, the museum's executive director Patrick Charpenel made it clear that the museum's emphasis is on preserving and promoting the contributions of U.S. Hispanics.
"The founding of El Museo del Barrio in 1969 was originated by Puerto Rican educators, artists and activists under the mission of presenting, preserving and promoting their art and culture," Charpenel said in a statement. "With 'Culture and the People,' we continue to rewrite the history of the United States to include the broad spectrum of cultural and historical contributions by Puerto Rican, Latinx and Latin American communities."
But at the museum's anniversary party last week, a group of activists spoke out, wearing T-shirts that read "El Museo fue del Barrio" (meaning "the museum had been, or was, of El Barrio). Reading from their "Mirror Manifesto," which they released in April, the group argued that the museum needs to focus on the work of U.S. Latinos — whom they call "diasporic Latinidad" or "Latinx" — which they stated "is distinct from Latin America and should not be confused."
The group stated that the museum has left its Latino community members behind just as art spaces for U.S. Latino creators are shrinking, while Latin American art has received generous support from some of the city's most prestigious museums, including the Museum of Modern Art.
The group also criticized the recent hiring of Brazilian Rodrigo Moura as its chief curator, arguing that the museum's chief curator should be a U.S. Hispanic and not from Latin America. They have also pointed out that only one member of the museum's board of directors lives in East Harlem and that the board has no members of Dominican or Mexican American descent — even though such groups now reside in El Barrio.
"Our children, young artists, and arts professionals want and need to see a future for themselves at El Museo del Barrio," the petition stated.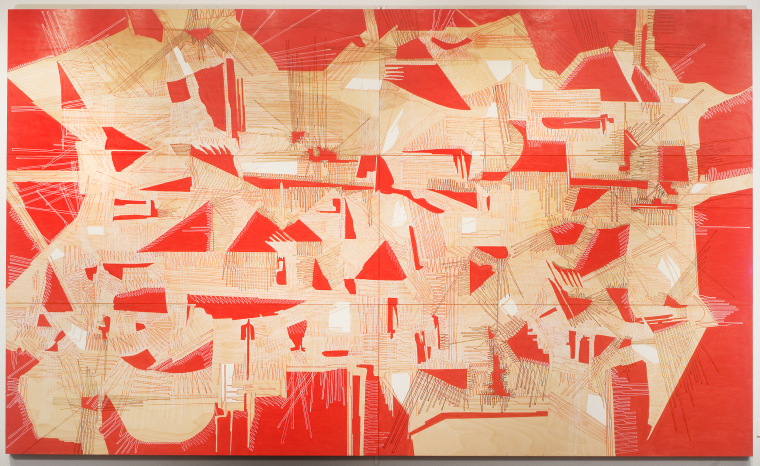 In late March, the museum announced it is hiring a Latinx curator who will focus on the history and culture of historically marginalized U.S. Latino communities.
Susanna Temkin, the anniversary exhibit's curator, told NBC News that "the mission of El Museo has always been a point of contention, how that mission evolved."
"We were a Puerto Rican institution; we still are a Puerto Rican institution," Temkin said. "The Puerto Rican movement at large came out of the civil rights movement of artists demanding that black and Latino voices were presented in museums, so we emerged from that particular context."
Temkin notes that El Museo's current mission statement has evolved to include Caribbean and Latin American artists.
"The way we discuss some of these identities is always changing," she said.
The "Mirror Manifesto" followed a number of other controversies the museum has grappled with in the last several months, including rescinding a philanthropic award that was to be given to Princess Gloria von Thurn and Taxis, a German art collector and socialite who has elicited controversy for her conservative views and past comments. The museum was also forced to cancel a retrospective of Chilean filmmaker and artist Alejandro Jodorowsky's work after a passage from his book "El Topo: A Book of the Film" (1972) resurfaced, in which he claims to have raped a colleague while he made the movie, according to ARTnews.
Marta Moreno Vega, who served as El Museo's second director and later founded the Caribbean Cultural Center African Diaspora Institute, wrote on a Facebook post that she withdrew her self-portrait from "Culture and the People: El Museo del Barrio, 1969-2019" as an act of protest.
"I refuse to have my work in an institution that devalues the contributions of El Barrio's creatives," said Moreno Vega. "Do not allow our children, our people, our history, our inheritance, our communities to be erased."
Despite recent criticism, El Museo's leadership stresses it remains true to its mission as an important cultural and community hub.
"We're obviously a much smaller institution than others, but I hope you can see that the staff is really dedicated and I think we're able to produce really top-notch programming and exhibitions," Temkin said.
In January, the museum celebrated its popular 42nd annual "Three Kings Parade," a New York City tradition. El Museo has a program called Early Birds for families with children on the autism spectrum; they're invited to visit the museum before it opens to the general public with adapted, sensory-guided exhibitions. Through "Aprende Mas," the museum holds monthly workshops and events for visitors 65 and older.
The museum's current anniversary exhibit is composed of two parts: The first part, which opened in April, "explores the legacy of El Museo del Barrio through the themes of 'Roots,' 'Resistance' and 'Resilience' while its second part unveiled last week includes a timeline that outlines the museum's history," said Temkin.
"I hope people see familiar things. Some of the guards have walked past and they've said, 'Oh, I remember that,'" Temkin said. "But I'm hoping people also see things they didn't realize took place here. I think it's amazing to think about what my predecessors, what this whole staff, has created over the years."
"The biggest challenge is our size and our ambitions," Temkin said. "It's a challenge always to reach for the stars."