WASHINGTON, DC -- For the first time, the nation's three Latino Housing Secretaries were together at an event and recognized for their historic achievements.
Former U.S. Housing and Urban Development Secretary Henry Cisneros was honored last night in the nation's capital by the National Association of Latino Elected and Appointed Officials (NALEO) with the Edward R. Roybal Award for Outstanding Public Service.
The award recognizes individuals who have distinguished themselves in public service, and is named for the late trailblazing Roybal, who was the first Mexican American elected to the U.S. Congress from California, and a founding member of both NALEO and the Congressional Hispanic Caucus.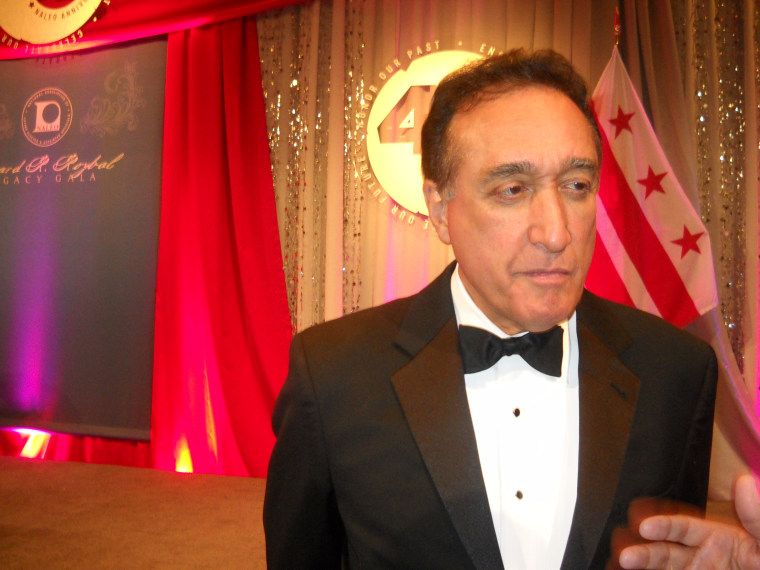 Cisneros said he considered the award to be an honor.
"The principal dimension for me is that it is named for Edward Roybal who was really one of the premier figures in the Latino history of modern times," he told NBC Latino. "I remember when I got a call from Congressman Roybal asking me to join NALEO as a young city official in San Antonio. It's just a wonderful closing of the loop, thanking people who have done so much before us."
The event also commemorated the 40th anniversary of NALEO and brought together for the first time the three Latino HUD secretaries – two former and one current; Cisneros, former U.S. Senator Mel Martínez, and current HUD Secretary Julián Castro, who joked that he can't count all the times he's been mistaken for Cisneros.
RELATED: Renewing Home Buying Confidence Has Framed Julián Castro's 1st Year at HUD
Like Cisneros, Castro is a former mayor of San Antonio, Texas and are of Mexican-American origin.
"I was in a cab and the cab driver said, 'Oh you're from San Antonio and I said yeah I used to be the mayor, and he says, Cisneros, right!' I'll say that at least 82 times in my public service career I've been mistaken for Cisneros. It's a conspiracy because I'm not as tall, I'm not as talented, and I'm not as wealthy," he remarked to roars of laughter from the packed ballroom in downtown Washington, D.C.
Mel Martínez, who served as Housing Secretary under George W. Bush, is Cuban American and served in the U.S. Senate as well as was chairman of the Republican Party.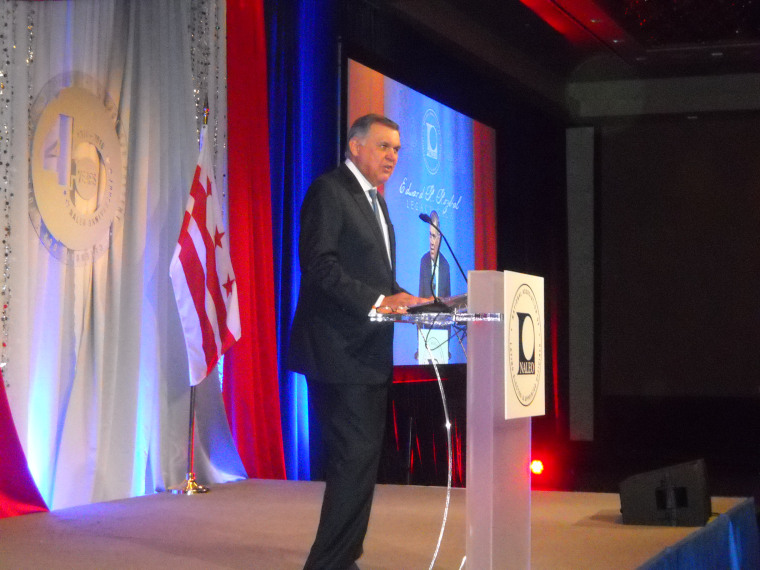 Martínez recalled how Cisneros became the first Hispanic mayor of a major U.S. city when he was elected in 1981 and went on to revamp HUD during the Clinton administration. Cisneros is currently involved in several business ventures, including developing affordable housing.
"Henry Cisneros has the same level of commitment to public service that NALEO founder Roybal had. He continues that level of service and leadership in the Latino community," said Martínez.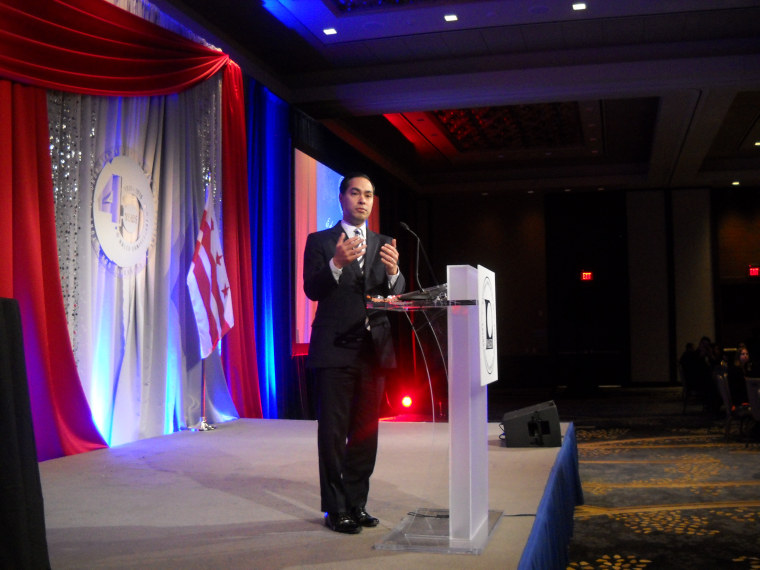 The event coincidentally was held on the evening of several pivotal presidential primaries nationwide where the Latino vote was key, including Florida. Cisneros said the rhetoric and demagoguery some candidates have engaged in has energized Latino voters.
"I'm very disappointed that the Latino community has been targeted the way that it has and we cannot be a throwaway community. We cannot be a butt of jokes, we cannot be a butt of wedge politics and we need to stand up for ourselves," he said.
"But most importantly we need to continue to make progress so that we put the lie to all the things they say. We're building new businesses, our children are advancing in school, and our leaders are doing great work. That's the real spirit of America, not what you see on television these days of division and attacking, that's not the spirit of America."