Clad in Puerto Rican flag sarongs, bandanas and even capes, thousands of participants from all over country and the island gathered in New York City for the 62nd National Puerto Rican Day Parade on Sunday.
Yamil Sanchez, who hails from Carolina, Puerto Rico, was a first-time parade attendee who said he came to show his love for the island.
"I feel so proud, for the culture, for the people and their charisma," Sanchez told NBC News. "A lot of people are visiting from Puerto Rico to be here ... There's no other place like it. I love it."
Under the theme "One People, Many Voices," the parade honored veterans in the community, as well as young trailblazers, bringing island-born Puerto Ricans and those from the diaspora together.
Ricky Martin, largely regarded as the "King of Latin pop," led parade-goers down Fifth Avenue as the event's Grand Marshal. Born in San Juan, the multiple Grammy and Latin Grammy award-winning performer was recognized for establishing the Ricky Martin Foundation, which aims to put a stop to human trafficking, especially in the Caribbean, through public education and community initiatives.
The parade also celebrated Loíza, a northeastern coastal town with a historically Afro-Puerto Rican population, which was founded exactly 300 years ago.
"Loíza has undergone an amazing transformation since Hurricane Maria," said Louis Maldonado, National Puerto Rican Day Parade (NPRDP) Board Chair, at a pre-parade event on Friday. "From dance to music to food, Loíza has contributed to Puerto Rican culture and represents some of the best of the island."
Parade-goers represented Loíza by dancing "bomba," a traditional Afro-Puerto Rican dance accompanied by drums, and carrying signs that read "Aqui llego Loíza" (Loíza was here) at the event.
"Loíza is a special place to me. It's full of rich culture," Yolanda Correa, a parade-attendee from the Bronx, said. "So I'm standing here, loud and proud saying, 'This is where my family's from.'"
Other parade honorees include composer and jazz percussionist Bobby Sanabria, a seven-time Grammy nominee who was named the padrino (godfather) of the event. Sanabria's latest work, "West Side Story Reimagined," has drawn rave reviews for its re-arrangement of Leonard Bernstein's famous musical score. La India, a Grammy-award winning salsa and Latin pop singer-songwriter was the parade's madrina (godmother). World championship boxer and mixed martial artist, Amanda Serrano, was also recognized as Athlete of the Year, for winning championship titles in seven different weight divisions.
The parade, which is routinely held on the second Sunday of June, coincides with LGBTQ Pride Month and this year's Trailblazer Honoree, MJ Rodríguez, reflected the contributions that queer Puerto Ricans have made in the community. Playing the role of Blanca Rodríguez Evangelista on FX's hit series "Pose," she leads the largest cast of transgender actors in a scripted television series.
The parade also paid posthumous tribute to transgender activist Sylvia Rivera, a leader of the Stonewall uprising, which helped launch the modern LGBTQ civil rights movement. Born in the Bronx, Rivera was a founding member of the Gay Liberation Front and the Gay Activists Alliance. She also co-founded Street Transvestite Action Revolutionaries (STAR) with her friend and fellow transgender activist, Marsha P. Johnson, to assist homeless gay, gender nonconforming and transgender youth of color.
The parade, a fixture in New York City for over six decades, draws politicians, celebrities and organized labor along with ordinary families and groups, like marching bands and dancers, who hail from different towns in the island.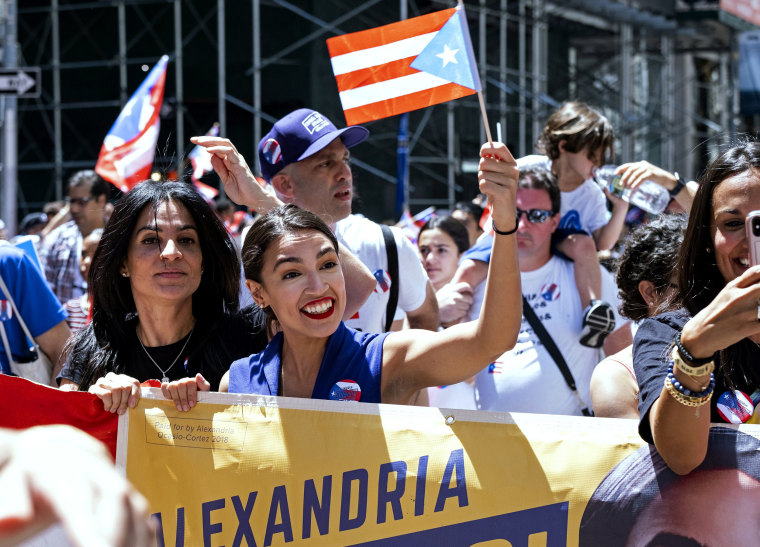 This year, Rep. Alexandria Ocasio-Cortez, as well as Rep. Nydia Velázquez and New York Gov. Mario Cuomo, marched in the parade. New York City Mayor Bill DeBlasio defended his decision not to attend the parade, explaining he was in Iowa as part of his Democratic presidential bid.
Puerto Ricans are the second-largest Latino group in the U.S., after Mexican-Americans, making up 1.7 percent of the nation's population and 9.5 percent of U.S. Latinos, according to 2016 Census figures. Puerto Rico is a U.S. territory, and Puerto Ricans are American citizens.
Though honorees and attendees spanned several generations and hometowns, the common thread was a shared love of the island and its people.
Elizabeth Erazo Baez, a visual artist with a focus on Puerto Rican landscapes, history and culture, told NBC News that she's proud to be a boricua — a name that comes from the island's Taíno Indians, who lived there before Spanish colonization.
"To understand where my family comes from, to understand where my love of food and music comes from, fuels my art," said the artist. "I love when I visit Puerto Rico and I see all the greenery. For me as an artist, it's very inspiring. When I go travel there, I just feel connected. It's a very beautiful experience, even to just smell the soil there."
Much like last year, the parade took on both a triumphant and solemn tone, with some floats and signs displaying the number 4,645, in reference to a Harvard study that estimated there were more than 4,000 deaths resulting from Hurricane Maria, which devastated the island in September of 2017.
"Hurricane Maria changed everything," Caroline Gonzalez, an attendee from Brooklyn, said. "I don't think we could celebrate without acknowledging those who didn't make it."
Nearly two years after the devastating hurricane, Puerto Rico is still recovering. The parade is part of those efforts.
"We will also utilize the parade as a platform to champion important causes to our community and foster economic development in Puerto Rico during this post-Hurricane Maria era," said Maldonado.
Discover Puerto Rico, a newly-established organization that is working to make the island known as a premier travel destination, is one of the organizations being honored for its work in increasing Puerto Rico's visibility.
Though the island is still recovering, the parade's energy and celebratory atmosphere is emblematic of the way many Puerto Ricans feel about the U.S. territory — amid setbacks, there is optimism that things will continue getting better.
"Look at how many people at here," Sanchez said. "And we're not going anywhere. We're dancing and singing and having fun, but we have this faith where we draw strength. We continue to push forward."