When he received devastating news, Marco Benjamin reached out to his mother. It was 2008, and he had just completed an at-home HIV test and learned he was HIV-positive. "I called her at 5am and said Mami, I'm going to ruin your day," he recalled.
Yet her reaction was unexpected. "She told me she thought I was going to tell her I was in jail. 'Mi'jo, you are not the first and you are not going to be the last (to have HIV),' she said," said Benjamin. "Then she made sure I went off to the doctor to see about treatment."
Shortly afterward, Benjamin quit his architecture job so he could pursue AIDS activism. These days, he works with the AIDS Healthcare Foundation in New York, and credits his family for helping him overcome his initial shock at his diagnosis. Benjamin "came out" as HIV-positive to his brothers, cousins, and other relatives, and they have all been accepting and supportive of him.
"My mother told me that if I had AIDS, then in a sense she did too, " Benjamin said. "She promised that she was going to help show me that I could live with HIV, and she has."
"I wish that the support I got with my family, everybody in the world who is HIV-positive had," Benjamin said. "It is unfortunate that they don't."
Today is National Latino AIDS Awareness Day, which began in 2003 to raise HIV/AIDS awareness and prevention in the Hispanic community. This year's theme is "You & I Will Defeat AIDS" (Tu y Yo Vamos A Derrotar al SIDA). Organizers hope that people will talk about HIV/AIDS, get tested, and seek treatment if necessary.
Guillermo Chacon, president of the Latino Commission on AIDS, noted that today's date was chosen for a reason. "When we launched this event, we picked October 15 because it is the last day of Hispanic Heritage Month. It is a good way to remind people that we must celebrate our heritage, but that we need to be proactive about health issues that affect our community, like HIV/AIDS."
As the largest minority group in the U.S., Latinos are disproportionately impacted by HIV/AIDS.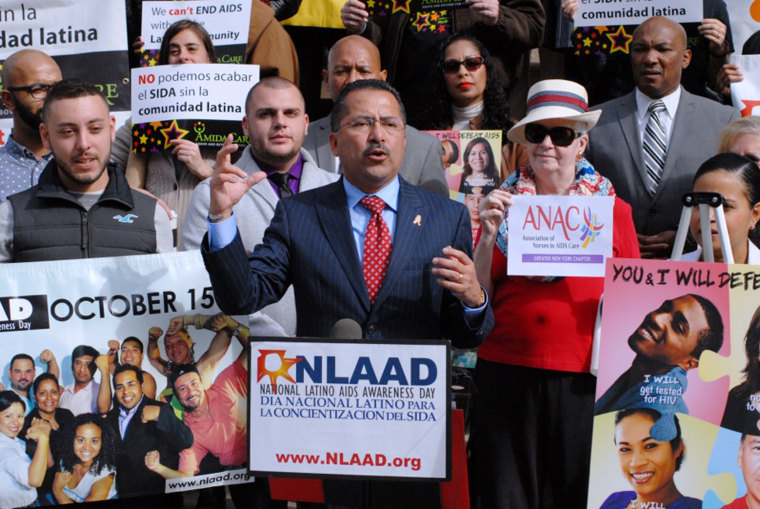 An estimated 220,000 U.S. Latinos are living with HIV. At some point in their lives, 1 in 36 Latino men and 1 in 106 Latinas will be diagnosed with HIV.
Chacon uses the analogy of trying out a new restaurant when discussing how Latinos access care for HIV/AIDS. "If you go to a new restaurant and the service is horrible, you will probably never go back. Apply that concept to a young gay man visiting an unfamiliar clinic or a new doctor that is not welcoming. There is the possibility they will do a U-turn and never return." He noted that unfortunately, homophobia, fear, marginalization, and isolation can be part of the journey for a person seeking medical treatment or answers about HIV/AIDS. "So we have got to change the mentality of primary care givers and institutions so that all people, including Latinos, feel welcome and not fearful."
This year's National Latino AIDS Awareness Day comes on the heels of new information from the Centers for Disease Control and Prevention (CDC)that showed both good and bad news for Latinos. While there has been an overall decline in new HIV diagnoses among Latinos in the last few years, diagnoses increased among Latino men who have sex with men. In 2013, the rate of HIV diagnosis among Latinos was nearly three times that of whites.
An estimated 220,000 U.S. Latinos are living with HIV, and 15% of Hispanics infected with the virus do not know, says a CDC epidemiologist.
Dr. Kenneth Dominguez, Medical Epidemiologist with the CDC, told NBC News that 15 percent of Latinos who are infected with HIV do not know that they are infected. At the individual level, the CDC recommends the use of condoms and the PReP program, while also encouraging doctors to make HIV tests a routine part of care.
Oriol Gutierrez Jr., editor-in-chief of POZ and Tu Salud Magazine, said that informing the Latino community about HIV/AIDS is critical yet complicated task. "It is a multi-layered problem, so there have to be multi-layered solutions; there are a lot of moving pieces," he said. "One issue is young men not being informed. There is a lack of comprehensive sex education nationwide, and very little is taught about HIV transmission. There is unfortunately an ignorance among young people when it comes to transmission." He noted that the undocumented and immigrant populations encounter language and cultural barriers to accessing health care.
Several prominent Hispanic celebrities have been open about living with HIV, including the late Pedro Zamora (of MTV's The Real World), ice skater Rudy Galindo, and Project Runway's Mondo Guerra.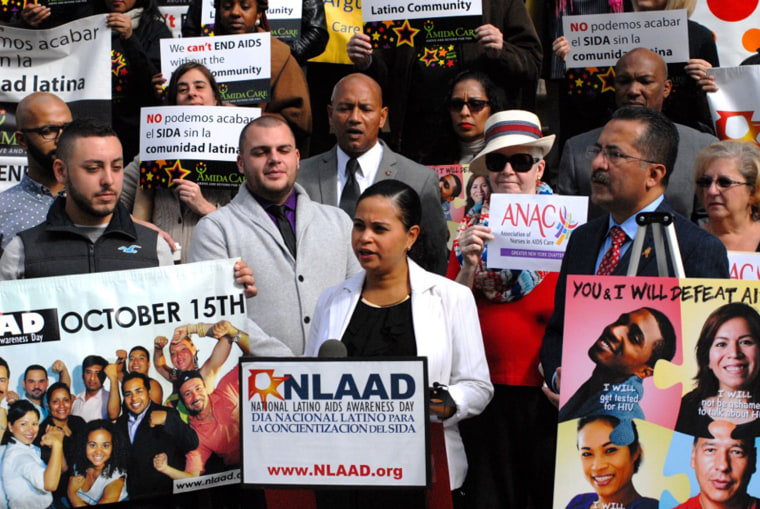 But the stigma surrounding HIV/AIDS in the Latino community continues to vex health care professionals and community advocates. "People do understand that there are medications and treatments available today, meaning that the risk of death is less, so maybe there is less shame," Gutierrez said. "But sadly, on the other hand, there is still a lot of judgment going on. There is the idea that if you are HIV-positive, you are a bad person, you are doing bad things. When you listen to that programming, it affects how you think; that's one reason people don't get tested. I say, you don't have to be a bad person to get HIV, that's what people miss out of the equation. It results from people being people. If and when we can move to a better place of understanding, a lot of stigma will fall away – or at least I hope so."
"This is one of our challenges," said Elvis Rosales, project coordinator at AIDS Project Los Angeles. "Anything related to sex makes people shut down, or it becomes a joke. Often, people who are at risk do not identify as such. In the Latino community, there are men who have sex with men who do not consider themselves gay. So it is easy for them to fall through the cracks."
The sense of shame surrounding HIV/AIDS, Rosales emphasized, is very real. "When we gave out backpacks to our clients with our logo – which does not include the words "AIDS" or "gay" – we discovered they would not wear them, or they turned them inside out." He said that in his work, it was not hard linking people in need of treatment with health care. "What is hard is the retention – making sure that they go back to the doctor and stay on a consistent regimen."
Unlike other Latinos, undocumented immigrants are not eligible for health care under the Affordable Care Act. However, low-income documented and undocumented immigrants living with HIV are eligible for health and support services under the Ryan White Act.
Despite the ongoing challenges, Guillermo Chacon of the Latino Commission on AIDS is optimistic about the future. "I have been working on HIV for over twenty years. I go to meetings, forums, and what keeps hope alive for me is knowing that the search for a cure is underway. It is a strategic component of the leading research scientists' portfolios."