Aarón Sánchez, the James Beard award-winning television personality, chef, restaurateur, and cookbook author has given Latinos a lot to be proud of in his long and varied career. But it's his latest venture that may become his greatest legacy: He's launched the Aarón Sánchez Scholarship Fund, an initiative empowering aspiring Latino chefs by fully paying for their culinary school,
"I wanted to do something to give back to an industry that's been so gracious to me and so fruitful and allowed me to live a life that I live now," says Sánchez. "We're changing people's lives, and that impact and the result is going to continue to pay dividends for years to come."
Eligible Latino students from the New Orleans area not only receive a fully funded scholarship to study at the International Culinary Center in New York City, they also get housing, supplies — even the cooking knives — and the professional guidance they'll need to make the most of the opportunity.
RELATED: Hispanic Heritage Month 2017: #NBCLatino 20
Born in Texas and raised in New York, Sánchez hails from an impressive culinary family. His mother Zarela Martínez is a pioneering chef and cookbook author in her own right while his grandmother, Aida Gabilondo, wrote the beloved cookbook Mexican Family Cooking.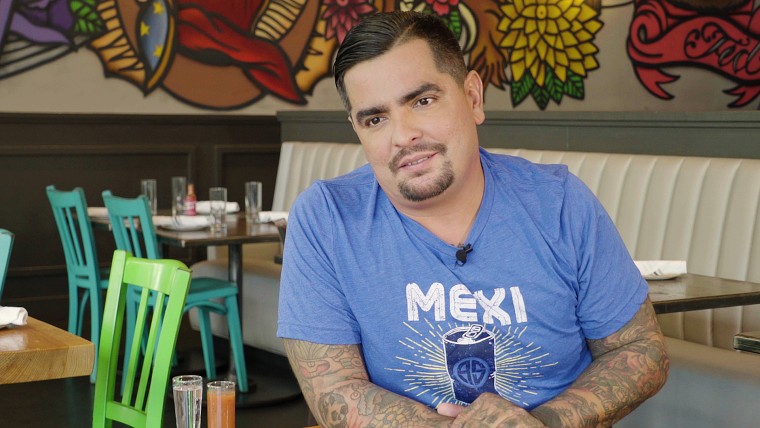 "Food was held in a big form of reverence," Sánchez remembers. "It wasn't something that was just to sustain one's self, it was more about, all right, how can we pay homage to our culture, to family recipes that have been passed down."
He was a teenager struggling with the loss of his father when his mother arranged for him to apprentice with famed New Orleans chef Paul Prudhomme. "He opened his doors to me. I came for a summer and was completely bitten and smitten with the city," recalls Sánchez. He went on to graduate from the prestigious Johnson & Wales University in Providence, Rhode Island.
RELATED: #NBCLatino20: The Supermodel, Joan Smalls
Despite his culinary background, he was told a Mexican-American chef would have a hard time working his way up the ranks. "You take that and then you flip it around and say I'm gonna excel to the highest position in the kitchen," says Sánchez.
He would do just that at a succession of high-profile pan-Latin restaurants, like New York City's Isla, Céntrico, and Paladar, earning a "Rising Star Chef of the Year" nomination from the James Beard Foundation in 2010.
Sánchez has hosted multiple food and travel shows including the Emmy-nominated series Taco Trip, the Food Network's Chopped and Chopped Junior, and 3 Minutos con Aarón, and Motochefs for Spanish-language television. Most recently, he became a judge on FOX's hit Series MasterChef.
"I use the medium of television as a very powerful tool to transmit messages to people quickly," says Sánchez.
Now permanently based in New Orleans, he partnered with John Besh to open Johnny Sánchez, a tattoo-tinged Mexican restaurant with a second location in Baltimore. It was a move, partly prompted by the passing of his mentor Prudhomme, that brought him back to where he started.
RELATED: #NBCLatino20: Broadway's Professor, John Leguizamo
"I came down here to find structure, discipline, and mentoring, which is what every young person I think needs regardless if it's in a kitchen setting or not," Sánchez says, describing that early experience.
While he's eager to pass these lessons on to the young chefs who now work in his restaurants or benefit from his scholarship program, he hopes his barrier-breaking career has made things better for them.
"I wanted all the struggles and all the things that I've done not to be part of their story, but for them to have a little bit, if not an easier ride, but a little more of an informed ride," says Sánchez.
Twitter: @chef_aaron
Instagram: @chef_aaronsanchez
Facebook: facebook.com/ChefAaronSanchez
Website: chefaaronsanchez.com
The #NBCLatino20 honors achievers who are making our communities and our nation better. Follow their fascinating stories throughout Hispanic Heritage Month.