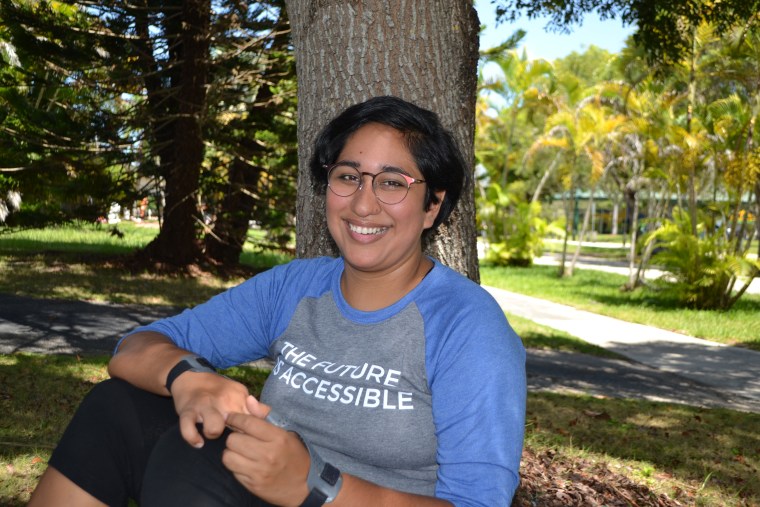 Armed with a Youtube channel, Twitter, Facebook and Instagram accounts, Annie Segarra, who identifies herself as a disabled, queer and Latinx, is fighting misinformation and stereotypes about disabled people and changing the prejudices many have about disabilities.
All her life, Segarra, who is Peruvian and Ecuadorian and also goes by the name Annie Elainey, saw herself as an activist. As a young girl, Segarra often found herself taking care of, and advocating for, her younger sister, who is autistic. Later, in high school, she often participated in protests advocating for LGBTQ rights.
But nothing prepared her for what she would encounter when she slowly began to experience a series of symptoms around the age of 23. After bouncing around medical specialists for three years, Segarra was diagnosed with what she suspected she had all along - a rare disorder called Ehlers-Danlos syndrome (EDS). This is the name for a group of genetic disorders that affect the connective tissues because of a mutation in one or more genes.
RELATED: Hispanic Heritage Month 2017: #NBCLatino 20
This explained the extreme fatigue she had been feeling and the sharp pain in her feet after standing for some time. As her health declined, she could no longer tolerate standing or walking for more than a few minutes and began using a wheelchair.
But Segarra quickly learned that disabled people have to endure prejudices from abled people and are often excluded from spaces that don't accommodate those with disabilities.
"It opened my eyes to realize that positive body image is not just about how one feels. It's also about how we view other people and our prejudices about other people based on how they look," Segarra recounted, sd we visited her in her South Florida home.
One of the issues that frustrates Segarra most is prejudice against invisible or non-apparent disabilities. This is something she frequently encounters because her walking is limited. So, if she parks in a disabled parking space and walks into a restaurant, without her wheelchair, because she can sit down right away, she will often be harassed and accused of faking her disability.
RELATED: #NBCLatino20: The Chef With a Heart, Aaron Sanchez
"And that happens often … Pretty much any time a person walks away from a disabled parking space, people get angry, people think they're faking it," she said.
Segarra is critical of the media for not representing people like her. "You never see people like me that can walk around the house but that need their chair to go out … So people don't think that's real because they've never seen it," she said.
Segarra's advocacy has led to a significant following and people have been taking notice.
This past summer, Segarra was invited to VidCon, the annual multi-genre video conference, for independent creators and influencers.
RELATED: #NBCLatino20: Broadway's Professor, John Leguizamo
"Being at VidCon, I was able to speak about these issues to people I highly doubt I would have made contact with online because they are people with much larger following," Segarra said. "But being in that space I was able to; having those wider audiences I was able to."
"I put my work out there to make the world safer, to make the world more understanding," she said.
What is the best piece of advice anyone ever gave you:
The most recent thing I heard that benefited me through this whole process with illness and losing ability is from a friend of mine who said that … 'disability isn't always linear.' Just because you might lose something now doesn't mean you won't get it back … Or if you lose something, it's not the end of everything.
What is your guilty Latino pleasure:
I'm not guilty about anything. But regardless of guilt, maybe Peruvian chocolates.
Twitter: @annieelainey
Instagram: @annieelainey
Youtube: youtube.com/user/theannieelainey
Facebook: facebook.com/Ann.E.Segarra/
The #NBCLatino20 honors achievers who are making our communities and our nation better. Follow their fascinating stories throughout Hispanic Heritage Month.