Denise Sandoval began her obsession with lowrider cars at an early age. Decades later, she is one of the foremost authorities of this cherished tradition. More important, Sandoval's work has elevated lowrider culture to its proper place in our American story.
"It's the way we are making our mark in the world," said Sandoval, a professor of Chicano and Chicana studies at California State University, Northridge. "We're using color, we're using art, we're using beauty to tell our stories, and to use these cars to talk about what it means to be American, from the Chicano experience."
Years ago, as Sandoval leafed through a Japanese lowrider magazine and saw Japanese lowriders wearing Mexican flags and other symbols, she realized how far the tradition had spread. "I said, what is happening?" Sandoval recalled, laughing.
The Mexican-American professor and scholar has curated several museum exhibits on lowrider culture, including one that is presently at the Petersen Automotive Museum in Los Angeles, "The High Art of Riding Low: Ranflas, Corazón e Inspiración."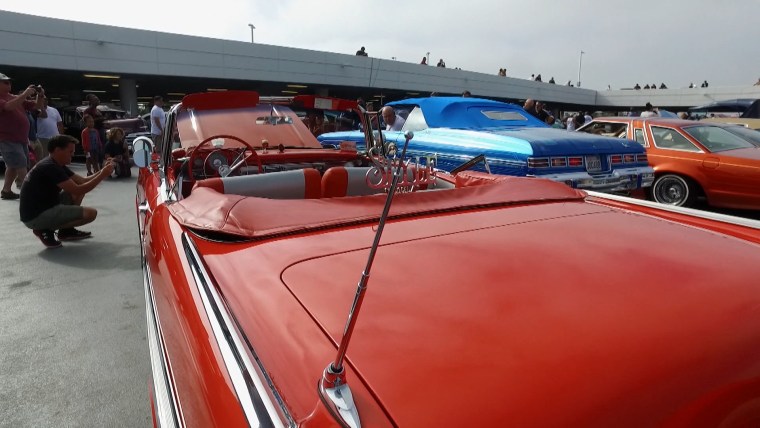 Showing off one's lowrider is an old pastime in East L.A. When asked why this caught on with Latinos in this city, Sandoval says it's all about the "geographic space we occupy."
Los Angeles, though diverse, has been very segregated. Minorities, in particular, were restricted by space and by the places they could go, and cars brought them a sense of freedom. Lowriders are a celebration of that freedom, Sandoval says.
RELATED: Hispanic Heritage Month 2017: #NBCLatino 20
Though lowriders are looked down as "gangs on wheels," Sandoval said, she aims to show these car enthusiasts are "family guys" steeped in a rich tradition, "a way of life."
Raised in East Los Angeles, Sandoval was exposed to the culture and the politics of Chicano social movements; California after all is the birthplace of the farm workers union, headed by Dolores Huerta and Cesar Chavez, as well as the Mothers of East L.A, which fought for environmental justice.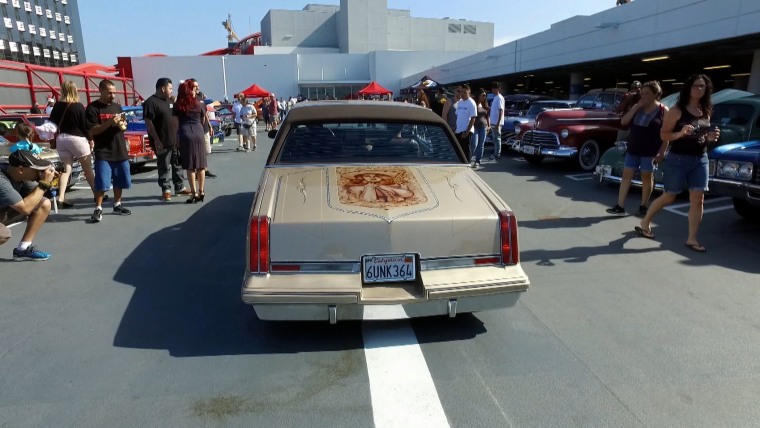 We spoke amidst the rich Mexican-American history at La Plaza de Cultura y Artes, a cultural museum that traces the indigenous origins of the land to its Spanish and Mexican roots.
"It's a great time to be a Chicano/a," she said with pride. "My job and what I do gives me the privilege to access spaces I never dreamed of as a kid, and it's important to use that access to infiltrate spaces for the future of young Chicanos."
RELATED: #NBCLatino20: Broadway's Professor, John Leguizamo
A professor for almost 20 years, Denise says her accomplishments are not just her own. "I didn't get the Ph.D. just for myself," Sandoval said. "I work to be a voice for my community. I put being a Chicana front and center."
RELATED: #NBCLatino20: The Supermodel, Joan Smalls
The museum exhibits Sandoval has curated have brought her attention from Latinos who love lowriders, but it's also been a cultural boom for institutions like the Petersen Automotive Museum. It's earned them over a billion hits to their website, proving that Latinos are a powerful cultural force.
"The fact that lowrider culture has gotten all this attention," Sandoval said, "brings me a lot of joy."
You can visit her current exhibit at the Petersen Museum until June 2018.
What is your guilty Latino pleasure? My guilty Latino pleasure is a guilty Mexican pleasure, and that would be pan dulce, specifically, conchas, chocolate and vanilla conchas. I found out you could make an entire meal out of conchas.
What's the best piece of advice someone ever gave you? Find out what you love; find out what you're passionate about.
What's the best part of coming from a Latino family? Once again I would say the food because you can put anything in a taco.
The #NBCLatino20 honors achievers who are making our communities and our nation better. Follow their fascinating stories throughout Hispanic Heritage Month.