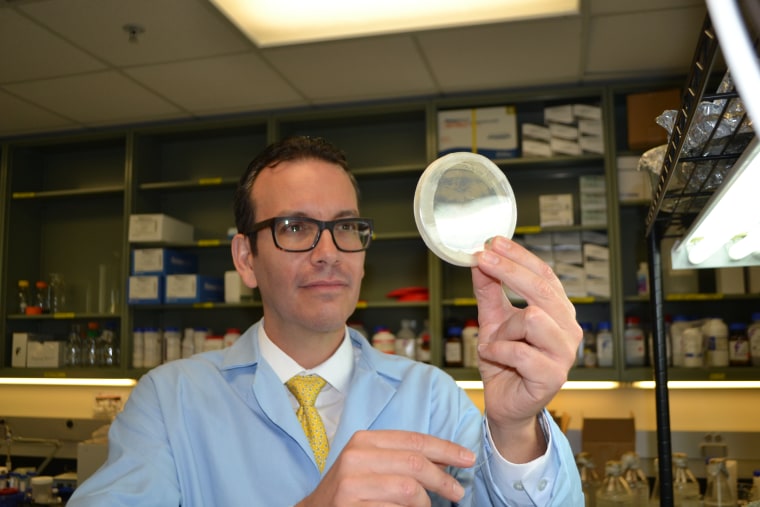 By creating the world's deepest coral reef nursery, Florida International University (FIU) marine scientist Mauricio Rodriguez-Lanetty is not only saving imperiled reefs, he is also giving life to his childhood passion.
Coral reefs are some of the most diverse ecosystems on Earth that provide a habitat for fish. But scientists warn they are headed for extinction due to global warming, pollution, fishing, sunscreen, and other factors. These tend to affect the corals in shallow water more than those in deep waters.
"Having studied corals for more than 25 years, over the last 15 years I have seen a decline," said Rodriguez-Lanetty.
RELATED: Hispanic Heritage Month 2017: #NBCLatino 20
A little over a year ago, he embarked on a project along with the Coral Restoration Foundation to study whether corals in deep waters can be used to repopulate reefs in shallow waters that are vanishing.
The project consists of a coral nursery 90 feet below the ocean surface off the Florida Keys. It consists of tree-like structures that rise up from the ocean floor, and there are cards hanging from branches. Inside the cards are the endangered corals that are growing and will eventually be transplanted to shallow waters.
Lanetty's team sought the help of NASA astronauts to do the actual "farm work," or planting the nurseries underwater. They use the experience to train under extreme environments.
FIU's Aquarius Reef Base was instrumental in developing the nursery. Its underwater laboratory, the only one in the world, sits 60 feet below the ocean surface and allows scientists to work underwater for weeks at a time.
For Rodriguez-Lanetty, coral reefs have been an inspiration since he first saw them when he was 9 years old, while swimming in his native Venezuela. He had received a mask as a Christmas gift and was excited to go underwater. "I was amazed to see a forest. It was a forest, with all these branching, tall, colorful corals, surrounded by fish," Rodriguez-Lanetty said.
RELATED: #NBCLatino20: The Chef With a Heart, Aaron Sanchez
His parents often took him swimming and snorkeling around the coral reefs.
"The beauty of this ecosystem always caught my attention," he said.
The second of five siblings, Rodriguez-Lanetty grew up in a small town called Ocumare del Tuy about an hour from the capital, Caracas. "I grew up in a low-middle class family," he recounted. His father worked in a cement factory and his mother was a stay-at-home mother. They made sure their children received a good education, which they valued greatly.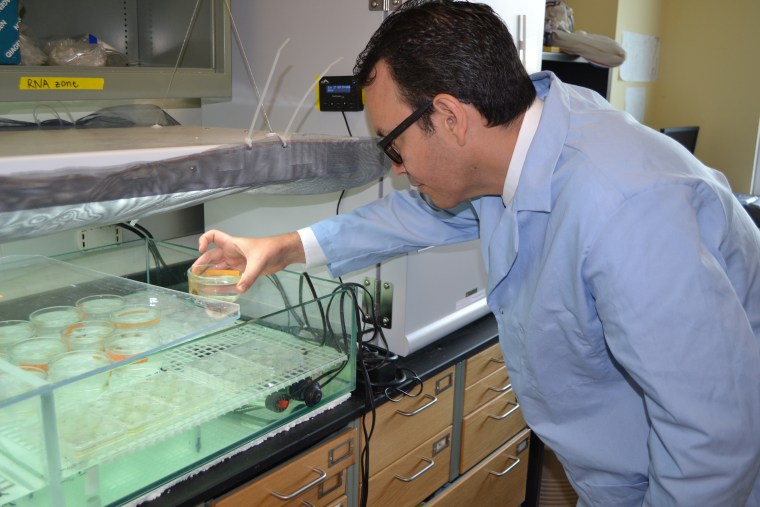 Things did not come easy for him. When he started college at the University of Simon Bolivar, he would wake up at 3:30am, in order to make it to the central bus station on time. He would spend the day at school and then board the bus by 5:30pm and wouldn't make it home until 10pm.
"It was in the university that I began to understand the importance of the coral reefs in many different ways," Rodriguez-Lanetty said.
By the time he graduated from college, it was clear he wanted to dedicate his life to research.
He ended up at the University of Sydney and later the University of Queensland in Brisbane, Australia, where he completed his PhD. He worked as a Postdoctoral Fellow in Ewha Woman's University in South Korea and Oregon State University. Later, he became a professor at the University of Louisiana in Lafayette and has been at FIU since 2012.
RELATED: #NBCLatino20: The Supermodel, Joan Smalls
Rodriguez-Lanetty is sure some of the reefs in the shallow waters off the Florida Keys were affected by Hurricane Irma. The Aquarius laboratory was also damaged by the hurricane and a crowdfunding page has been set up to help rebuild the reef base. "We have to intervene and help corals every way we can."
What is the best advice anyone has ever given you?
Don't let anyone stop your dream. Don't let anyone tell you, you're not able to do something.
What is your guilty Latino pleasure?
To be loud, be fun. [While away studying] I always planned the parties in the residences where I lived.
Twitter: @ReefBase
The #NBCLatino20 honors achievers who are making our communities and our nation better. Follow their fascinating stories throughout Hispanic Heritage Month.