The National Council of La Raza's funding for voter registration dropped from $7 million in 2012 to $1.5 million for this election year, a sign of weakened investment in mobilizing the Latino vote, according to one of the national Latino group's leaders.
Clarissa Martínez de Castro, NCLR deputy vice president, said Thursday the group is seeing a "contradictory environment" in the Latino community this election.
"The election season has taken a very negative tone as far as the community is concerned," Martínez said. "But also we are seeing very weak investments in what we consider a key factor, as non-profit organization, in growing the Latino vote."
Martínez made her comments at an NCLR news conference on the Latino vote, which she said is growing but also is experiencing "gaps." In 2012, while 13.7 million Latinos were registered to vote, a total 23.3 million Latinos were eligible to vote, meaning 9.6 million didn't register. A total 11.2 million voted.
Other Latino groups contacted by NBC News Latino Thursday afternoon also said they did not have as much money as they had in previous elections to do Latino voter registration and mobilization, although they were reluctant to release numbers. They acknowledged money was being funneled to other groups who were more state focused and who were not focused only on Latino voting.
Ben Monterroso, executive director of Mi Familia Vota, said while his organization continues to receive funding for its work registering Latinos in six states, "I would say the investment hasn't been adequate to the growth and the importance of the Latino vote."
"We are maximizing what we can. We do what we can with what we have and continue struggling," he said.
RELATED: Pew: Latino Population Growth in U.S., Dispersion Is Slowing
Maria Teresa Kumar, president and CEO of Voto Latino, which seeks to register young people, also said the groups that have done the registration for years have not seen funding from liberal organizations that help mobilize voters. In the past, the Democracy Alliance has worked to identify funding but the alliance has not yet begun.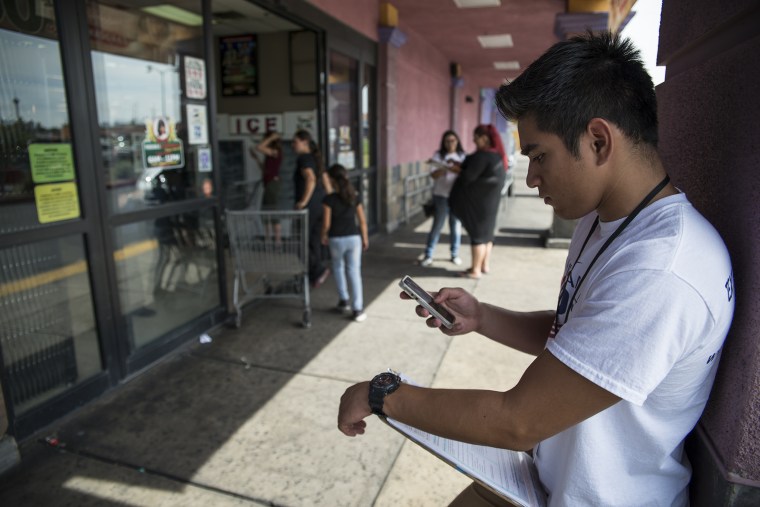 Brent Wilkes, executive director of the League of United Latin American Citizens, said his organization's voter registration money has never been near what NCLR's is but his group has councils in every state and uses a lot of volunteers.
He said foundations that funded Latinos groups to do voter registration, moved away from door-to-door over to voter campaigns and advertising.
During the primaries, LULAC spent about $300,000 to increase Latino participation in the Iowa caucuses.
RELATED: Knocking on Doors and Getting Latinos To Caucus In Iowa, Impact Primaries
The National Association of Latino Elected and Appointed Officials does not do door-to-door voter registration. But has worked with other groups and media to do online voter campaigns and messaging and to promote voter registration in the community.
RELATED: Opinion: Latinos May Just Swing Arizona Blue in 2016
"I think calling (the investment) weak is generous," said Arturo Vargas,NALEO's executive director. "In my opinion, the donor community has abandoned the Latino electorate in this election cycle."
Vargas said "cynical politics" guides how investment in Latino voter registration with funds going to get out Latinos in swing states and "the rest of the Latino population is being ignored."
"We are not a three-state community," he said. "We are a 50-state community."
Also he said NCLR and the other groups have tried to wage sustained Latino voter registration and engagement campaigns, while others focus is more on turning out the vote for elections.
A Latino Decisions poll recently showed that about 39 percent of Latino voters surveyed said they had not been contacted by a campaign or community organization.
In polling in battleground states, Latino Decisions polls released Friday showed that Latino voters don't have a good idea of where their Senate candidates stand on immigration issues, even though they consider immigration a top or the top issue for the community and for Congress and the president to address.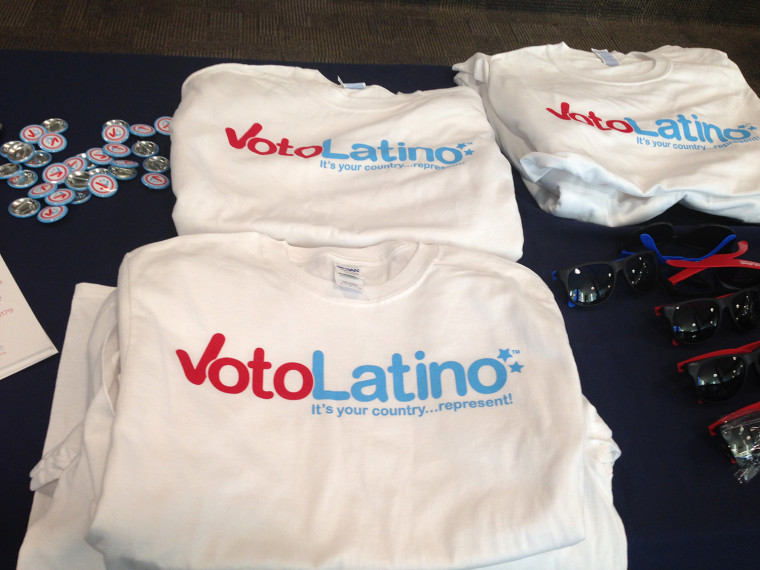 Foundations that previously provided resources to the Latino organizations changed where they funnel money and are backing state coalitions that are made up of various groups. Some of those coalitions are working to turn out Latino voting. Several groups have complained that the funding was diverted from Latino-led to white-led groups.
The groups NBC Latino reached are non-partisan, they register Latino voters regardless of political affiliation and don't endorse although they may discuss a candidate's record on certain issues. Some of the state coalitions include groups that can participate in politics, take more liberal views and work more in the interests of liberal views on issues and candidates who support those views.
But many of those groups are not familiar with what works in getting out the vote in the community, some of the Latino groups said.
The vast majority of resources are spent in mobilizing already registered voters and getting them to the polls, Martínez said. But that hurts the Latino community because so much of the population is not registered and has little voting history. Once registered, however, Latino turnout rates are 80 percent to 82 percent in presidential years, she said.
RELATED: New Clinton Camp, PAC Ads Target Spanish-Speaking Latinos
Interestingly, a Latino Decisions survey released this month showed 76 percent of Latinos said it was more important for them to vote in this election or they were more enthusiastic about it than in 2012. And stopping GOP nominee Donald Trump was the top reason they were more enthusiastic or more interested in this year's election.
RELATED: Donald Trump Announces Presidential Bid By Trashing Mexico, Mexicans
The same poll found that 60 percent of those surveyed said in they had not been contacted in the past few months by a campaign to register or turn out to vote.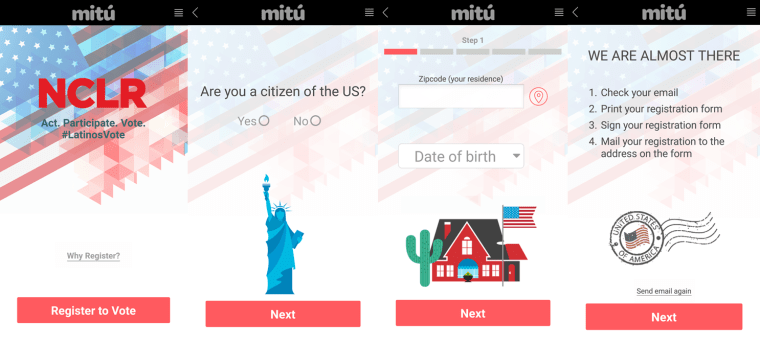 Despite the "gap" in the Latino electorate, Martínez said the Latino electorate is growing at a faster clip than the rest of the electorate, largely because 1 million Latinos a year turn 18.
Martinez said the group is working to register students at high schools to capture them as they are about to become eligible to vote. The group also plans to canvass in Florida, Nevada and Pennsylvania and is working with its affiliates to contact their clients through phone calls to get them to register to vote. NCLR also has created an app with mitú for voter registration.
RELATED: NCLR and mitú Launch Latino Voter Registration App
"With a population that is adding so many new voters every cycle, where so many need to become registered, those are not areas where political campaigns invest and that's where the vast majority of resources always flows," Martínez said. "So voter registration has been left up to the Good Samaritan approaches of any non partisan organizations and the resources for that have been weak and getting weaker which is a high concern for us and others."